Acne and The Pill
Acne is a condition that most people will experience at some point in their life. Though it can be caused by a number of different factors, most commonly hormonal changes are the main cause. The hormones that are particularly associated with the development of acne are called androgens. They increase the production of sebum, which can cause the skin to become too greasy if it is present in too large amounts. Extra grease on the skin can cause the pores to become blocked and as a result acne can develop. At the point of adolescence, the production of certain hormones begins to increase and often the onset of acne occurs during this time. People who are affected by acne during adolescence will often continue to experience acne into adulthood, which can lead to low levels of self confidence and self esteem.
Hormonal acne in adult women is said to get worse at certain points during their menstrual cycle due to the fluctuating hormonal levels that are a result of the changing cycle. Research has shown that adjusting hormonal levels can have a beneficial effect on skin that is affected by acne. The Dianette pill (also known as Diane-35) is one such treatment that effectively treats severe acne and hirsutism with an additional benefit of being an effective contraceptive method also.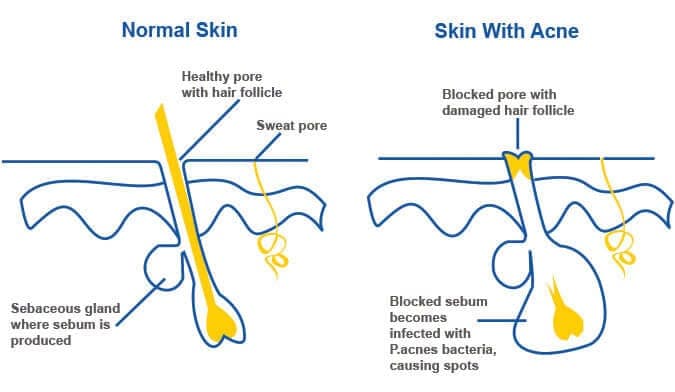 How can the pill treat acne?
Understanding the role hormones play in the triggering of acne, will allow you to understand if a combined hormonal pill is necessary to treat acne. Acne is prompted by an excess production of sebum (oil naturally produced in the skin), if sebum ends of clogging up pores on the face; this promotes the growth of dirt and bacteria, which leads to acne.
The hormone androgen (male hormone) promotes the production of sebum, and as the adrenal glands and ovaries typically produce hormones that counteract androgen, reducing its levels in the female body. If on the other hand if there is a slight imbalance and higher androgen levels are being produced then excess sebum is made.
The combined pill contains the synthetic versions of two naturally made female hormones, oestrogen and progestogen, which work within the body to prevent pregnancy and can lower the androgen levels in the body, which in time can reduce the presence of acne on the face. By doing this, the pill regulates these hormones and makes them more balanced throughout the cycle. This means that the hormone levels do not fluctuate so much and acne is less likely to develop. Combined pills that contain anti-androgens, such as Dianette, are known to be particularly effective treatments for acne.
Can the mini-pill (POP) stop acne?
The mini-pill (progestogen-only pill) is not recommended as a treatment for acne. In fact, certain studies show that some women have reported the condition of their skin actually worsened while they were taking the mini-pill. Commonly reported side effects of the mini pill are skin irritation, spots and rashes.
This is usually because the rise of the 'progesterone' hormone in the body causes the skin linings to swell and the pores to close, this combined with the sebum beneath the skin can lead to acne like symptoms, which is why its combination with 'oestrogen' is advised.
Can the pill cause acne?
The combined pill is not usually associated with the development of acne, but some pills are considered to be more beneficial in terms of reducing or treating acne than others. If you have acne and feel that your current pill is not producing the results you had hoped for, it is advisable to discuss the issue with your doctor to determine whether an alternative pill could be more suitable. As mentioned above, mini-pills are not thought to be effective as a form of acne treatment.
Other hormonal contraceptive types such as the injection or IUD implant may also contribute to acne, therefore it is important to have speak to your doctor to understand which contraceptive measure is most effective for the condition and which is likely to worsen it.
Benefits of the combined pill on acne
Recent studies have show that certain synthetic versions of the hormones 'oestrogen' and 'progestogen' have been found to be more effective at dealing with acne. Pills containing ethinyl-estradiol combined with levonorgestrel, norgestimate, drospirenone, cyproterone acetate or chlormadinone acetate were found to be generally beneficial for acne management. Those that were slightly more effective contained cyproterone acetate as an active ingredient.
Benefits of using combined pills include reduced flare-ups, reduced inflammation and less severe bouts of acne. It's always advised to use treatments geared towards acne, as contraceptive pills only provided acne management as a secondary effect.
Treating acne with a combined pill
Contraceptive pills are not approved by the MHRA for the strict treatment of acne, but your doctor may prescribe you a suitable pill, if you are sexually active and need a hormonal contraceptive or require the pill to regulate your menstrual cycle but also happen to suffer from mild or severe acne.
If the contraceptive pill you are using already helps in lessening acne then it is okay to carry on using it. If however it makes the condition worse then it may be worth speaking to your doctor as to the best alternative combined pill that can improve your acne.
It may take a few months before you start to see the results of the oral contraceptive on the acne as an initial flare up can usually occur when a woman starts taking oral contraceptives. Speaking with your doctor and understanding what contraceptive works best for your body is essential in treating acne effectively alongside using suitable acne treatment.