What is Exercise-Induced Asthma?
Most people with chronic asthma experience symptoms of asthma during exercise or physical activity. Exercise-induced asthma is asthma that is triggered by vigorous or prolonged exercise or physical exertion. When you exercise, you breathe faster and more heavily, which leads to the following situation:
The lining of the airways dries out, concentrating the contents of the cells in that area.
The airways cool rapidly because of evaporative heat loss.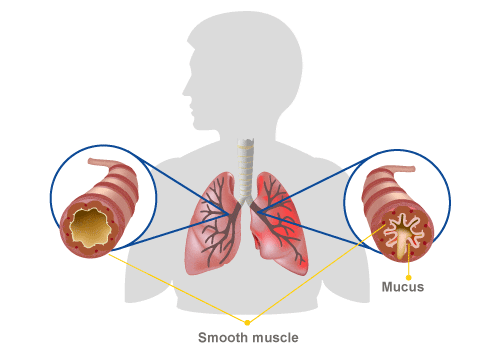 If left untreated, the linings of the airway swell and become inflamed. The drying and possibly the cooling of the airways act as physical triggers. This causes the muscles in the airways to contract and narrow, leading to the characteristic symptoms associated with asthma.
What are the symptoms?
The symptoms of exercise-induced asthma generally begin within five to 20 minutes after the start of exercise, or five to 10 minutes after brief exercise has stopped. The symptoms most commonly experienced through exercise-induced asthma are:
Coughing
Tightening of the chest
Wheezing
Unusual fatigue while exercising
Shortness of breath when exercising
If you are experiencing any of these symptoms with exercise, inform your doctor as soon as possible.
Can exercise-induced asthma be prevented?
Yes. There are a number of actions that you can take in order to prevent an exercise-induced asthma attack. Warming up 10 minutes before you start exercising, termed as a 'window of safety', may last up to an hour, while cooling down 10 minutes after will effectively allow the bronchial tubes to re-warm slowly, thus preventing the eruption of an attack. Avoiding exercising in cold air and smoggy days - an environment when air pollution is high or when you are suffering from a cold or flu will in turn prevents the flare up of symptoms.
Should you experience any breathing difficulty while exercising, discontinue immediately and use an asthma inhaler or inhaled bronchodilator.
The use of preventative inhalers that contain cromolyn sodium or bronchodilators, such as albuterol, 15-20 minutes before starting an exercise workout will be an effective preventative measure. Long-acting bronchodilators, such as salmeterol (Serevent), should be taken 60 minutes before exercise
Having the ability to manage and control your asthma will help you to reduce and prevent exercise-induced symptoms whilst allowing you to continue to enjoy a healthy lifestyle, which importantly includes exercise into your daily routine.