In addition to sexual stimulation and desire, gaining and maintaining an erection depends on four physical factors:
There are four main physical causes of impotence that can be identified.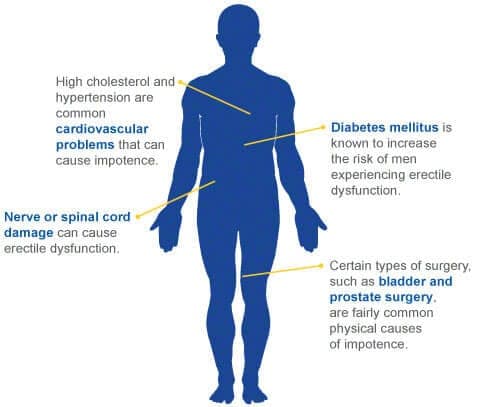 Medical conditions - specific diseases and medical conditions are prominent impotence causes. Diseases that are most likely to cause erectile problems are the ones that cause damage to the veins, arteries, and fibrous tissues and smooth muscle in the penis area. Diseases that can cause this damage include kidney disease, chronic alcoholism, diabetes and neurological diseases.
Lifestyle - excessive alcohol can be one of the major causes of impotence, similarly is smoking, as the nicotine found in cigarettes promotes the narrowing of arteries. A lack of exercise and poor diet can lead to poor blood circulation or related conditions like high cholesterol, which can affect the flow of blood needed to produce an erection.
Surgery - different kinds of surgery may have side effects and recovery processes that can damage the nerves and arteries in the penile region. Bladder and prostate surgery are the most common surgical impotence causes; they have drastic effects on the penis and can damage the tissues beyond repair.
Medication - Medication, especially those that control your blood pressure, can directly affect your erectile performance and are common causes of impotence. There are several kinds of medications that can affect your erection; these include appetite suppressants, anti-depressants, blood pressure pills, tranquillizers and antihistamines.
Between 10% and 20% of impotence causes are psychological factors. An unhappy marriage, stressful job or poor living environment can be stressful and can cause anxiety, guilt, depression and a fear of sexual stimulation. Any one of these psychological factors can make it difficult to achieve and to sustain an erection.
Research has produced a large spectrum of different statistics and estimations of how many men suffer from this condition. Some websites claim that one in ten men suffer from it; others say 30% of all men suffer from the condition. More recent research has said that between 15 and 30 million men around the world suffer from some form of erectile dysfunction. What can be concluded is that this condition is associated with age, with men over 40 experiencing the condition more than younger men, although that is not to say that impotence in young men is an unusual occurrence.
There are treatments available for erectile dysfunction, some more invasive than others. Before looking for treatments however, it's important to diagnose your condition correctly. Take a note of your impotence symptoms and contact a doctor who will be able to advise you on what the most like erectile dysfunction causes are and direct you towards the best treatment. If you are concerned about speaking to a doctor in person, you can contact our Medical team for discreet advice.