How to stop hair loss: tips for alopecia prevention
There is not one miracle solution on how to stop hair loss, hair loss prevention techniques depend on your type of hair loss. Most forms of alopecia are genetically induced and connected to changing hormone levels in the body when it ages. While these changes are rarely completely preventable, certain factors can contribute to the early onset and quick progression of hair loss, including a bad diet and stress.
In severe cases of hair loss, prescription treatment can be an option although this only tends to be recommended once hair loss has actually started. If you are suffering from male or female pattern baldness and you are finding it particularly worrying, then you can speak to your doctor about treatment options. You can also speak to your hairdresser for advice on hairstyles that can make you feel more comfortable.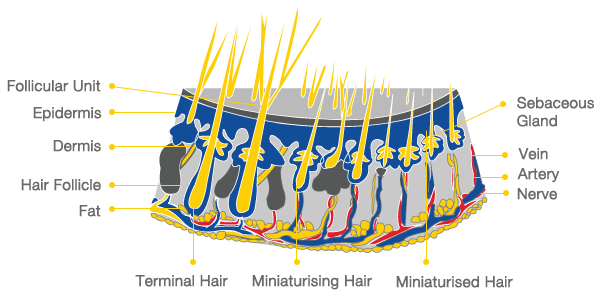 In general, hair loss prevention techniques mainly involve positive lifestyle changes that will improve your overall health. So whether or not your hair loss is genetic, it is important to maintain good scalp health in general. See below for some tips on how to prevent hair loss for longer.
Hair loss prevention tips
The following hair loss prevention tips may not all be guaranteed to stop or prevent further hair loss, although most can provide an overall health benefit that can have an effect on hair follicles.
Follow a balanced diet 

If you have an irregular eating pattern, or often skip meals, you will find that you may experience more hair loss. If you are dieting, be sure to follow a balanced diet and not cut out major food groups, as this too may lead to excess loss of hair. By following a nourishing, well balanced diet, with regular eating patterns you will find your hair loss subsiding or slowing down.

Avoid harsh hair care regimes

There are many hair care products that are advertised as wonder shampoos and conditioners that literally change the quality of your hair overnight. But many of them actually contain damaging chemicals, which may actually leave your hair dry and damaged in the long run. Go organic and avoid harsh chemicals or hair care regimes that are likely to cause conditions such as traction alopecia.

Get your beans 

Beans are a major source of protein, as are fish, soya, dairy, cheese and nuts. Hair follicles are made from protein, so if you eat enough protein and make sure your body is always replenished with it, it may benefit hair follicle health.

Calcium for your bones and hair

Calcium is another preventative vitamin, as it makes your hair thicker, stronger and healthier. Ensure you get your fair share of calcium in your diet by consuming plenty of dairy, full cream milk and yoghurt.

Stimulation 

A more holistic treatment, scalp massage to stimulate the scalp and hair follicles can promote hair growth. It is often overlooked, but Indian head massages, for example, can be used to stimulate the scalp and aid growth.

Most forms of hair loss can't be stopped from occurring at all, but there are different treatment options that can stop hair loss from progressing once it's started. Prescription treatments such as Propecia, for example, may be recommended to men with male pattern baldness.