ACE Inhibitors
ACE inhibitors are treatments given to people in order to help them lower their high blood pressure. Sometimes they are also prescribed to help with recovery after heart failure or a heart attack as well as being a treatment for diabetes. This is because ACE inhibitors help keep blood pressure at a level where blood high in oxygen and nutrients can be distributed comfortably around the body, without putting too much pressure on your cardiovascular system.
How do they work?
ACE or angiotensin-converting enzyme inhibitors work by influencing how a certain type of hormone is used in the body. This hormone is known as Angiotensin I and is released by the kidneys when specific sensors detect that blood pressure has dropped too low. ACE is present in the blood and when it comes into contact with Angiotensin I it converts it to Angiotensin II, which causes blood vessels to narrow in order to help increase blood pressure.
This medication works by preventing Angiotensin I from being converted into Angiotensin II, resulting in blood vessels narrowing. If blood vessels are more relaxed, blood can flow where it's needed without placing additional strain on the heart.
Renin Angiotensin Aldosterone System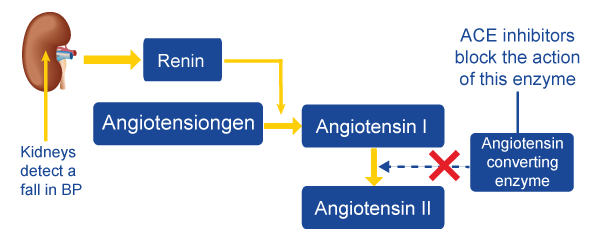 Who will benefit most from taking them?
ACE inhibitors are most effective in people who are aged 55 or younger and can be used to treat high blood pressure and heart failure. This can prevent stroke and kidney damage in people who suffer from hypertension and diabetes. Some people may be prescribed ACE inhibitors after a heart attack in order to prevent complications.
On occasion they may be used in conjunction with other medications but a doctor should always be consulted. They should not be prescribed during pregnancy or to patients with a history of kidney, liver or heart disease.
What are the most commonly used ACE inhibitors for hypertension?
The most commonly used ACE inhibitors for hypertension are Lisinopril (also known as Zestril) and Ramipril (Tritace), however there are in total of eight other variants that can be chosen, although they all work in a similar way to help keep your blood pressure under control.
| | | |
| --- | --- | --- |
| Medication | Ramipril | Lisinopril |
| | | |
| Manufacturer | Teva | Actavis |
| Dosages | 1.5mg, 2.5mg, 5mg, 10mg | 2.5mg, 5mg, 10mg, 20mg |
| Tablet shape | Capsule | Round |
| Tablet colour | Blue and white | White |
| Common side effects | Dry mouth, Fever, Chest pain | Light headedness, Nausea, Weight gain |
| | View Prices | View Prices |
Can ACE inhibitors for hypertension cause side effects?
The most common side effects of these medications may include tiredness, headaches, skin rashes, symptoms similar to hay fever, sinusitis, sore throat, dry persistent cough, feeling nauseous or vomiting, indigestion as well as diarrhoea or constipation. If these side effects become serious or bothersome or if you experience any other side effects, you should seek medical advice straight away.
What's the difference between ACE inhibitors and angiotensin receptor blockers?
Other than ACE inhibitors, there are also other types of treatments that can be used to help lower your blood pressure by influencing angiotensin. These high blood pressure treatments are known as angiotensin II receptor blockers. These treatments don't prevent the conversion of angiotensin like Lisinopril or Ramipril, but they simply prevent angiotensin II - once it's been converted - from influencing blood vessels. These types of treatments might be an alternative for people who tend to develop side effects when they use ACE inhibitors.