High Blood Pressure Symptoms
High blood pressure, or hypertension, is a condition that affects as many as one in three people in the UK. Of these, a significant number (18% of men and 13% of women) are not receiving the medication they need. A reason for this could be that they are unaware they have high blood pressure. This is fairly common because high blood pressure often does not present any recognisable symptoms. An individual only becomes aware that they have the condition when it causes another health problem or if they have their blood pressure monitored regularly by their doctor.

If high blood pressure symptoms do occur, what are they?
It is very rare for someone to experience symptoms of hypertension, but they can occur if a person's blood pressure is extremely high. It can affect both sexes in an equal manner, thus there is not considered to be any noticeable difference in occurrence between high blood pressure symptoms in men and high blood pressure symptoms in women.
Malignant (accelerated) hypertension
Malignant hypertension is very rare, but it can occur if high blood pressure is not treated. This hypertensive emergency can lead to organ damage and requires immediate medical treatment. Serious health complications can arise as a result of malignant hypertension, including heart attack, stroke, heart failure, pulmonary oedema, encephalopathy and aneurysm.
Symptoms of malignant hypertension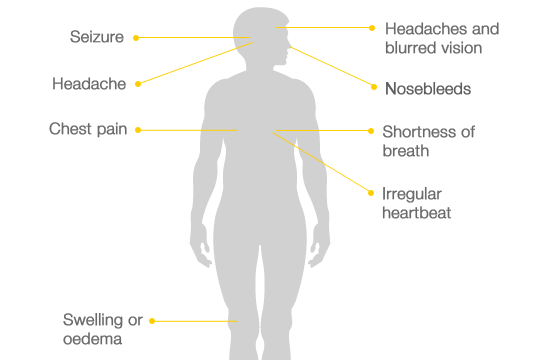 What health problems can hypertension cause?
If high blood pressure is left untreated, it can lead to other serious health problems such as heart disease, stroke, aneurysms and blood clots. Pregnant women, even if they are otherwise healthy, are at risk of developing high blood pressure. This is known as pregnancy-induced hypertension, and is particularly dangerous as it can cause pre-eclampsia.
If there are no high blood pressure symptoms, how can I know if I have it?
There is only one way to know for sure whether you have hypertension or not, and that is to have your blood pressure monitored regularly. It is advisable to have this done by your doctor, but it is also possible to buy blood pressure monitors intended for home use. Home-based blood pressure monitors can help limit the risk of results being affected by "white coat syndrome", which means that your blood pressure rises due to the stress of the clinical environment, thus distorting the results. Experts advise that individuals should have their blood pressure checked at least once every five years.