High Cholesterol Causes
High blood cholesterol can be caused by many different factors. These include lifestyle, genetics and other health conditions. In most cases cholesterol can be prevented and avoided, however this depends on the main cause of your cholesterol. Sometimes making the right lifestyle adjustments can even prevent further damage to your health if you already have high cholesterol.
Lifestyle high cholesterol causes
One of the most common causes of cholesterol is often an unhealthy lifestyle. Factors that could be influencing your health and increasing the levels of bad cholesterol present in your blood could be:
Unhealthy diet - There is a common misconception that foods high in cholesterol such as eggs and liver are responsible for an increase in blood cholesterol. However if you have high blood cholesterol it's more likely to be caused by saturated fats; actual cholesterol in food has very little to do with it.
Physical inactivity - Being inactive and having a diet that's high in saturated fats has been linked to an increase in bad cholesterol. This is also why being overweight or obese is such a high risk factor, as it's often the result of unhealthy lifestyle choices. If you exercise the body tends to produce more 'good cholesterol' which is helpful in removing bad cholesterol from the arteries, making it less likely that fatty deposits will start building up in the arteries.
Excessive drinking - It's been shown that people who regularly consume excessive amounts of alcohol tend to have higher blood cholesterol levels than is considered to be healthy.
Smoking - Certain chemicals found in cigarettes have been known to make it more difficult for 'good cholesterol' to transport excess lipids to the liver, where they can be disposed of naturally. If too much bad cholesterol is able to build up in the arteries it can cause a narrowing of the arteries, which can lead to other cardiovascular problems.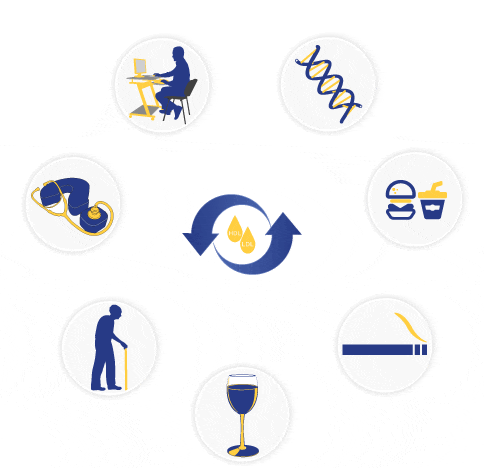 Underlying health conditions that can influence cholesterol
Sometimes an underlying health condition could be the cause of your high cholesterol, which could lead to both conditions being treated effectively before they are able to cause damage to your health. It could just be that you require treatment for the underlying condition and this could benefit your cholesterol levels. Conditions that could be potential high cholesterol causes are: liver disease, kidney disease and an underactive thyroid.
Genetic factors
High cholesterol that tends to run in families is known as familial hypercholesterolemia. It's believed that one in every 500 people inherits cholesterol from a parent. It's also possible for certain ethnic groups to be more prone to developing high cholesterol later in life.
Other high cholesterol causes
With age some people may be more likely to experience a narrowing of the arteries as a result of high cholesterol. It's important to understand that high cholesterol causes may be numerous and that a combination of factors could potentially be responsible for the condition developing.