Types of Cholesterol
We tend to have associated high cholesterol with something negative, but the truth is that cholesterol isn't all bad and even cholesterol that's considered to be 'bad' is needed by our body. However, cholesterol becomes a problem when there is more of it in our blood than is useful to our body and this can lead to various different issues affecting our cardiovascular health.
Low-density lipoprotein and high-density lipoprotein
There are two types of cholesterol produced by our body. Although there are foods that contain cholesterol, they aren't the main cause of high cholesterol. What most people should monitor in order to keep their cholesterol healthy is their intake of saturated fat.
HDL and LDL comparison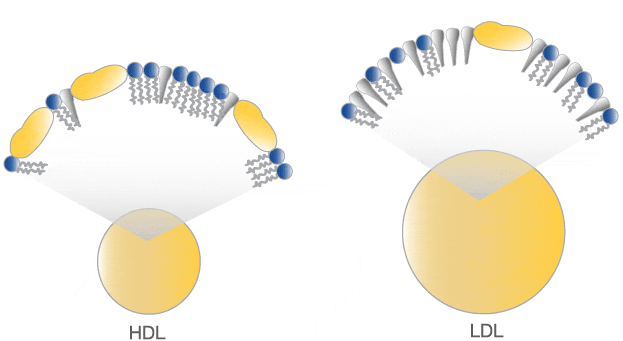 Cholesterol is carried around the body with the help of proteins; these are LDL (low-density lipoprotein) and HDL (high-density lipoprotein). LDL carries cholesterol from the liver to your body cells, where they can be used. HDL, on the other hand, transports cholesterol to the liver where it can be disposed of.
'Bad' types of cholesterol
LDL (low-density lipoprotein) is one of the types of cholesterol that is most likely to be harmful to the body. If too much cholesterol is being transported in your blood to your body cells, and it's not all used, it ends up being dumped in the arteries. This can lead to a build-up of cholesterol, leading to cardiovascular issues.
'Good' types of cholesterol
HDL is classed as 'good cholesterol' because it takes cholesterol away from cells back to the liver where it can be broken down again. This stops cholesterol from building up in blood vessels and leading to other issues.
Triglycerides
Triglycerides are other types of fatty substances found in your blood and this is also measured when your cholesterol is checked. Triglyceride levels tend to be quite high in people who consume a lot of fatty or sugary foods and drink excessively on a regular basis. These people tend to have high levels of these types of cholesterol. People with high triglyceride levels in their blood tend to be more prone to develop heart disease than those with lower levels.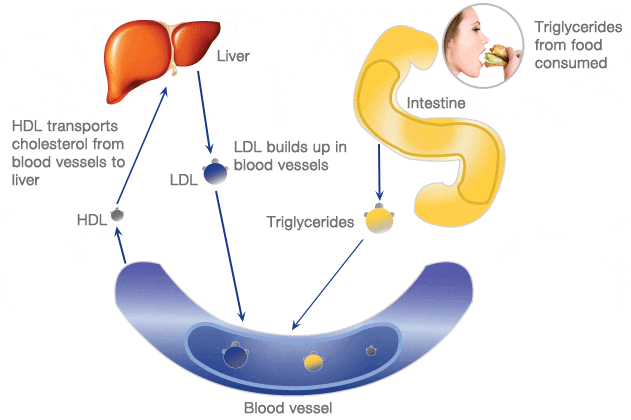 What should my low-density lipoprotein and high-density lipoprotein levels be?
When a doctor measures your blood cholesterol, he takes the different types of cholesterol in consideration to get an accurate indication of your cholesterol levels.
Currently it's recommended that your total cholesterol should be 5.0mmol/L or less, while LDL should make up less than 3.0mmol/L of your total reading. However, people who are already considered to be at risk of cardiovascular problems should aim to have a total cholesterol reading of less than 4.0mmol/L or and an LDL reading of 2.0mmol/L or less.
If your cholesterol is slightly higher than normal, this doesn't mean that you'll require immediate treatment or that your health is at serious risk, but it's still important to take the right steps to lower harmful types of cholesterol such as low-density lipoproteins. This can be done through regular exercise, which stimulates the production of high-density lipoproteins, and a diet that's low in saturated fats.