Irregular Periods
Irregular periods are quite common among women, especially a few years after puberty or just before the start of the menopause. Irregular periods are a disturbance of the menstrual cycle, which could influence how heavy the period is, when it will occur and how long it will last. Although irregular periods may not have any direct cause in many instances, a sudden change in your cycle could be a sign of another medical condition.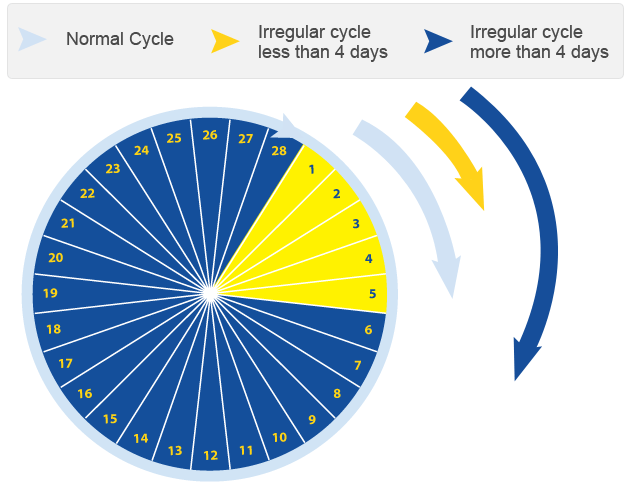 If the irregularity of your period is worrying you then you should ask your doctor for advice, particularly if you have really heavy and long periods; periods that last for more than seven days; you have less than three weeks from one period to the next; you bleed after sex or you experience spotting between your periods. Normally your period occurs every 28 days, however a menstrual cycle of 24 to 35 days is considered average. During this time you should experience a period of menstrual bleeding which can last anything between two to seven days.
Causes of irregular periods
Lifestyle
What we do in our everyday life can change hormonal balances in your body, causing an upset in your balance of hormones and resulting in irregular periods. Often, women who undergo changes in their period do so after drastic weight loss or weight gain, excessive exercise or during times of stress.
Contraceptives
The IUD (intra-uterine device) is a contraceptive that's notorious for increasing the likelihood of heavy bleeding in some women. However, some contraceptive pills can also cause changes in your period, causing a person to experience breakthrough bleeding and spotting. Lighter and shorter than normal periods are also common. However, your period should usually normalise after a few months of use.
PCOS
Polycystic ovary syndrome is a condition where cysts develop on the ovaries, influencing ovulation, leading to shorter, more irregular periods. The production of hormones may be unbalanced, and you could have higher levels of testosterone (a male hormone that women have a small amount) than normal. If this is the cause of your irregular periods, it's best to go to your doctor as soon as possible to avoid any complications developing.
Thyroid problems
The thyroid plays a key part in producing hormones particularly intended to regulate metabolic function. If you are experiencing irregular periods, although considered rare, an overactive thyroid may be the cause.
Gynaecological problems
Irregular bleeding could also indicate problems with the womb or ovaries. During pregnancy it may be a sign of early miscarriage. You may be referred to a gynaecologist should any further treatment be needed.
How can it be treated?
It is possible to treat irregular periods by looking at the causes. This could mean going to your doctor and speaking about changing your contraceptive method or dealing with a thyroid condition. You may also want to consider speaking to your doctor about stress or weight management methods, especially if you've gained or lost a significant amount of weight during the last couple of months. This means that if you are worried about your periods being irregular, whether they are particularly heavy, last a long time or are more frequent than monthly, you should speak to your doctor, even if it turns out that there is nothing serious or worrying behind your symptoms. To find out the underlying reasons for your irregular cycle, your doctor will seek information about your periods, your lifestyle and your medical history.