What is Epiduo gel?
Epiduo gel is a topical medication used to treat acne, a highly common skin condition that causes spots (whiteheads and blackheads), redness, and inflammation.
It contains two active ingredients:
Adapalene
Benzoyl peroxide
These ingredients work together to effectively fight acne and reduce the appearance of pimples and blemishes.
Epiduo comes in the form of a gel, which is white/pale yellow in colour. It is applied directly to the affected areas of the skin, making it a topical treatment.
How does Epiduo gel work?
The active ingredients in Epiduo gel fight against acne in different ways.
Adapalene belongs to a group of medicines called retinoids. Retinoids help to regulate the growth of your skin cells, meaning that acne-damaged and scarred skin can heal faster.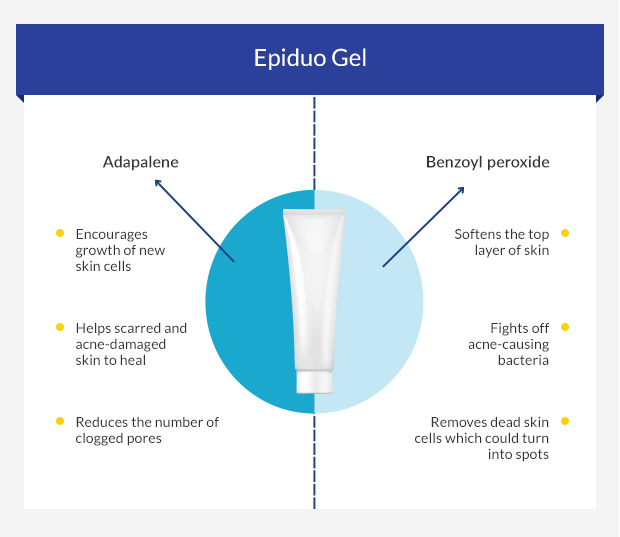 Adapalene also helps with clogged pores, which can reduce or prevent more spots from forming.
Benzoyl peroxide is antibacterial, meaning it is good at fighting against acne-causing bacteria.
It also improves acne by softening and peeling the top layer of your skin. This removes the dead skin cells which could cause spots to form.
How effective is it?
Epiduo gel has been proven to treat acne vulgaris very effectively.
According to one study taken on 286 patients with either moderate or severe acne:
34% of people using Epiduo had either 'clear' or 'almost clear' skin after 12 weeks of treatment.
The study also showed the effectiveness of Epiduo on one of its subjects in particular:
Subject 1 had 194 lesions (spots/pimples) prior to starting Epiduo treatment.
After 12 weeks, the lesion count was 30. This amounts to an 85% reduction in acne vulgaris.
How long does Epiduo gel take to work?
As demonstrated in the examples above, Epiduo should be given 12 weeks to reach its full potential.
However, it is likely that you will begin to see improvements in your skin after just 4 weeks of treatment.
It is important to keep using Epiduo regularly so that your skin can reach its maximum potential.
How do I use it?
Always use medication as prescribed by your doctor. However, the recommended guidelines on how to use Epiduo are as follows:
Make sure that your skin is clean and dry before applying the gel.
Remove the cap and squeeze the tube. If using just on the face, squeeze a pea-sized amount of gel onto your hand and apply it to the skin.
Make sure that the product is applied thinly and evenly.
Once you have finished applying the gel, wash your hands immediately with soap and water.
Do not shower or wash your skin after the application of the gel. This will remove some of the product and make the treatment less effective.
Do not apply more gel than necessary. This will only increase your risk of skin irritation and will not improve your acne further.
Do not apply a double dose if you forget a dose, as this is also likely to lead to skin irritation.
Can I use Epiduo with antibiotics?
Epiduo gel can be taken alongside oral antibiotics such as Lymecycline and Doxycycline.
These are available to purchase as combination packs, where you receive both the topical gel and oral tablets/capsules in the same order.
Combining Epiduo gel with an oral antibiotic can be beneficial for treating severe acne. If your acne is mild, try using Epiduo by itself.
Antibiotics should only be taken if they are needed and if your doctor has deemed it safe to do so. Taking antibiotics when they are not needed can lead to antibiotic resistance (when the bacteria is no longer affected by the medicine).
What are the possible side effects?
As with any medication, there is a chance that you may experience some side effects whilst using Epiduo gel.
The most common side effect is skin irritation. If this occurs, you should reduce how often you apply the gel. If skin irritation persists, stop using Epiduo and speak with a doctor or healthcare professional.
Common side effects of Epiduo gel
eczema (dry, flaky, or itchy skin)
a burning sensation on the skin
rash
itching of the skin
redness on the eyelids
a tingling sensation on the skin
What are the precautions?
Before you start using Epiduo gel, make sure to avoid:
applying the treatment to areas of damaged skin (such as cut or scraped skin)
getting any product in your eyes, ears, nostrils, or other sensitive areas of the body
excessive sunlight or UV light, as the treatment can make your skin more sensitive to the sun
getting the product on clothes and bedding as Benzoyl peroxide can have a bleaching effect on some fabrics
using any exfoliating or harsh cosmetic products on your skin
Do not use Epiduo gel if you are:
pregnant
trying to conceive
allergic to Adapalene, Benzoyl peroxide, or any of the other ingredients in Epiduo
Can I use Epiduo with other topical acne treatments?
It is not suitable to use Epiduo alongside other retinoid treatments or treatments containing Benzoyl peroxide, as this can increase your risk of skin irritation.
Is it safe during pregnancy?
Epiduo is NOT safe to take during pregnancy. Do not use Epiduo if you are pregnant or trying to conceive.
If you become pregnant whilst using Epiduo, you must stop using the treatment immediately.
It is possible that Adapalene can harm a developing foetus whilst it is in the womb. If you suspect that you are pregnant whilst taking Epiduo, discontinue the treatment until you have a confirmed negative pregnancy test.
Ask your doctor for advice about taking Epiduo if you are breastfeeding. If approved, make sure not to use the gel on your chest to avoid any potential contact with your infant.
Can I buy Epiduo gel over the counter?
Unfortunately, Epiduo gel is not available to buy over the counter - it is a prescription-only medication.
As the ingredients are quite strong, you will require a doctor's approval before using it. This ensures that the treatment is safe for you to take.
Can I buy Epiduo gel online?
Yes, you can buy Epiduo gel online at euroClinix. We provide a free online consultation with one of our doctors, who can approve you for treatment once you have answered the necessary questions.
If you are approved for the use of Epiduo gel, it will be sent straight to your doorstep with free delivery.
Note: You must complete a short online consultation so that our doctor can ensure that the treatment is suitable for you. The above pricing should only be used as a reference. The final decision to issue this treatment lies with the prescribing doctor.