What is Dermovate?
Dermovate is a very strong topical treatment used to treat the itching, redness, and swelling of certain skin conditions, including:
eczema
lichen planus
lupus (discoid lupus erythematosus)
dermatitis (that isn't responding to first-line treatments)
It belongs to a group of medications called corticosteroids, or steroids. These drugs are designed to act like hormones to reduce inflammation.
Dermovate is a short-term treatment that should be applied for no more than 4 consecutive weeks, due to the fact that it is very potent.
It is available as a cream, ointment, foam, scalp treatment, or shampoo - for prescription only.
How does it work?
Conditions such as eczema and psoriasis cause the skin to become red, flaky, and mildly to extremely itchy.
Dermovate is a topical treatment that contains 0.05% clobetasol propionate, which is a strong type of steroid.
When applied to the skin, it works directly on the skin's cells to target inflammation and improve the symptoms of these conditions.
How effective is it?
One study was conducted on Dermovate to determine how well the treatment worked. 7g of ointment was applied to the patients with psoriasis (or a similar skin condition) for either 2 or 3 consecutive weeks.
Dermovate was shown to work very effectively at improving itching, redness, and flaking. In fact,
Most of the patients experienced a complete clearing of their symptoms during the course of the study.
The study was also conducted on Betamethasone, which is another psoriasis medication. Results showed that both treatments were equally effective in clearing symptoms.
Strength and doses
Dermovate is available with a strength of 0.05%. This means that each gram of product (whether it's cream, ointment, liquid, or shampoo) contains 0.5mg or 500mcg of the active ingredient clobetasol.
What are the precautions?
Before using Dermovate, it's important to note the precautions.
Do not use Dermovate for a prolonged amount of time, especially on the face.
Avoid contact with eyes at all times (this cream can cause severe damage).
Make sure to avoid naked flames, as Dermovate can be transferred to bedding and clothing, making them more likely to catch on fire.
If applying beneath an airtight dressing, use slightly less medication (as these dressings make it easier for clobetasol to pass through the skin).
Check with your doctor before using Dermovate if you have previously had an allergic reaction to a steroid.
Talk to your doctor if, during treatment:
you develop new bone pain, or existing bone pain worsens
you develop blurred vision or have any other difficulties with your sight
you develop an infection
you become pregnant
How do I use it?
You should always follow your doctor's instructions when taking a prescription medicine. However, a general guide to using Dermovate is as follows:
begin by washing your hands
apply a thin layer to the affected area(s) of the skin
gently rub it in until it has become fully absorbed
wash your hands once again (unless you are applying to your hands as treatment)
if you are applying a bandage or dressing over the affected area, wait 10 minutes after applying treatment until doing so
Dermovate should be applied once or twice a day (aim to wait at least 8-12 hours in between uses). Your doctor will probably prescribe its use for one or two weeks.
Because it is so strong, Dermovate should not be used for more than 4 weeks in a row.
How much treatment should I use?
The amount of treatment you should use depends on how much skin you are treating.
Sometimes, the patient leaflet will refer to 'fingertip' units, to help you know how much to use.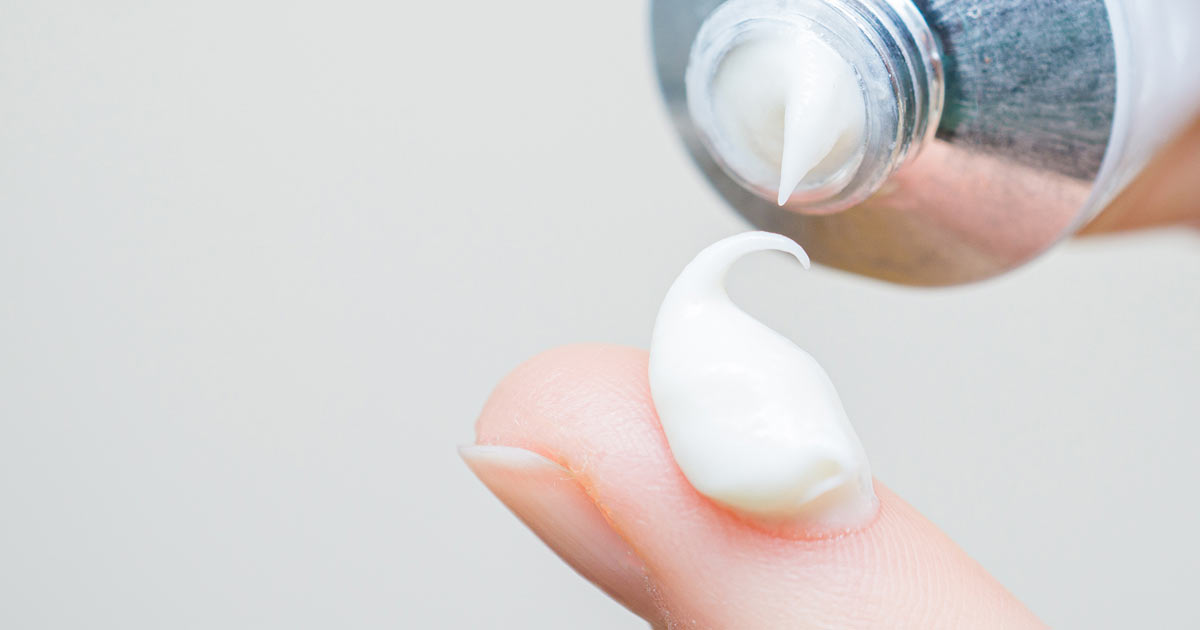 When squeezing treatment from the tube, one fingertip's worth should be enough to cover an area twice as big as your palm.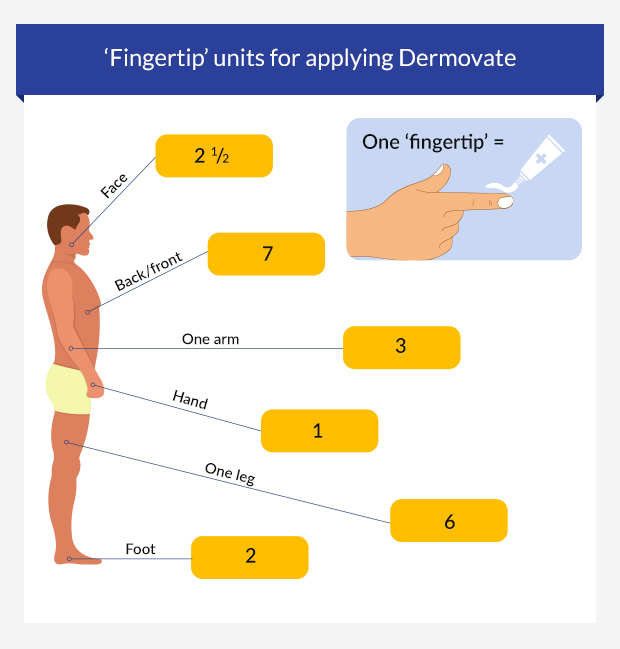 For different areas of the body, you can follow this guide:
| Body part | Amount of cream (in fingertip units) |
| --- | --- |
| Face and neck | 21⁄2 |
| Front | 7 |
| Back | 7 |
| One arm (not including the hand) | 3 |
| One leg | 6 |
| Both sides of one hand | 1 |
| Foot | 2 |
Don't worry if you need a little more or less - every person is different. Just ensure that the affected area is coated properly in a thin, even layer of cream or ointment.
Who can use it?
Dermovate is safe to use for the majority of adults who have inflammatory skin conditions. However, it may not be suitable for you if:
you have ever had an allergic reaction to clobetasol, or any of the other ingredients in Dermovate
you have damaged or broken skin, or a skin infection as a result of an open wound
you have acne
you have rosacea
your skin condition is mostly affecting your face (Dermovate should only be applied to the face with your doctor's permission, and should not be applied for more than 5 continuous days)
you are taking other medication containing corticosteroids
you are taking medication to control your immune system
What are the possible side effects?
As is the case with all medicines, there is a chance that you will experience side effects whilst using Dermovate on your skin. Not everybody gets them, but if you do, they should clear up once you finish treatment.
Common side effects
a feeling of burning, stinging, or itching on areas where it has been applied
the skin may become thinner
blood vessels under the skin may become more visible
Talk to your doctor if you have concerns about any of the side effects you are experiencing.
Can I buy Dermovate online?
Dermovate cream is available to purchase online here at euroClinix.
Simply fill out our quick medical questionnaire to complete your free consultation. This will then be sent to one of our doctors, who will decide whether Demovate is suitable for you based on your medical history.
Once approved, the treatment will be sent straight to your doorstep with free delivery included in the price.
Note: You must complete a short online consultation so that our doctor can ensure that the treatment is suitable for you. The above pricing should only be used as a reference. The final decision to issue this treatment lies with the prescribing doctor.