What is Tamiflu?
Tamiflu is a flu treatment that can stop the flu virus from spreading allowing those with flu symptoms to get better faster. It can also be used as a preventative treatment for people that have come into contact with people with flu symptoms to stop them from getting sick too. It is an antiviral medication that fights the virus that causes flu and in doing so allows the body to get rid of the initial infection faster.
You can buy Tamiflu online at euroClinix in one dose of 75mg in packs of 10,20,30,40 or 50.
What are the benefits of Tamiflu?
Tamiflu is the most frequently prescribed anti-viral flu medicine in the EU and is most effective when taken within two days of the onset of symptoms. It works by helping to stop the flu virus from spreading inside your body, which will improve your recovery time and provide relief from the symptoms. This treatment can also prevent the onset of flu even if you have been exposed to someone who suffers from it. On average, this medication reduces the duration of symptoms by one and a half days. The treatment should be started within 48 hours of coming into contact with the infected individual.
How does Tamiflu work?
Flu is commonly triggered by a highly contagious virus, which affects the lungs and respiratory system. The virus is caught by breathing in microscopic airborne droplets that are formed when an infected individual talks, sneezes or coughs. The virus can also live for a short time on surfaces, so it can be picked up if an individual touches an infected surface and then rubs their eyes or nose. When the virus first gets through into the body it attacks cells in the airways, where it duplicates to form lots of new harmful copies of the virus.
These new copies of the flu virus move from the first cells to infect neighbouring cells, where the process keeps on repeating itself. A couple of days after, enough cells have been infected that the patient feels flu symptoms such as fever, headache and overall aches and pains. These carry on for about one week until the body's immune system effectively kills off the virus.

Tamiflu's main ingredient oseltamivir inhibits the neuraminidase enzymes of the influenza virus. It's these enzymes that help the virus to enter uninfected cells and to spread within the body. By preventing the virus from spreading, your body is better able to fight the virus, bringing relief from the many uncomfortable symptoms of flu.
How to use Tamiflu
You should take Tamiflu as prescribed and take them at regular intervals. Even if you feel well you should take the whole course unless a doctor tells you not to. You should read the enclosed instructions before taking this medication for full instructions or download them at the bottom of this page. A guideline to taking Tamiflu is as follows:
Start Tamiflu within 2 days of symptoms or contact with an infected person for best results
Take Tamiflu with water
Do not crush or chew the tablet
Take the tablet with food to reduce the chance of it upsetting your stomach
If you miss a dose take it as soon as you remember as long as it not close to when the next dose is due
These capsules can be taken either with or without food, although taking it with a meal may reduce the chance of feeling or being sick.
When to start treatment with Tamiflu
When taking Tamiflu, it is important to commence treatment as soon as possible after being exposed to the virus or experiencing flu symptoms, depending on your doctor's recommendations. The following guidelines apply:
Within 48 hours of experiencing flu symptoms

Due to the way Tamiflu works, it is at its most effective if taken before the infection has had time to spread. Within 48 hours of experiencing symptoms, you still have enough time to fight off the infection, and stop it from spreading enough to make you very ill.

Taking Tamiflu after injection

Within 48 hours of being in close contact with someone infected

Similarly, if you come into contact with someone who has the flu and seek medical treatment immediately, you may be able to prevent it from spreading. If you are around people that have influenza, contact a doctor and give them all the information you can. It could be early enough to stop the onset of the virus.

Taking Tamiflu to prevent influenza

After 48 hours of experiencing flu symptoms

After 48 hours of experiencing flu-like symptoms, if you have influenza, Tamiflu usage will not be effective. The reason for this is that the virus will have already infected too many cells in the body. Before experiencing symptoms, it could have already been actively infecting cells for almost two days. By the time you have had symptoms for 48 hours, your body may have been under attack for almost four days. Flu only has about a week before your immune system fights it off in full, so Tamiflu may no longer be useful in cutting down recovery time. You would be advised to use over-the-counter treatments to help you with the symptoms instead.
Who can buy Tamiflu online?
Tamiflu is suitable for both adults and children (one year and older), and should be taken within 2 days of you noticing the symptoms. It is also approved for emergency use in children less than one year old. The recommended dose of Tamiflu for treating adults is 75 mg twice daily for five days. Children should be treated with 30 to 75 mg twice daily, depending on their body weight.
In non-pandemic conditions, the National Institute of Clinical Excellence (NICE) advises that Tamiflu should not be taken to treat or prevent common seasonal flu in healthy individuals. They advocate that it is only prescribed to patients who are at risk of forming complications from flu. These patients are those aged 65 and over, and those suffering with with chronic lung disease, e.g. asthma, long-term kidney, heart, liver or neurological disease.
Who shouldn't take Tamiflu?
Before you buy Tamiflu online or start treatment, you should inform your doctor if you are allergic to any of the drug's components. If you are carrying a baby or are planning to become pregnant, you should not start treatment without consulting your doctor as Tamiflu can pass into breast milk. If you are suffering from any of the following disorders, inform your doctor before beginning treatment: kidney ailments, heart problems, viral infections besides influenza A / B, liver diseases or lung problems.
Do not use this medication if you are allergic to any of its ingredients. Please tell your doctor or pharmacist if you have previously experienced such an allergy. If you feel you have experienced an allergic reaction, stop using this medication and tell your doctor or pharmacist in the first instance.
Can this treatment affect other medicines?
The chance of this medication affecting other medicines is unlikely. Nonetheless, you should inform your doctor or pharmacist what medicines you are currently taking, including those purchased without a prior prescription and herbal medications, before you start using these capsules. Similarly, check with your doctor or pharmacist before you start taking any new medicines while you are taking these capsules, to make sure the combination is harmless.
What are the side effects?
Tamiflu (oseltamivir) is a prescription medication which can cause side effects during the course of your treatment. Not everyone experiences side effects, but they can occur at any stage as individuals will react differently to the medication, although it is more likely to occur early on in the treatment. If any side effects should persist, then it is important to contact a doctor and discuss your treatment options.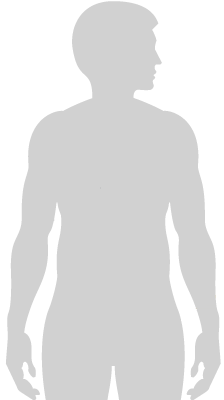 Neurological
Mild headaches are commonly reported side effects of Tamiflu. Dizziness and tiredness may also occur.
Gastric
An upset stomach is also a common side effect, which may be accompanied by nausea and vomiting.
Skin
Skin reactions such as inflammation of the skin and an itchy rash are uncommon but may occur.
Liver
Though uncommon, liver function disorders such as hepatitis may occur. You should notify a doctor immediately if you feel you may be suffering from a hepatic disorder.
Tamiflu side effects
Click on the relevant area of the body to find out about how it may be affected by Tamiflu
Some of the common side effects of Tamiflu are:
Common:

Headaches and nausea
Diarrhoea and abdominal pain
Indigestion and tiredness
Difficulty sleeping, bad dreams

Dizziness and nosebleeds
Conjunctivitis and skin rashes
Liver inflammation
Less common side effects that can be experienced are convulsions and psychiatric events, such as abnormal behaviour, a lack of concentration, decreased consciousness, delirium and hallucinations. These less common side effects, however, are mainly reported to affect children and adolescents, although some adults have experienced episodes of depression.
How can I buy Tamiflu online?
You can buy Tamiflu online from euroClinix. We offer a safe and secure ordering process, which includes an online consultation. This involves a few short medical questions, which will be checked over by one of our team of doctors. If you are safe to take this medication and can benefit from it, they will issue a prescription. Our pharmacy will then dispatch your treatment for overnight delivery.
Note: You must complete a short online consultation so that our doctor can ensure that the treatment is suitable for you. The above pricing should only be used as a reference. The final decision to issue this treatment lies with the prescribing doctor.