What is Atrovent?
Atrovent is a bronchodilator that relaxes muscles in the airways and increases airflow to the lungs. It is used to prevent bronchospasm, or narrowing airways in the lungs, allowing people with bronchitis, emphysema or COPD to breath comfortably.
The Atrovent inhaler, also referred to as a HFA (hydrofluoroalkane) or CFC free inhaler, has been found to be an effective preventer treatment for asthma and chronic obstructive pulmonary disease. This medication relaxes the air passages of the lungs. It helps to keep the airways open, in turn making it easier to breathe, successfully preventing the occurrence of an asthma attack. Atrovent is available to buy online in the form of a 20mcg preventer inhaler, which can be used by men and women over the age of 18.
How does Atrovent work?
During an attack, a natural chemical called acetylcholine acts on receptors found on the muscles that surround the airways, causing the muscles in the airways to contract and narrow.
Atrovent, when inhaled, actively works in the lungs. Its active ingredient ipratropium bromide works by blocking these muscarinic receptors and prohibiting the action of acetylcholine on them. Consequently the muscles around the airways are able to relax and the airways to open, making it easier for sufferers of asthma and COPD to breathe.
It is important to understand that Atrovent inhalers do not give you immediate relief from symptoms once an asthma attack or an attack of breathlessness has already started. This means that instead of being used to treat such an attack, it should be used to prevent an attack and as a result should be used in your daily routine at the same time or times everyday to help keep the airways open.
Ipratropium bromide – the active ingredient
Atrovent inhaler and Atrovent UDVs both contain the active ingredient ipratropium bromide, which is a type of medicine called an antimuscarinic bronchodilator. Ipratropium nebuliser solution is also available without a brand name, i.e. as the generic medicine. Ipratropium works by opening the airways to make it easier to breathe.
How to use the Atrovent inhaler
This medication must be used as exactly as it is prescribed to you in order to get the desired results. It is available to buy from euroClinix in a 20mcg dose.
Instructions on how to use your inhaler will be included in the packaging of your medication. The initial dose for an adult is usually one or two puffs to be inhaled three or four times a day, with six to eight hours between each dosage. Do not exceed the recommended dosage without consulting with a doctor.
This medication is a puffer inhaler, meaning that you push down on a canister containing the active ingredient as you inhale. If you are finding this difficult to do, you need to inform your doctor about using a spacer.
If this is the first time you are using an inhaler of if you have not used it in the past three days, it's recommended to squeeze two puffs before placing the mouthpiece in your mouth and breathing in. To make sure it carries on working effectively, we advise that it be cleaned once weekly. You can do this by removing the canister and washing the inhaler casing separately with warm soapy water.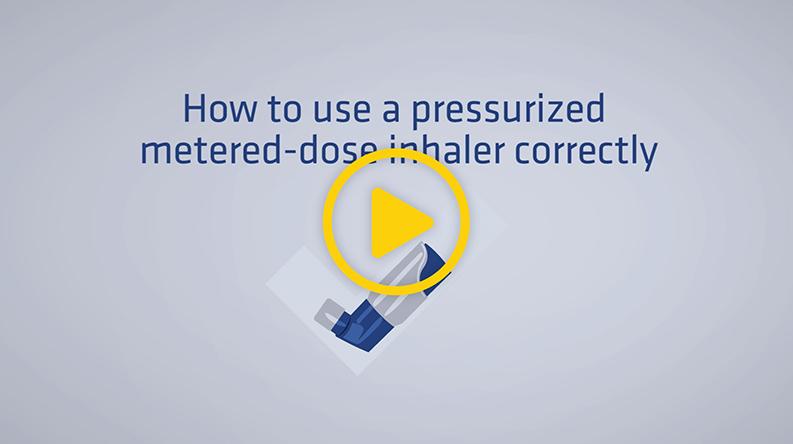 Atrovent precautions
You must be 18 or over to purchase Atrovent inhalers online. Those who suffer from asthma or chronic obstructive pulmonary disease can use this inhaler as a treatment to help to control or prevent the narrowing of the lungs. It is important that you mention any medications that you are taking during your online health consultation, as Atrovent and specific medications may interact negatively.
Individuals who are allergic to any of the ingredients in this preventer inhaler, including ipratropium bromide or related medicines, should not buy this medication. Should you experience an allergic reaction while using this medication you must stop using it and inform a doctor immediately. Pregnant women or women that are breastfeeding are not usually recommended this treatment. If you have bladder problems, cystic fibrosis, prostate problems, glaucoma, or urinary tract problems than this medication may not be suitable for you. Alternatively, if confided in beforehand, your doctor will determine whether this medication is suitable for you to buy.
Atrovent side effects
Although side effects are generally rare and usually brief, the most common side effects associated with this medication can include headaches, dizziness, dry mouth, cough, hoarseness, upset stomach, nausea or blurred vision. Although extremely rare, more serious side effects may include difficulty in breathing, swelling of the face, tongue or throat and an increased heart rate. Seek medical help immediately if severe side effects occur or if any of the side effects mentioned above persist.
How to buy the Atrovent inhaler online
If you wish to effectively prevent the onset of asthma symptoms and treat COPD you can purchase the Atrovent preventer inhaler online from euroClinix after filling out a quick, online consultation. One of our doctors will then review your prescription to ensure that this medication is safe and effective for you to use. Once your order is approved your prescription will be passed on to our UK registered pharmacy, and will be sent out free of charge via our next day delivery service.
Note: You must complete a short online consultation so that our doctor can ensure that the treatment is suitable for you. The above pricing should only be used as a reference. The final decision to issue this treatment lies with the prescribing doctor.