What is Serevent?
Serevent is a preventative asthma treatment (a preventative inhaler) that comes in two different forms: Serevent Accuhaler and Serevent Evohaler. Outside of the UK, Serevent Accuhaler is known as Serevent Diskus.
Both these medications work in the same way, helping to keep the airways open and reducing the risk of asthma attacks. Serevent is also used to treat similar symptoms caused by chronic obstructive pulmonary disease (COPD).
Serevent Accuhaler and Evohaler are both available to buy from euroClinix through an easy online consultation. Just choose the treatment you need and fill out the questionnaire to get your prescription renewed.
How does Serevent work?
Serevent contains salmeterol as its active ingredient. Salmeterol is known as a bronchodilator: it prevents and reduces the symptoms caused by asthma or other respiratory conditions, like COPD, by relaxing and opening the airways and making breathing easier. It does so by stimulating the lung receptors known as beta-2 receptors.
Serevent is a long-acting bronchodilator (LABA), which means its effects can last up to 12 hours. Unlike short-acting inhalers, salmeterol only starts working in 10-20 minutes and should not be used as a reliever inhaler.
Salmeterol allows the airways to stay open for longer, which helps to prevent asthma attacks, chest tightness, wheezing, and other asthma symptoms from occurring in the future. Because Serevent comes in an inhaler form, it allows the medication to act directly in the respiratory system, and the amount absorbed into the bloodstream through the lungs is much lower than if it was taken orally by mouth.
Is Serevent a steroid inhaler?
Salmeterol is not a steroid. Steroid inhalers are known as corticosteroids, and similar to Serevent, they are used to prevent asthma symptoms. These include beclometasone (Clenil, Qvar) and budesonide (Pulmicort). Some asthma inhalers combine two ingredients in one: salmeterol can be combined with a steroid (like in Seretide).
What types of Serevent treatments are available?
There are two different types of Serevent inhalers: Accuhaler and Evohaler. An accuhaler comes as a dry powder, while an evohaler delivers the medicine as a fine aerosol spray. Both Serevent inhalers are green: the colour indicates that they belong to the category of preventer inhalers.
Serevent Accuhaler

Serevent Accuhaler doses come in pre-loaded blisters, each containing an individual 25 mcg dose of salmeterol in powder form. The device has a counter on top of it, showing the number of remaining doses. Using the Accuhaler can be easier for some patients (e.g. elderly and children) as the medicine is only released when inhaled.

Serevent Evohaler

Serevent Evohaler is a type of inhaler that comes as a pressurised inhalation suspension, also known as a metered dose inhaler. It releases a dose in the form of a spray or mist. You can use a spacer device to deliver the medication more effectively.
Is there a generic alternative to Serevent?
There is currently no generic version of Serevent, but it is also under the brand names Neovent and Soltel.
What are the benefits of Serevent?
Salmeterol is effective in preventing and managing several different symptoms of asthma. It can improve the quality of life of an asthmatic in various ways:
prevents future asthma attacks
improves exercise-induced asthma - symptoms caused by any physical activity, including shortness of breath and wheezing
reduces nocturnal asthma - symptoms that occur at night-time and disturb your sleep
can reduce allergy-related inflammation and improve symptoms caused by common asthma triggers
How do you use a Serevent inhaler?
Your GP or nurse should show you the correct technique for using a Serevent inhaler before you start your treatment.
Rinse your mouth after using the inhaler, as this will help prevent hoarseness and reduce the risk of oral thrush. You should also clean the mouthpiece after every use by wiping it with a dry tissue.
The accuhaler and evohaler are administered slightly differently.
How to use Serevent Accuhaler
This device requires aerosol inhalation, which is done by opening the lever and placing the mouthpiece in your mouth to inhale the dose. Follow the instructions below on how to use the salmeterol accuhaler.
Open the device by holding the outer case in one hand and placing the thumb of your other hand on the thumb grip. You should hear a click when you push your thumb as far away as it will go.
Once opened, you will see a small hole in the mouthpiece. Hold the mouthpiece towards you and slide the lever as far as it goes to place the dose inside.
While holding the Accuhaler away from your mouth, breathe out as long as you can.
After breathing out, place the mouthpiece to your lips and breathe deeply through the Accuhaler.
Remove the inhaler from your mouth and hold your breath for at least 10 seconds before breathing out slowly.
Close the device by sliding the thumb grip back as far as it goes until you hear a click. It means the lever is back in its original position.
How to use Serevent Evohaler
The technique for using Serevent Evohaler spray may require slightly more practice. Follow the instructions below or watch our video on using a pressurised inhaler.
Remove the mouthpiece cover gently by squeezing its sides.
Shake the inhaler before use, and if you have not used it for a long time or are using it for the first time, check that it still works by releasing two puffs into the air.
Hold the inhaler upright between your fingers, with your thumb below the mouthpiece.
Breathe out as long as possible before placing the mouthpiece between your teeth, and close your lips around it. Do not bite it.
Immediately after you start breathing in, release one puff from the inhaler by pressing down its top and continue breathing in deeply.
Remove your finger from the top of the inhaler, and keep breathing in as long as possible.
Return the mouthpiece cover to its place by snapping it back to its position.
If your doctor has instructed you to take more than one puff, wait about 30 seconds before taking another one.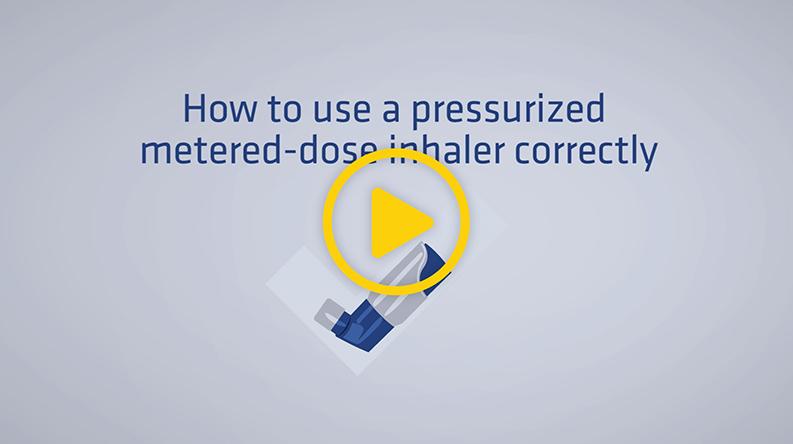 How often should you use a Serevent inhaler?
Typically Serevent inhalers are used twice a day: once in the morning and once in the evening. The daily dosage is usually 25mcg or 50mcg, but your GP may recommend a higher dose if you have severe asthma. Follow the instructions given by your doctor or healthcare provider at all times.
Never exceed your prescribed Serevent dosage; if you forget to take your dose, do not take two doses to compensate for the missed one.
If your current dosage does not seem to work, consult your doctor. Serevent should not be used to relieve the symptoms of an asthma attack - always carry a short-acting reliever inhaler with you instead.
Who can use Serevent?
Some other health conditions can put you more at risk for adverse effects of this medication.
Your doctor may not prescribe you salmeterol if you have
high blood pressure
a heart condition
diabetes
an overactive thyroid
Although Serevent is used in combination with other asthma treatments, your doctor will not prescribe it if your asthma is significantly deteriorating. Salmeterol is usually an addition to corticosteroids and should not be your first-line treatment for asthma.
Does Serevent have contraindications with other medications?
Most medications are safe to use alongside Serevent. However, some treatments can alter the effects of salmeterol.
Serevent can react with:
beta-blockers, such as atenolol and propranolol
ketoconazole and itraconazole for the treatment of fungal infections
ritonavir for HIV
other long-acting inhaled beta-agonists, such as formoterol
Read the patient leaflet before using this medication and consult your GP if you are unsure about the safety of using other treatments with a salmeterol inhaler.
Does Serevent cause side effects?
All prescription medications can cause side effects, although not everybody will experience them. For most people, they will improve after a few weeks of use.
Common side effects of Serevent:

headaches
joint or muscle pain
feeling shaky, shaking hands

fast or uneven heartbeat (palpitations)
throat irritation and cough
A rare adverse effect of inhaled medicines is called paradoxical bronchospasm. It is a condition where airways are constricted instead of relaxing after using a bronchodilator.
If you experience sudden symptoms of wheezing or breathing difficulties after using your Serevent inhaler, seek help from a healthcare professional as soon as possible because these symptoms can be life-threatening.
Can you buy Serevent inhalers online?
If you plan to renew your Serevent prescription, euroClinix offers a quick way to order your asthma medication securely online. We only ask you to fill out our simple online consultation form so that we can ensure the treatment is safe for you to use. Once one of our doctors has approved your request, your order will be sent from our UK pharmacy in discreet packaging with free next-day delivery.
Note: You must complete a short online consultation so that our doctor can ensure that the treatment is suitable for you. The above pricing should only be used as a reference. The final decision to issue this treatment lies with the prescribing doctor.