What is Viagra?
For many years, Viagra has been the most well-known erectile dysfunction (ED) treatment. Often referred to as 'the blue pill', Viagra is effective in as little as 30 minutes and provides results for up to four hours.
Viagra contains the active ingredient Sildenafil citrate (Sildenafil). It works by increasing blood flow to the penis, making it easier to achieve and sustain an erection.
You can order Viagra online from euroClinix.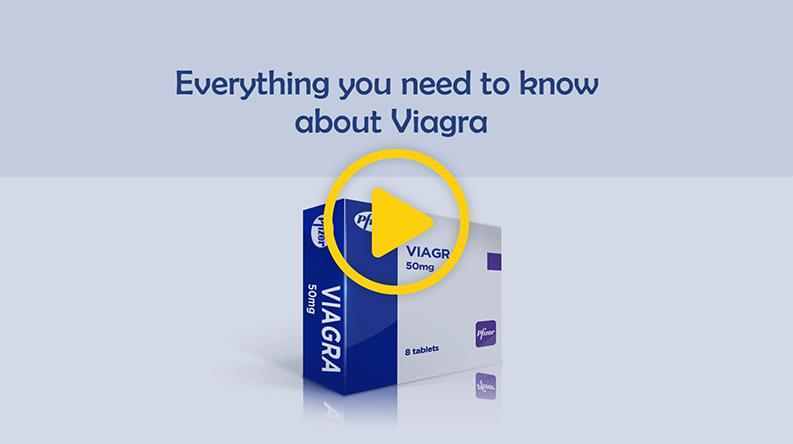 How does Viagra (Sildenafil) work?
Viagra tablets work for patients with ED by increasing blood flow to the penis, so you can achieve an erection sufficient for sexual intercourse. In all cases, it is essential that you experience sexual stimulation for Viagra to take full effect.
The active ingredient in Viagra is sildenafil. Sildenafil belongs to a group of medications called PDE-5 -- or phosphodiesterase type 5 - inhibitors. PDE-5 inhibitors relax the blood vessels in the penis, improving blood flow and enabling you to achieve a fuller, firmer erection.
If the cause of your erection problems are due to psychological troubles Viagra can have a placebo effect, although it is usually only prescribed if the cause is physical.
What is the difference between Viagra and Sildenafil?
Viagra is a brand-name medication sold by the pharmaceutical company Pfizer. It is also sold as a generic under the name of its active ingredient, Sildenafil. Generic medications work in exactly the same way, but are not manufactured by the same company.
Who can take Viagra?
Men over the age of 18 years who are experiencing erectile problems can take Viagra. However, Viagra may not be suitable for all men.
The recommended starting dosage is 50mg, as long as you are healthy and suited to the treatment. Read on to find out which dosage is best for you and what precautions to take to ensure safe usage of this treatment.
Viagra is not indicated for use by women.
What dosage should I take?
Viagra is available in three different dosages – 25mg, 50mg and 100mg. Our doctors will prescribe a course that is best suited to your needs, which is why it is important to document your medical history in the online medical consultation.
Viagra 25mg
This is the lowest dose of Viagra available and is typically recommended to men who are aged 65 and over. Patients who have experienced a long history of sexual health problems or those who are currently taking alpha-blockers are given this dosage.
Viagra 50mg
This dosage has a very high success rate among ED patients and is therefore the most commonly prescribed Viagra dosage in the UK. If you have not used Viagra or Sildenafil previously, this is usually the recommended start dosage.
Viagra 100mg
If the lower doses of Viagra have had little to no effect on your ability to maintain a strong erection, and you have had no side effects with the lower dosages, you will likely be prescribed Viagra 100mg.
In a study more than 88% of the 979 participating men preferred this dosage. Though there is a slightly higher risk of side effects with this Viagra tablet, there is also a greater chance of it working for patients who need it.
How do I take Viagra?
You should always read the patient leaflet before you take treatment for the first time.
You should take Viagra as and when you need it, ideally 30-60 minutes before sex. Swallow one tablet whole with a full glass of water, either on an empty stomach or with food.
Tablets should be stored in a cool, dry place. Do not take more than one tablet in a day, and never exceed 100mg in 24 hours.
Do not drive or use machinery before you know how this medicine affects you, as it can cause dizziness and affect your vision.
Can it be taken with food and alcohol?
Viagra can be taken with or without food. However, certain foods, such as grapefruit juice and other grapefruit products, should also be avoided while on Viagra, as they may affect how well the medication works. High-fat meals may also reduce the efficacy.
You should not drink heavily (more than three units of alcohol) when using this medication, as this can increase your risk of side effects, such as headaches, dizziness, increased heart rate, and changes in blood pressure.
How long does Viagra (Sildenafil) take to work?
Viagra works in as little as 30 minutes, but it can take up to 60 minutes. Taking the tablet with a heavy meal may cause a delay before the treatment becomes effective.
Please note that sexual stimulation is required for it to work.
How long does Viagra last?
Viagra lasts up to 4 hours, which is similar to most ED medications. If you are looking for a longer-lasting medication, Cialis may be a suitable alternative.
A common misconception is that Viagra will result in an erection lasting up to 4 hours. This is not the case. Men taking Viagra will however be able to achieve and maintain an erection multiple times within those 4 hours (while the medicine is effective), as long as there is sexual stimulation and arousal.
What are the possible side effects of Sildenafil?
The active ingredient in Viagra, is a tried and tested impotence treatment that is generally well tolerated if used correctly. As with many prescription medications, some men may be more prone to developing side effects, especially if it is the first time they are using a treatment such as this one. These effects are mostly mild and tend to pass as soon as your body becomes used to the medication.
Some of the most common side effects of Viagra (Sildenafil) can include:
Common:

Headaches
Hot flushes
Dizziness
Stuffy or blocked nose

Nausea
Back pain
Muscle pain
Indigestion or heartburn
Priapism, or long-lasting painful erections can occur when using ED treatments like Viagra and Sildenafil. An erection should not last for up to 4 hours without sexual stimulation. If this is the case, you should seek medical advice urgently.
If you experience any serious side effects including an allergic reaction, or if any of these side effects listed above persist, contact a doctor immediately. You can find a full list of reported side effects in the attached patient information leaflet (PIL).
What precautions should I be aware of?
Medication is one of many ways to treat erectile dysfunction, but it may not be suitable for everybody.
You should detail any medical conditions you have, as well as your medical history, during your consultation so that our doctors can ensure that this medication is safe for you to take.
Inform the prescribing doctor if any of these applies to you:
heart problems, including heart failure, angina, heart disease, heart attack or an irregular heartbeat. Your doctor will need to evaluate if you are healthy enough for sexual activity before it can be prescribed to you
you have high blood pressure (hypertension)
you have a bleeding problem (such as haemophilia) or a stomach ulcer
you have a condition that affects the shape of your penis, such as Peyronie's disease
you have sickle cell anaemia
you have cancers of the blood or bone marrow multiple myeloma
you have leukaemia
Do not use Viagra if:
you have an allergy to any of the ingredients in this medication* (another ED treatment might be more suitable for you)
you currently take medicines called nitrates ('poppers')
you have a serious liver, kidney or heart problem
you recently had a stroke or a heart attack
you have low blood pressure
you have a rare hereditary eye disease (such as retinitis pigmentosa), or have experienced a loss of vision due to non-arteritic anterior ischemic optic neuropathy (NAION)
*A full list of ingredients is detailed in the patient information leaflet attached to this page. A copy will also always be included with your order.
Stop taking Sildenafil and get medical help immediately if you experience a sudden decrease or loss of vision.
You should be sure that your condition is not a symptom of an underlying medical problem and that the erectile dysfunction is physical, rather than psychological. It is also very important to ensure that you are in adequate health for sexual intercourse, as some men with heart conditions will be advised to abstain to limit the risk of suffering a heart attack. In these cases, you will not be prescribed the medication.
When taking Viagra, be sure not to take any medications that you have not mentioned to your doctor. It is also important that you don't increase the dosage that has been prescribed to you without first consulting a physician. Do not take Viagra tablets that have passed their expiry date, and ensure you store the tablets in a cool place (below 30 degrees Celsius) out of reach of children.
Are there any interactions between other medications?
During your consultation, it is important to mention any medications that you may be taking, even if they are herbal or over-the-counter products. This gives the doctor a clearer idea of your condition so that they can make sure that you are able to safely take Viagra tablets.
Some medications can negatively impact your health if they are used together or may even influence how well Viagra works. You should not take Viagra if:
You are using nitrates
Nitrates are often prescribed for treating chest pain. They have a similar effect as Viagra, causing the muscles to relax and the vessels to enlarge. When this occurs blood pressure drops and, in conjunction, the two medications can cause a drastic drop in blood pressure. This can be detrimental to the health of those suffering from a heart condition such as angina, as it can trigger a heart attack.Examples of nitrates include glycerol trinitrate or nicorandil. Nitrates also include recreational 'poppers', such as amyl nitrate, nitroglycerin and butyl nitrate. Although different, amyl nitrite should not be combined with ED treatments either.
You are taking alpha-blockers
Alpha-blockers are used to treat high blood pressure, and the combination of these two medications can lead to a significant drop in blood pressure. However, your doctor may be able to adjust the dosages so that you can get treatment for both conditions safely.
You are using other erectile dysfunction treatments
Taking more than one erectile dysfunction medication at a single time can be dangerous and isn't likely to be any more effective at treating impotence.
You are taking any antifungal medications or medicines for HIV
You should not take any ED treatments alongside any antifungal medications or medicines for HIV. Together, they can increase the chance of side effects occurring.
You are taking certain antibiotics
Mixing Viagra and certain antibiotics, such as erythromycin, can raise the level of sildenafil in your blood, leading to an increased risk of side effects.
You eat grapefruit on a regular basis
Grapefruit can influence how Sildenafil is absorbed in your system, and may cause the treatment to stay in the body for longer than is considered healthy. Do not consume grapefruit or grapefruit products, such as grapefruit juice, if you are taking this medication.
You are using St. John's wort
St. John's Wort is a natural mood enhancer that can influence how effective certain medications work - this is due to its influence on liver enzymes.
You should also avoid excessive alcohol consumption, as it increases your risk of side effects, such as headaches, dizziness and changes in blood pressure. Alcohol can also increase the difficulty of achieving an erection so may be counterproductive.
Always inform your doctor before starting any new medication or after a dosage change so they can ensure there are no contraindications. Always read the patient information leaflet carefully before taking any prescription medicine, over-the-counter treatments or supplements.
What are some alternatives to Viagra?
There are many different ED medications, including Cialis (Tadalafil), Cialis Daily, Levitra (Vardenafil) and Spedra.
Viagra can also be purchased as a generic under the name of its active ingredient, Sildenafil.
How do I buy Viagra online?
If you are looking to treat erectile dysfunction (ED), Viagra can help. Viagra Pfizer tablets (or generic Sildenafil) online, you need to complete a free online medical consultation (written questionnaire). Completing it will provide one of our doctors with details of your medical history. This is a strictly confidential process that should take no longer than a few minutes to complete.
Once the online consultation has been reviewed, and if approved by a UK qualified doctor, your prescription Viagra will be dispatched from our registered UK pharmacy for free next-day delivery.
We understand the importance of discretion, which is why we deliver all of our medications in plain packaging. There will be no mention of euroClinix or the contents on the outside of the package.
If you have any further questions about how to buy Viagra or other medications online, please contact us and we will be happy to help. Customer Services are here to guide you through the process should you need it.
Can I buy Viagra over-the-counter?
Viagra is a prescription-only medication. All prescription-only medications require a doctor consultation. However, Viagra Connect, which contains the same active ingredient in a 50mg dosage and works in the same way, is a pharmacy-only alternative that can be purchased over-the-counter via a consultation with a pharmacist rather than a doctor.
Note: You must complete a short online consultation so that our doctor can ensure that the treatment is suitable for you. The above pricing should only be used as a reference. The final decision to issue this treatment lies with the prescribing doctor.