What is Viagra?
Viagra, or the blue pill, is one of the most well-known erectile dysfunction treatments. It is effective; it works in as little as 30 minutes and provides results for up to 4 - 6 hours.
Viagra contains the active ingredient Sildenafil. It helps to increase blood flow to the penis, making it easier to achieve and sustain an erection.
You can order Viagra online from euroClinix.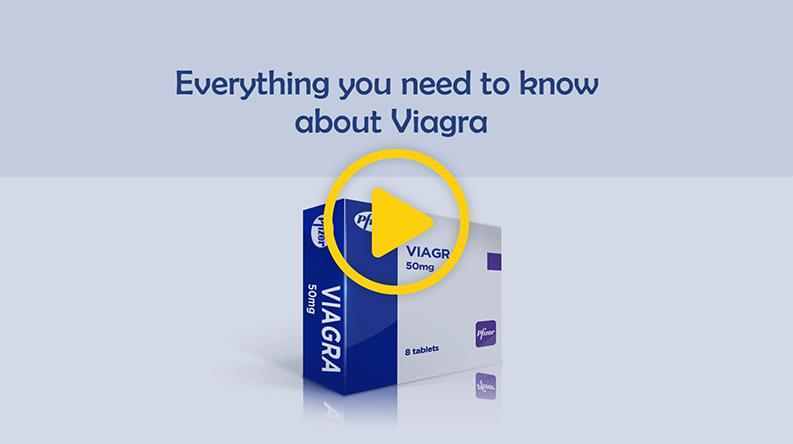 What is the difference between Viagra and Sildenafil?
Viagra and Sildenafil are essentially the same medication. The main difference is who manufactures them.
Viagra is a brand name only sold by one manufacturer, Pfizer. It was the first ED treatment on the market. Viagra tablets also have a specific design, blue pills with the dose and manufacturer engraved.
On the other hand, while it is the active ingredient of Viagra, Sildenafil is available as a generic version of Viagra made by multiple manufacturers. It means the price of Sildenafil is generally lower than the price of Viagra.
How does Viagra (Sildenafil) work?
Viagra tablets work for men with ED by relaxing blood vessels in the penis. Doing so increases blood flow so men can more easily achieve an erection. In all cases, you must be sexually aroused beforehand for it to work.
How long does it take for Viagra to work?
How long Viagra takes to work depends on the individual. However, most men will start to see the effects within 30 - 60 minutes of taking it.
How long does Viagra last?
Once taken, the effects of Viagra can last for up to 4 - 6 hours. However, this doesn't mean you will have an erection for that length of time. Once you have finished, your erection will go down. You can get more than one erection while using Viagra within that period.
Who can take Viagra?
Viagra is safe to take for most men over the age of 18. Women must not take Viagra.
Always check with your healthcare provider before taking Viagra if you have any medical conditions.
You should not take Viagra if you:
have low or high blood pressure
have had recent and unstable angina (chest pain)
had a recent stroke or heart attack
have any eye problems
have a heart rhythm disorder (arrhythmia)
In addition, your doctor may want to monitor you on Viagra if you have:
a blood disorder
a penis deformity or Peyronie's disease
any heart problem not already listed
a stomach ulcer
For more information on who can and cannot take it, consult the patient leaflet or ask your doctor.
What dosage should I take?
There are three Viagra doses: 25mg, 50mg and 100mg. If you have any other conditions or take other medicines, check with your doctor before taking any.
Viagra 50mg
50mg is the most prescribed dose and the best starting dose for most first-time users. It means the dosage is easy to adjust if it doesn't work for you or you experience any side effects.
Viagra 25mg
This is the lowest dose of Viagra available. It is recommended to men who:
are over the age of 65
have a certain medical condition
take a certain medication
experience side effects with the 50mg dose
Viagra 100mg
If the lower doses have not worked for you, and you have had no side effects with the lower dosages, you will likely be prescribed Viagra 100mg. It is the maximum dose available.
How do I take Viagra?
Always read the patient leaflet before you take treatment for the first time.
Only take Viagra as and when you need it. Ideally, take it 30-60 minutes before sex. Swallow one tablet whole with a full glass of water, either on an empty stomach or with food. Do not take more than one tablet daily.
Do not drive or use machinery before you know how this medicine affects you, as it can cause dizziness and affect your vision.
Store tablets in a cool, dry place.
Can I take Viagra with food and alcohol?
You can take Viagra with or without food. However, certain foods, such as grapefruit juice and other grapefruit products, should be avoided while on Viagra. Grapefruit can enhance Viagra's effects, potentially causing side effects.
You should also avoid eating a high-fat meal before using Viagra as it can hinder the effects of the drug, meaning you see fewer results.
In addition, don't drink much alcohol when using this medication. The combination of alcohol and Viagra can increase your risk of side effects and affect your ability to get an erection.
What are the possible side effects of Viagra?
As with all prescription medicines, Viagra may cause some side effects. Fortunately, most common Viagra side effects are mild and don't require treatment. The risk of side effects is particularly low with ED medicines as you only take them when you need them.
Common:

headaches
hot flushes
dizziness
stuffy or blocked nose

nausea (feeling sick)
indigestion or heartburn
blurred vision
Priapism is a condition that causes long-lasting painful erections that can occur when using ED treatments. Erections should not last for up to 4 hours without sexual stimulation. If this happens, seek medical advice urgently.
If you experience any severe or persistent side effects, contact your doctor as soon as possible. You can find the full list of reported side effects in the attached patient information leaflet (PIL).
Does Viagra interact with other medicines?
Taking certain medicines with Viagra can cause some side effects, including any prescription, over-the-counter or herbal medicines.
Do not take Viagra with any of the following medicines:
other ED medicines
certain heart medicines
medication for an enlarged prostate
amyl nitrate ("poppers")
Priligy for premature ejaculation
HIV medicines
certain asthma medications
certain antidepressants
epilepsy medicines
certain antibiotics and antifungals
For a complete list of Viagra interactions, please read the patient information leaflet.
What are some alternatives to Viagra?
There are several Viagra alternatives, including:
These medicines belong to the same drug class as Viagra and therefore work similarly. If you find that these medicines don't work for you, consult your doctor.
How do I buy Viagra online in the UK?
You can order Viagra and the generic Sildenafil online at euroClinix. All you need to do is complete a free online medical questionnaire. It will provide one of our doctors with details of your medical history. It is a strictly confidential process that should not take more than a few minutes to complete. Once reviewed and approved by one of our UK doctors, our pharmacy will dispatch your prescription with free next-day delivery.
Can I buy Viagra over the counter in the UK?
You cannot buy Viagra without a prescription from your doctor. However, Pfizer has since released an over-the-counter alternative known as Viagra Connect. It contains Sildenafil, the same active ingredient, but is only available as a 50mg dose in smaller pack sizes. You will need to have a consultation with a pharmacist.
Note: You must complete a short online consultation so that our doctor can ensure that the treatment is suitable for you. The above pricing should only be used as a reference. The final decision to issue this treatment lies with the prescribing doctor.