What is premature ejaculation?
Premature ejaculation (PE) is a sexual condition where a man cannot control ejaculation during a short space of time for the majority of sexual stimulation experiences. Whilst there is no outright cure for PE in the same way as antibiotics for an infection, you can still manage the condition effectively to prevent ejaculation, with many methods to explore. Whilst PE is often associated with penetrative vaginal sex, it can be diagnosed based on foreplay, oral sex, anal sex, masturbation and even sexual stimulation such as watching porn.
During a study on ejaculation time (also known as intravaginal ejaculation latency time, or IELT), hundreds of men were timed with a stopwatch in order to ascertain the average length of time for intercourse.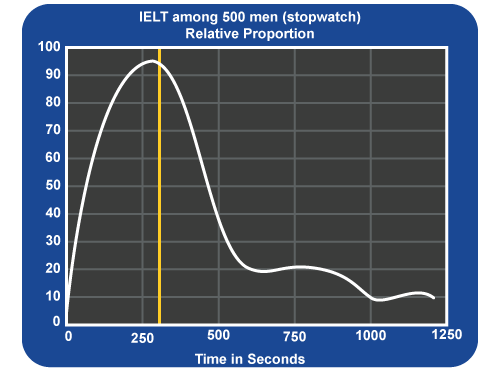 This graph shows that the average time of intercourse before ejaculating is five minutes.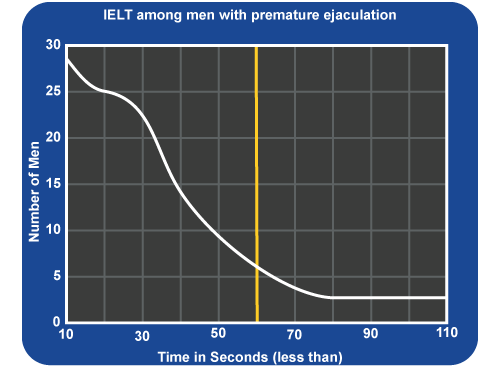 This graph shows that the majority of men suffering from premature ejaculation last less than a minute.
Diagnosing premature ejaculation
Doctors and other medical professional categorise the time at around two minutes (120 seconds) as a general rule of thumb, however individuals with the condition may feel that up to five minutes frequently is causing distress and frustration. Whilst some men are capable of lasting for longer than 30 minutes before climaxing, others may ejaculate in only 8 to 15 vaginal thrusts so seeking treatment for premature ejaculation can largely be influenced by your personal view on sex and masturbation, with personal experiences and expectations also playing a part.
It is difficult to determine the cut-off point for men who suffer from premature ejaculation and those who don't. When establishing whether you have premature ejaculation (PE), it's important to seek a medical professional who can diagnose you with the condition, and to research any techniques, methods and treatments you may be interested in pursuing.
Premature ejaculation symptoms
Premature ejaculation affects a large number of men worldwide. However, there isn't always a clear indication of what exactly qualifies as unanticipated ejaculation as the expectations of how long sex should last varies from person to person.
Research into premature ejaculation is still in its early stages, and the 'correct' length for sexual intercourse is subjective. However, experts have agreed on the following symptoms in order to diagnose the condition:
If ejaculation is occurring within less than two minutes (120 seconds) frequently, then you may have a problem
If you are able to sustain an erection for longer than this, but your performance time has been significantly reduced, then you might also be suffering from a condition
This should be a persistent symptom and occur regularly, as most men will suffer from early ejaculation at some point but it will not be considered a medical condition

Differentiating premature ejaculation
Premature ejaculation can be categorised into two forms, lifelong (primary) premature ejaculation or acquired (secondary) premature ejaculation. This can be influenced by the causes of PE, the treatment you are advised and the dosages of medication offered.
Lifelong premature ejaculation
This type of PE can either be inherited through genetics or appear as the result of behaviours learnt through childhood, meaning that it can start early on for the vast majority of men who have the condition. Behavioural issues could stem from a strict environment where sex is frowned upon, or from masturbating too quickly as a teenager. These feelings and behaviours then continue into adulthood and can be very difficult to break. These are some of the symptoms:
Ejaculation may occur within one minute of penetration, or even beforehand
Inability to delay ejaculation after vaginal penetration
Feelings of distress, frustration and anxiety before and after sex
Secondary premature ejaculation
This type of ejaculation problem develops due to psychological or physical reasons, and is more common later in life as bad habits are inherited. The symptoms are:
Persistent ejaculation with minimal stimulation
Ejaculation very shortly after penetration
Premature ejaculation, even after you have had healthy, functional sexual relationships before
Feelings of personal distress that develop into relationship problems
If you are experiencing any of the symptoms above, the best thing to do is consult a doctor. With their help, you can ascertain the root of your condition, and find the best treatment and method to suit your lifestyle. Often a combination of treatment options and techniques can have the greatest effect.
Other types of ejaculation problems:
Retarded ejaculation: Retarded ejaculation is almost the opposite of premature ejaculation. If you suffer from retarded ejaculation, you cannot achieve an orgasm when you want to. You will still experience a normal and strong erection, and feelings of arousal, but you will not be able to climax and ejaculate.
Retrograde ejaculation: This form of ejaculation problem is very rare and not often diagnosed. Men suffering from this ejaculation problem can have sexual intercourse, but when they ejaculate, rather than moving up the posterior urethra and out of the tip of the penis, the sperm moves backwards into the urethra. This problem does not cause pain, but can be troubling if a couple are trying to conceive.
Retrograde Ejaculation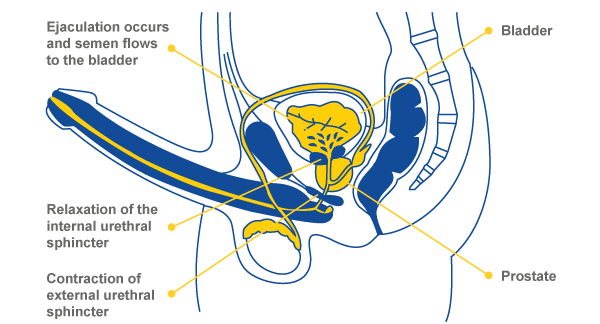 Causes of premature ejaculation
Premature ejaculation causes are linked to the type of PE you have and many men find there is no root or sole cause, but a combination that has developed over time. When in a relationship, it's important to discuss the potential causes of your condition, regardless of the embarrassment factor, as this can help you pinpoint certain scenarios and feelings that promote ejaculating too quickly.
Psychological
There is no clear root cause of premature ejaculation, but in most cases this condition is psychological in nature. It can be caused by:
Stress
Anxiety
Confidence issues
Fear
Depression
Guilt
If the first few times a man encounters sex and feels under pressure to perform quickly, he may be conditioned to orgasm very quickly. Traumatic childhood experiences and its emotional effects can also result in problems with climaxing later in life.
Psychological causes of premature ejaculation can be treated with therapy, communication and coaching, and thus it is important to voice any mental, emotional or psychological problems when consulting with a doctor.
premature ejaculation
causes
Physical
Physical problems such as vascular conditions, spinal cord injuries, multiple sclerosis and neurological issues are sometimes likely to cause ejaculation problems, as well as using certain medications, drug abuse and excessive alcohol consumption.
Recent research has shown that there is a link between masturbation and physical causes of premature ejaculation. Excessive masturbation causes a change in body chemistry by increasing stress hormones. This then leads to premature ejaculation, as well as other frustrating sexual side effects.
premature ejaculation
causes
Preventing premature ejaculation
Establishing whether your sexual condition is physical or psychological is particularly important in preventing PE from being a lifelong condition. This can be helped further with open communication with your partner, if applicable, and your doctor or therapists, if you decide counselling is the method for you.
Other methods to last longer in bed include the ability to control your erection and ejaculation in a number of ways:
The start-stop technique – When stimulating the penis through sexual intercourse, masturbation or foreplay, if you feel you're about to ejaculate, stop for approximately one minute, or the time it takes to regain control. Most men and couples try and do this around three to five times, but do make sure you ejaculate (come) in the end. Many couples find this is best practiced through masturbation or foreplay initially, as stopping multiple times during sex can be frustrating.
The squeeze method – This is the same process as the start-stop technique in the sense that you stop sexual stimulation just before you're about to ejaculate (come). Whilst resting, hold the tip of the penis (shaft and glands) with your thumb and forefinger, for approximately 30 seconds. Some men find the squeeze technique works effectively as you are stopping for less time than you would with the start-stop method (just half a minute at a time), however it should be repeated around five times each time for a number of months before seeing a significant effect.
Distracting yourself – This can be thinking about something else mundane, counting or taking a deep exhale just before ejaculating.
Creams and condoms– certain protection and lubrication can help prolong sex. This includes thicker condoms that limit feeling, Benzocaine condoms and certain creams that may also contain Benzocaine, which is an anaesthetic that can temporarily numb intense feeling in the area. Do be wary of the condoms and creams you use as some fluids can damage condoms.
Although all these methods are not full proof they do provide some form of support to prevent or reduce the occurrence of premature ejaculation. Finding the root cause of the problem is essential to successfully prevent future risk
What premature ejaculation treatments are there?
Despite PE being a very common condition, Priligy is the only treatment available in the UK. However, there are other methods available to assist in the treatment of this condition:
Prescription
Priligy dapoxetine helps to increase the length of sexual intercourse, which can help increase sexual satisfaction for both you and your partner. In trials, Priligy has helped men to elongate sex by more than 200% to 300%, with only a minimal risk of potential side effects.
Exercises
A number of penis exercises have been developed that can help treat PE, such as the 'squeeze' and 'stop and start' exercises. These techniques may take time to work, but they can be effective if performed on a regular basis. They involve being masturbated by a partner, but with activity, decreasing before ejaculation takes place. Repeating this action gradually helps men to take better control over their ejaculation.
Desensitising remedies for premature ejaculation
Manufacturers have also formulated desensitising over-the-counter creams and gels designed to slightly numb your penis and allow for longer sexual intercourse. However, these treatments aren't very discreet and may affect how pleasurable sex is.
Therapy
If you suspect that the causes of your premature ejaculation are emotional, then speaking to your doctor or a counsellor could be potentially helpful. In some cases a doctor may recommend a prescription premature ejaculation treatment in conjunction with therapy.
Surgery
Although it may be an effective way to potentially cure unanticipated ejaculation, surgery is often the last course of action and involves reducing penile sensory input; however, this is a highly intrusive procedure, which carries a number of serious risks.
Many men find a combination of treatment and prevention methods to be the most effective. For example, if your condition stems from psychological issues, then counselling may be an effective option teamed with prescription medication. Or you may find the squeeze technique teamed with couple therapy is the best option for you as well as your partner.
In terms of prescription treatment, there is medication that has been clinically proven to prolong ejaculation. Priligy dapoxetine is the only medication approved in the UK and can increase the time of ejaculation by up to 300% when used correctly. For more information regarding Priligy, how it work and how to order, you can read our product page. Other men find couples therapy to be a suitable form of treatment for premature ejaculation, especially for long-term relationships. There is also the opportunity to seek sex therapy and counselling sessions privately.
No treatment for PE is going to be a short-term fix. Whether it's medication, therapy or prevention such as the start-stop technique, each should be used correctly for the long-term to have more chance of being effective.
Ordering Prescription treatments online
The prescription premature ejaculation treatment, Priligy dapoxetine, can be ordered safely and securely from euroClinix. We offer a completely free and confidential consultation service with each order. Each order will be checked by one of our doctors who will then provide a prescription if you can safely use this medication. Your order will be dispatched directly from our pharmacy with no additional shipping charge.