What is Priligy?
Priligy (dapoxetine) is a medication that men can buy online for the successful treatment of premature ejaculation (PE). This medication is clinically proven in the UK to treat premature ejaculation safely and effectively. Priligy belongs to a class of drugs called selective serotonin re-uptake inhibitors (SSRI) and was originally developed for the treatment of depression, but was re-labelled as a treatment for premature ejaculation when it was discovered that serotonin has a significant impact on the male ejaculatory time.
This medicine's active ingredient is dapoxetine. This particular ingredient is a part of the SSRI family and raises the serotonin levels, which then raises nerve signal transmission, allowing the brain to have more control over ejaculation.
Dapoxetine chemical composition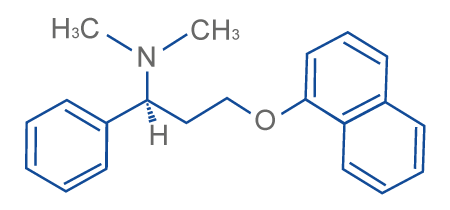 What are the benefits of Priligy and how does it work?
For ejaculation to happen, a message is sent from the brain through the nervous system. Nerve cells communicate this message by releasing serotonin. This bridges the gaps between cells, passing the message on, before being reabsorbed. However, if re-absorption happens too quickly, the chain of communication is broken, which can lead to problems such as depression or premature ejaculation. Priligy dapoxetine is a Serotonin Reuptake Inhibitor (SSRI). It slows the re-absorption of serotonin, allowing for better communication between cells. This allows you to achieve better control of the impulses that cause you to ejaculate.

How do you take Priligy tablets?
Dapoxetine should be taken between one and two hours before intercourse. The effects of this medication are likely to wear off within 4 to 24 hours.
Priligy dosages
Priligy dapoxetine tablets are available to order online in a 30mg and 60mg dose. You will need to order the lower Priligy 30mg dose if you have never used it before. This is recommended as a starting dose. If this does not produce the desired results, you can buy the 60mg dosage, as long as the medication didn't cause side effects. It is recommended that this medication should be taken at least one hour before starting any sexual activity.
Priligy precautions
You can buy premature ejaculation pills online in the UK if you are over 18, male and if you suffer from on-going ejaculation problems. Most men recommended for this treatment will ejaculate within two minutes of penetration, or sometimes before penetration. However, men who have found their ejaculation time has decreased significantly may also be able to buy this treatment.
| Alcohol | Food |
| --- | --- |
| You should avoid alcohol when taking Priligy, as its effects may be increased and it could become dangerous. | Priligy can be taken with or without a meal but always with water to avoid dehydration. |
| Driving | Women |
| If you experience any side effects such as drowsiness or dizziness do not drive or operate heavy machinery. | Women should not take Priligy as it has only been approved for use in men and could have negative side effects. |
Interactions with other drugs
Before you take this treatment, it is important to inform a doctor about any medications you might be taking. This will help them to assess whether or not they will interact negatively with Priligy and cause harm or limit its effectiveness. There are several medications that you cannot take in conjunction with it. Make sure you detail all medications, prescription and non-prescription, during your online consultation.
Consult with a doctor if:
Do not take Priligy if you are taking:

You have used recreational drugs
You have had any mental health problems
You have epilepsy
You have a history of low blood pressure
You drink alcohol regularly

Antidepressants (in particular MAOIs)
Thioridazine for schizophrenia
Linezoled for infections
Herbal remedy St. John's Wort
Tramadol as a painkiller
Certain fungal medications
Certain HIV medications
If you are currently taking any of the medications listed above, you will need to stop taking it for 14 days before beginning to take Priligy, and then wait another seven days afterwards before you begin to take it again. Always consult with your doctor before doing so.

Stop taking contraindicated medication
Begin taking Priligy
Stop taking priligy
Resume contraindicated medication
Priligy side effects
Priligy (dapoxetine) 30mg / 60mg tablets do have some potential side effects, which tend to be mild to moderate in nature. However, they do not affect everyone who takes the drug. Dapoxetine has a short half-life, which works to significantly reduce the intensity of any potential side effects, making it a safe and efficient way to treat your condition.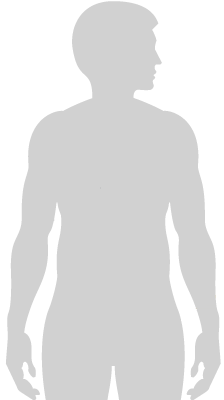 Neurological
Headaches are a fairly common side effect of Priligy, but are usually mild and brief. Disorientation is less common, and mood-related side effects such as depression and irritability are very rare.
Gastric
Nausea is a common side effect for many prescription medications and Priligy is no exception. Bowel problems are a very rare potential side effect of this medication.
Cardiovascular
Cardiovascular side effects are uncommon but it is possible that some changes in blood pressure may occur.
Head
Dry mouth and blurred vision are fairly common side effects of Priligy. Some itchiness of the skin may occur, but this is less common.
Priligy side effects
Click on the relevant area of the body to find out about how it may be affected by Priligy
Mild side effects you may experience while taking this medication can include nausea, headaches and disorientation (for the full list of side effects, please see below).
| | | |
| --- | --- | --- |
| COMMON | UNCOMMON | RARE |
| Headaches | Disorientation | Dizziness |
| Dry mouth | Depression | Sleepiness |
| Nausea | Changes in blood pressure | Bowel problems |
| Irritability | Chest and muscle pain | |
| Blurred vision | Abnormal taste | |
If any of these possible side effects persist, however, it is important to contact a doctor and discuss your options. You may need to use a different form of treatment, or simply lower your dosage.
How to buy Priligy (dapoxetine) online in the UK
If you are looking to successfully prolong sexual intercourse and improve sexual performance, Priligy (dapoxetine) 30mg / 60mg tablets are available to buy quickly and confidentially online at euroClinix. You can order this clinically proven premature ejaculation treatment after completing a free and confidential consultation as part of our ordering process, so that our doctor can ensure that this medication is right for you.
If your consultation is approved, a prescription will be provided by our qualified doctor and passed on to our pharmacy. Our pharmacy will make sure that the correct medication is shipped directly to you in discreet packaging via our free next day delivery service.