What is Qlaira?
Qlaira is a multiphasic combined contraceptive pill, otherwise known as 'the pill', that is 99% effective in preventing unwanted pregnancy when taken correctly.
It contains synthetic hormones that alter your menstrual cycle which means your body does not prepare itself for pregnancy like it would naturally. You take one pill at the same time each day.
Whilst it protects you against pregnancy, it does not protect you from sexually transmitted infections (STIs). Please visit a sexual health clinic if you're concerned you might have an STI.
Provided you are already taking it, you can buy Qlaira online with free next-day delivery at euroClinix.
How does Qlaira work?
Qlaira tablets contain two active ingredients, Estradiol valerate and Dienogest, which are synthetic versions of the female sex hormones oestrogen and progesterone respectively. These active ingredients work by altering the natural levels of hormones throughout your menstrual cycle.
This alters your reproductive system in three core ways:
inhibits ovulation - the process in which an egg is released from the ovary
thickens cervical mucus - makes it more difficult for sperm to reach the egg
thins the lining of the womb (uterus) - makes it more difficult for an egg to implant into the uterus
Qlaira does so by stabilising the levels of oestrogen and progesterone. Throughout your menstrual cycle, the levels of these hormones naturally change, which cues certain processes to prepare your body for pregnancy.
When the hormone levels are stable, the normal reproductive processes are not triggered, and thus conception is prevented.
What are the benefits of Qlaira?
The most obvious benefit of the Qlaira pill is the fact that it is 99% effective at preventing pregnancy, if it is taken correctly.
Qlaira can also help to reduce heavy, irregular and/or painful periods. Some research has also found that combined pills can slightly reduce the risk of developing certain gynaecological cancers such as ovarian cancer and endometrial cancer.
It also has a unique benefit in that it is a 28-day pill. Unlike other types of combined pills where you have to take a break between pill packs, you take a pill every day without breaks. This may be beneficial for you if you find it difficult to remember to start taking your pills again after a break.
Who can take Qlaira?
The Qlaira pill is a very safe hormonal contraceptive for the majority of women.
However, women with certain health problems should not take it, such as if you have or ever had:
a blood clot, such as in the leg (deep vein thrombosis) or lung (pulmonary embolism)
a disorder that affects how your blood clots
a heart attack or stroke
angina pectoris (severe chest pain) or a transient ischaemic attack (mini-stroke)
a condition that puts you at a higher risk of a blood clot (e.g type 2 diabetes, high blood pressure or high cholesterol)
migraine with aura
liver disease or damage
breast cancer or cervical cancer
unexplained vaginal bleeding
an allergic reaction to any of the ingredients
an inflammatory bowel disease (e.g Crohn's disease or ulcerative colitis)
The pill may also not be right for you if you are overweight, you are over 35 and you currently smoke or have only just recently stopped.
If you have a certain medical condition, you should always consult a healthcare professional first before using Qlaira, so they can ensure it's safe for you to take. For a full list of potential contraindications, please refer to the patient information leaflet.
How should I take Qlaira?
Each strip (or wallet) contains 28 pills, meaning one pill should be taken every day. You don't take a break between each strip, unlike other combined contraceptives. It's important you take each pill at the exact same time each day to ensure its effectiveness.
Qlaira is a quadriphasic pill, meaning it contains 4 different doses across each cycle. Therefore, you will find four different types of active tablets that contain different doses of hormones:
2 dark yellow tablets (3mg estradiol)
5 light red tablets (2mg estradiol and 2mg dienogest)
17 light yellow tablets (2mg estradiol and 3mg dienogest)
2 dark red tablets (1mg estradiol)
2 white tablets (inactive tablets that contain no hormones)
The different pills means that it is very important that you take every pill in the pack in the exact order as directed, starting with the first pill on day one of your period. You should expect a withdrawal bleed on or after the 26th day.
You will find that self-adhesive strips are supplied with every Qlaira wallet to help you remember the order in which to take the tablets. Pick the sticker strip that starts with the day of the week you choose to start your pill on, and place it above the first week of pills.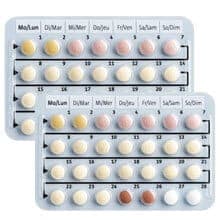 Though the two white pills do not contain any active ingredients, it is still important to take them as scheduled. This is to ensure that you remember to take each pill regularly. You will still be protected against pregnancy while you take these two pills.
What should I do if I miss a pill?
While an occasional missed pill is common in many women, knowing what to do if you miss a pill can be confusing. This is also especially true with Qlaira, as the advice will depend on how far you are into your cycle.
If you are less than 12 hours late on any day in your pill pack, take it as soon as you remember, even if that means taking two pills in one day. You will still be protected and won't need to take extra precautions.
If you are more than 12 hours late or have missed more than one pill, your advice will depend on what point you are during your pill pack.
from days 1 to 9 - take the missed pill immediately and your next pill at your usual time, use barrier contraception for the next 9 days and if you had unprotected sex in the seven days before your missed pill, you may need to use emergency contraception
from days 10 to 17 - take the missed pill immediately and your next pill at your usual time, use barrier contraception for the next 9 days
from days 18 to 24 - discard your current pack and start a new pack immediately, you should also use barrier contraception for the next 9 days
days 25 or 26 - take the missed pill immediately and your next pill at your usual time, in this case, you do not need additional contraception
If you miss a white tablet (an inactive pill) on days 27 or 28, you will still be fully protected as these pills don't contain any hormones. Discard the missed white tablet, and take the next tablet at the scheduled time.
For more instructions on what to do if you lose a pill, vomit or have diarrhoea, please refer to the patient information leaflet.
What are the potential side effects of Qlaira?
As with all prescription medicines, Qlaira can cause some side effects, especially within the first few months of using it. However, not everyone experiences them.
Some possible side effects include:
Common (1 in 10)

headache
abdominal pain
nausea
acne

irregular bleeding or no periods
weight gain
breast pain
Uncommon (1 in 1000)

fungal infections (e.g thrush)
other vaginal infections
appetite changes
mood changes
breast tissue changes

dizziness or migraine
fatigue and irritability
hair loss
heavy periods
Some women experience bouts of vomiting and diarrhoea whilst using Qlaira. If you do experience either, it may alter the pill's effectiveness. Please follow the missed pill advice.
If you notice any severe and sudden side effects such as any swelling, breathing difficulties or muscle weakness, seek medical attention as soon as possible.
It's also advised that you monitor any changes in your breasts and tell your doctor if you notice any changes.
For a full list of side effects, please refer to the patient information leaflet.
Does Qlaira react with any other medicines?
It's important you tell your doctor or pharmacist about all the medicines you're currently taking, including prescription and over-the-counter medicines, as there may be a potential interaction.
This is especially important when taking Qlaira (and other oral contraceptive pills), as other medicines can potentially alter their effectiveness.
Do not take Qlaira with the following medicines:
epilepsy medicines (e.g phenytoin, lamotrigine and barbiturates)
medicines to treat tuberculosis (e.g rifampicin)
medicines to treat hepatitis and HIV infections (e.g protease inhibitors)
cyclosporine - an immunosuppressant
antifungal medicines (e.g ketoconazole)
the herbal remedy St John's wort - used for depression
If you're not sure what you take, check with your doctor or pharmacist. For a full list of potential drug interactions, please consult the patient information leaflet.
Can I buy Qlaira online?
Qlaira is available to buy online here at euroClinix in several pack sizes. However, you must have been prescribed Qlaira before by a healthcare professional to be able to buy it online. All you have to do is complete a quick online health questionnaire so our online doctors can check it's suitable for you. Once approved, your pill will be dispensed and dispatched with free next-day delivery.
Note: You must complete a short online consultation so that our doctor can ensure that the treatment is suitable for you. The above pricing should only be used as a reference. The final decision to issue this treatment lies with the prescribing doctor.