What is Nitrofurantoin?
Nitrofurantoin is the active ingredient and generic brand name for an antibiotic used as first line treatment for urinary tract infections (UTIs), particularly bladder infection (cystitis). It is also known by the names of Microbid, Furadantin and Macrodantin.
For UTIs Nitrofurantoin provides an efficient and easily applicable treatment to kill off the bacteria causing the disease and reduce the symptoms which can often be very uncomfortable, such as a burning sensation during urination and frequent urge to urinate. The convenient application via tablet and the short treatment duration help cure the cystitis symptoms caused by the UTI discreetly.
How does Nitrofurantoin work?
The active ingredient Nitrofurantoin damages the bacterial DNA as it is broken down into its components by the bacteria cells. Through that it affects the metabolism of the cells and as the bacteria can no longer reproduce or repair itself it eventually dies.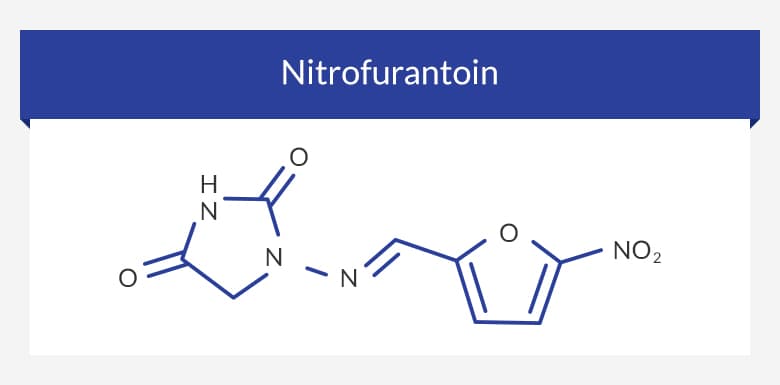 Since the active agent concentrates in urine, it is especially effective for treatments of the urinary tract rather than other areas of the body, which is why it is recommended as first line treatment for cystitis.
In contrast to many other antibiotics, the usage of Nitrofurantoin is showing only a small development of resistant bacteria after being in use for more than 60 years. It was brought to market in1953 and is included in the World Health Organisation's List of Essential Medicines, which includes the most effective and safe medicines which are needed for a well-functioning health system.
How to take Nitrofurantoin
The antibiotic is available in the form of tablets and capsules which are taken orally. Ideally the application should be during meals with some food or milk in order to alleviate potential stomach problems as a side effect and to support absorption of the active ingredient.
As with all antibiotics it is especially important to follow the instructions exactly and complete the course of medication even if symptoms of the condition are successfully treated earlier. Not completing the treatment might mean a residual infection flaming up again at a later point and bacteria slowly building up resistance to low doses of the active ingredient.
However, the dose for a female can be anything between 3-7 days. This means a female must complete 3 days of treatment, but if the symptoms are still present then she may continue for up to 7 days. Males on the other hand must always complete a 7 day treatment course.
How long does Nitrofurantoin stay in your system?
The active ingredient is absorbed through the small intestines after which most of the medication is metabolised via the liver while roughly a quarter of it is excreted via urine. The body usually needs around 5 to 6 hours for the agent to be fully purged. However, patients with kidney problems can experience an accumulation of the agent as it is not excreted in a timely fashion.
Nitrofurantoin dosages
Nitrofurantoin is taken in the form of tablets or capsules which are available in dosages of 50 mg or 100 mg. The daily dosage is 200 mg which is typically applied in doses of 100 mg twice a day. It can also be applied with 50 mg tablets four times a day.
Different treatment length for men and women
While the treatment length for women is only 3 days, it continues for 7 days in men. Cystitis caused by bacteria more commonly affects women as the urethra through which the bacteria wanders is shorter and closer to the anus, so there is a higher risk of a bacterial infection.
However, men are also at risk of cystitis caused by a bacterial infection and the development of the disease can be more severe than for women hence men need to take the medication for a longer duration.
Saying this, if a woman still has the symptoms after a treatment course of 3 days, she may continue to take it for as many days as needed, until the symptoms settle, up to a maximum of 7 days. If symptoms persist after 7 days for either men or women they need to seek medical help.
There is also a higher likelihood that cystitis in men is caused by a serious underlying condition, such as prostate enlargement or infection of the prostate, cancer or obstruction. Patients should therefore seek medical advice as soon as possible when symptoms appear.
Precautions of Nitrofurantoin
Patients with heavily compromised renal function should not be treated with Nitrofurantoin. The same applies to patients with porphyria or G6PD deficiency.
In some cases the treatment with Nitrofurantoin is possible only after careful consideration from the treating doctor. These include patients with:
anaemia
history of allergic reactions
kidney problems
Treatment during pregnancy and breastfeeding
While Nitrofurantoin is one of the few antibiotics which are safe to use during pregnancy for the treatment of UTIs, it should not be taken shortly before birth due to a risk of impacting the child during labour or delivery. Please consult your doctor before using Nitrofurantoin during breastfeeding.
Interactions with other medications
Taking Nitrofurantoin and other medicines simultaneously might lead to dangerous interactions with a raised risk of unwanted side effects. This also includes over-the-counter ingredients, so you should make sure to inform your prescribing doctor of all currently or recently used medications. Medications known for interactions with Nitrofurantoin include:
antigout preparations, e.g. sulfinpyrazone, probenecid
glaucoma medication, e.g. acetazolamide
quinolone antibiotics, e.g. nalidixic acid
typhoid vaccine
It is also important to note that the usage of antacids containing magnesium lowers the absorption of the active ingredient in the body and affects the effect of the medication. Other medications affecting the function of the stomach can also lower or heighten the effect of Nitrofurantoin and should only be taken after consulting the prescribing doctor about possible interactions.
Nitrofurantoin and alcohol
During the treatment with Nitrofurantoin the drinking of alcohol should be avoided as it might create and heighten the risk for side effects. Alcohol is metabolised in the liver like Nitrofurantoin is, which means the risk for side effects from the medication might increase and commonly reported side effects such as nausea, vomiting or headaches might be intensified.
Alcohol can also lead to dehydration which can weaken the ability of the body to fight the infection of the urinary tract as the bacteria won't be flushed out. Generally a further weakening of the body might lead to a prolonged recovery time, which is why you should always consult your doctor to check if it might be okay for you to drink a small amount of alcohol during your treatment.
Nitrofurantoin side effects
Like all medication, the treatment with Nitrofurantoin can cause potentially harmful side effects. More common side effects for Nitrofurantoin are for example coughing, hoarseness, fever, chest pain, skin rash or hives, itching, chills, loss of appetite, diarrhoea and breathing problems.
Some patients less commonly might experience dizziness, headaches, tiredness and weakness, blood in urine or stool as well as strange nerve sensations without apparent reason, such as tingling, burning, numbness or pain.
How can I buy Nitrofurantoin online?
To buy Nitrofurantoin online you need a valid prescription. With the comfortable service from euroClinix you can buy Nitrofurantoin online safely and securely. We offer you a free online consultation with our registered doctors who review your medical data to check if your state of health allows for a treatment with Nitrofurantoin. If there are no concerns they will create a valid prescription for your order.
Our pharmacy receives the prescription and immediately prepares the shipment of your order, packing the medication in a discreet box and envelope which show no indication of the contents. We offer free next-day delivery to the location of your choice.
Please note that Nitrofurantoin is manufactured under differing brand names (generics) and the package you receive may differ from the one shown in the product image. However, the active ingredient, dosage, treatment instructions, effects and possible side effects are the same.
Note: You must complete a short online consultation so that our doctor can ensure that the treatment is suitable for you. The above pricing should only be used as a reference. The final decision to issue this treatment lies with the prescribing doctor.