What is acne?
Acne is a common skin condition that causes redness, inflammation, and spots/pimples. It typically occurs on the:
face
forehead
chest
shoulders
There are varying degrees of acne. Mild acne can usually be treated with a mild antiseptic wash or cream, whereas moderate to severe cases may require prescription treatments.
The majority of acne cases will disappear as you get older. However, acne sufferers have a variety of available treatments to help them feel more in control of their skin.
What causes acne?
Acne spots form when the pores in your skin become clogged with dead skin cells or sebum (a natural oil your skin produces).
Changes in your hormones can exacerbate acne as they can cause you to produce more sebum than is necessary. Too much sebum also makes an ideal environment for certain acne-causing bacteria - which can worsen the condition of your skin.
Because of this, acne is most common in teenagers (whose hormone levels change during puberty). The menstrual cycle also plays a role in acne due to a fluctuation in hormones.
What are the symptoms?
Acne symptoms will vary depending on the severity of the condition. In general, acne can be recognised as:
spots/pimples (called pustules) found on the face, chest, or back
blackheads or whiteheads
redness of the skin
oily skin (caused by too much sebum production)
papules or nodules (these are found in more severe acne cases)
Redness and pimples don't always point to acne. Sometimes acne is mistaken for other conditions, such as rosacea. Speak to a doctor or dermatologist if you're not sure which condition is affecting your skin.
What are the different types of acne?
Acne can be categorised into 6 different types. These include:
Pustules - pus-filled bumps that are small and can be squeezed (even though you should not squeeze any kind of spot on your skin)
Papules - small red bumps that often hurt when touched
Whiteheads - red, inflamed spots that have a white tip in the centre
Blackheads - small bumps that have a black/brown dot in the centre (this isn't dirt, but a pigment caused by the trapped hair follicle)
Nodules - large, hard lumps that are deep within the skin and can be painful
Cysts - very large, painful, and pus-filled lumps that are deep within the skin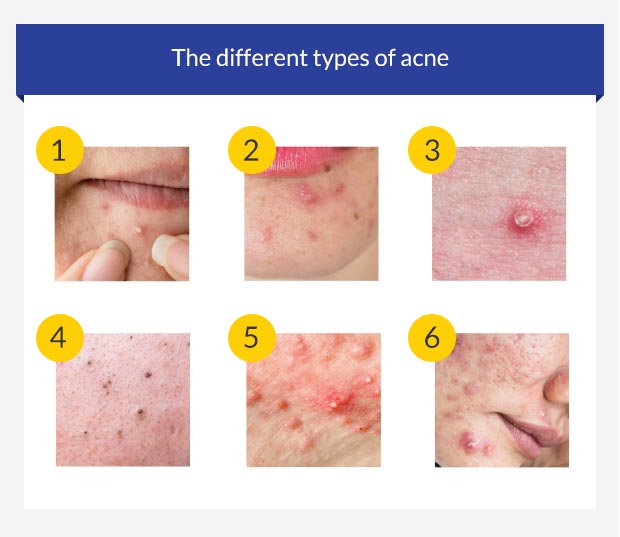 These 6 types can also be categorised as either mild or severe:
Mild
Severe

papules
pustules
whiteheads
blackheads
Different types of acne require different treatments. For example, mild acne can be treated with a topical cream containing benzoyl peroxide. In contrast to this, severe cases may be prescribed a stronger topical cream in conjunction with an oral antibiotic (such as Lymecycline capsules and Skinoren/Epiduo gel).
How can I prevent acne?
In most cases, acne simply isn't preventable. However, there are several steps you can take to prevent your acne symptoms from worsening. These include:
washing your face daily, especially after exercise
washing your face no more than twice per day - overwashing can irritate the skin and make your symptoms worse
avoiding squeezing spots and picking at your skin as this can cause acne to spread and may lead to scarring
avoiding make-up and cosmetics when possible, as products such as powder can further block the pores of your skin
regularly washing your hair and keeping it off your forehead and face as much as possible
not touching your face when you are out in public as you might carry more bacteria onto the affected area
How can I treat acne?
As there are so many different treatment options for acne, it's important to speak with a doctor or pharmacist for advice. They can recommend a suitable option, depending on your particular symptoms.
Topical creams and gels
Topical creams and gels are applied to the skin and target acne blemishes directly. Depending on the severity of your condition, you can use over-the-counter creams such as benzoyl peroxide, or a doctor can prescribe you a stronger cream.
Prescription acne creams and gels include:
Please note: Whilst benzoyl peroxide can be purchased over the counter in the form of creams/washes, some prescription creams combine it with another active ingredient, as shown above.
Most anti-acne creams are applied once or twice a day. Always follow your doctor's instructions when using treatment.
Oral antibiotics
You can also take oral antibiotics for acne if you have a doctor's prescription. This option is usually prescribed to people with moderate to severe acne.
Antibiotics work by targeting and fighting acne-causing bacteria, which worsen acne symptoms. For acne, you can take:
In general, antibiotics for acne are taken once per day, usually in the morning. Always carefully read and follow the instructions on the patient leaflet.
The pill
For women suffering from hormonal acne (often into their late twenties and even thirties), the pill can be an excellent solution.
The pill refers to the combined oral contraceptive pill. This contains two artificial hormones: oestrogen and progesterone.
When your hormones fluctuate during your menstrual cycle, you can become prone to acne breakouts. The pill helps by keeping your hormones more stable throughout the month, which in turn helps reduce acne symptoms.
Dianette is one version of the pill that specifically treats acne in women. It can also reduce oily skin and excessive hair growth (hirsutism).
How can I treat acne scars?
Acne scars can develop on their own, or when you pick at spots and blemishes. This mostly applies to spots that are deep within the skin, such as nodules and cysts. Mild acne doesn't generally lead to scarring.
Treatments for acne scarring are often deemed as 'cosmetic' procedures as they don't pose any risk to your health. However, having scars can be damaging to your mental health - and in some cases, the NHS can provide some of the following surgical treatments:
dermabrasion - the top layer of skin is removed to encourage new skill cell growth
laser treatment - where lasers stimulate new growth of collagen
punch techniques> - wounds/scars are surgically removed and new skin is placed in the affected area
subcision - involves allowing blood beneath the skin to clot and push up indents in the skin left from scarring so that the surface becomes level
Consult your doctor if you have acne scarring and are considering any of the above treatments.
Can I buy acne treatments online?
A wide range of acne treatments are available for online purchase here at euroClinix.
Simply fill out the medical questions to complete your online consultation, which will be reviewed by one of our doctors.
Once approved, your chosen treatment will be sent straight to your door with free delivery. It will also arrive in discreet packaging.