What is Flixotide?
Flixotide is a preventer inhaler that that you can buy online to alleviate breathing difficulties and successfully prevent asthma attacks. The Flixotide preventer inhaler belongs to a class of drugs known as corticosteroids. This is a hormone that predominantly affects the metabolism of carbohydrates and to a lesser extent, fat and protein. It is used to treat asthma, allergic rhinitis, nasal polyps and various skin disorders.
Flixotide belongs to a class of medicines called steroids. Steroids are used to help reduce inflammation. This medicine works in the air passages of the lungs. It helps to reduce inflammation and keep the airways open, which makes it far easier to breathe.
Benefits of Flixotide
Using a preventative asthma medication can improve your quality of life significantly by limiting the possibility of an attack and helping to improve breathing difficulties. The Flixotide Evohaler comes in a standard measured dose inhaler, which is easy to use and is familiar to most asthma patients, as it resembles the aerosol inhalers often used for reliever medications.
The Flixotide Accuhaler by comparison contains blisters of fluticasone in a powdered form for a more accurate dosage. When your Accuhaler is down to the last five doses it will display the number of doses left, so that you know when to refill it. The Flixotide Accuhaler works by releasing the medication with a lever before you begin to inhale, so that you do not have to put pressure on it whilst breathing in.
How does Flixotide work?
Asthma is caused by irritation and swelling to the air passages which can be reduced by using Flixotide (fluticasone), an anti-inflammatory steroid for daily use which helps limit asthmatic symptoms to prevent an attack. It can be used alongside a reliever medication such as Ventolin, which will help if you do have difficulty breathing at any time.
Fluticasone Propionate – the active ingredient
Flixotide contains the active ingredient fluticasone propionate, which is a type of medicine known as a corticosteroid. Corticosteroids are hormones that are produced naturally by the adrenal glands. They have many important functions, including control of inflammatory responses. Fluticasone is a synthetic corticosteroid and is used to decrease inflammation in the lungs.
Dosages
You can order the Flixotide Accuhaler in three different strengths and one of our doctors will advise you on the best dosage to buy. The usual starting dose is either 50mcg or 100mcg twice a day for adults with mild asthma and 250mcg twice a day for adults with severe asthma.
The Flixotide Evohaler is available to buy online in three different strengths (50mcg, 125mcg and 250mcg) and the starting dose is usually the same as with the Accuhaler. If you are over 16 and taking more than 1000mcg daily you should be using a Volumatic device, which will reduce any soreness to the throat. Your doctor or pharmacist can advise you on switching to a different device.
How to use the Flixotide preventer inhaler
The medication will come with an information leaflet containing a detailed description of how to use your preventer inhaler and a doctor, nurse or pharmacist can demonstrate if you are still unsure. The Flixotide Evohaler releases the medication as you inhale when you press the top of the canister. You may find the Flixotide Accuhaler easier to use as you can release the medication into the mouthpiece before inhaling by using a lever.
How to correctly use Flixotide evohaler?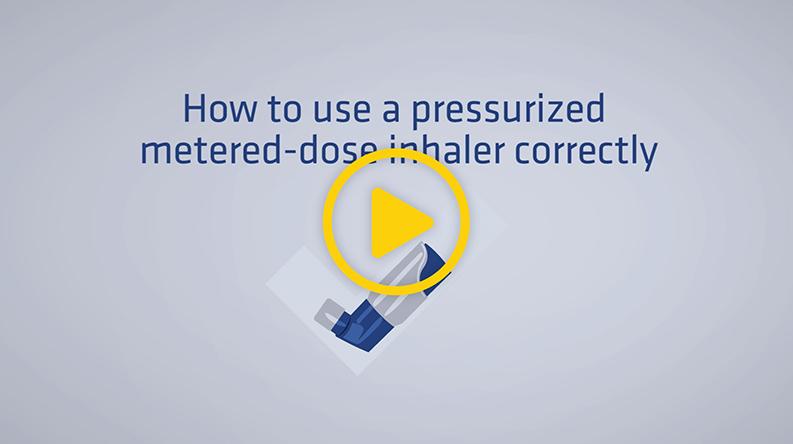 Flixotide precautions
Most asthma patients are able to safely use the Flixotide Evohaler (50 mcg, 125 mcg or 250 mcg) or the Flixotide Accuhaler (50 mcg, 100 mcg or 250 mcg) unless they are lactose intolerant or allergic to fluticasone or HFA 134a. Please mention in our online consultation if you are taking any other medication, including herbal remedies or steroid tablets, or if you are pregnant or breast-feeding, as there may be a more appropriate preventative treatment available for you to buy.
Flixotide side effects
Some people may experience an allergic reaction to the Flixotide (fluticasone) Accuhaler or Evohaler, which can potentially cause rashes, swelling or breathing problems. More common side effects can possibly include thrush of the mouth or a sore throat, which can be avoided by brushing your teeth straight after using the inhaler.
The thrush infection of the mouth and throat can easily be avoided by rinsing the mouth out with water and spitting it out immediately after each time you use your inhaler. If you do get oral thrush your doctor can prescribe an antifungal medicine to treat it. Whilst there is a small risk of side effects, the Flixotide preventer inhaler is far less likely to cause side effects than most oral asthma treatments.
How to buy Flixotide inhalers online?
If you are looking to improve your long-term asthma symptoms and prevent asthma attacks you can buy the Flixotide preventer inhaler (Accuhaler or Evohaler) online from euroClinix today. Firstly, you need to fill out a quick, free online consultation form, which will be reviewed by one of our doctors. Once the doctor approves your order you will be prescribed the most effective dosage for you, which will then be dispatched from our licensed UK pharmacy using our free next day delivery service.
Note: You must complete a short online consultation so that our doctor can ensure that the treatment is suitable for you. The above pricing should only be used as a reference. The final decision to issue this treatment lies with the prescribing doctor.