What is Flixotide?
Flixotide is a type of preventer inhaler that helps alleviate breathing problems in those with asthma or COPD (chronic obstructive pulmonary door). Flixotide belongs to a class of drugs known as steroids that work to reduce inflammation and swelling in the airways.
It is available as an Accuhaler and Evohaler, and is used to treat asthma. The active ingredient fluticasone is also available as a nasal spray called Avamys which is used to treat allergic rhinitis (hay fever) and nasal polyps.
The Flixotide Accuhaler and Evohaler are both available online from euroClinix for the long-term treatment of asthma, provided you have been prescribed it before.
How do the Flixotide inhalers work?
Asthma is caused by irritation and swelling to the air passages which can be reduced by using Flixotide, an anti-inflammatory corticosteroid for daily use.
Flixotide is an inhaled corticosteroid, containing fluticasone propionate. Corticosteroids are synthetic versions of the natural hormones produced by your adrenal gland.
These medicines work by targeting the immune system. Asthma is caused by an overactive immune response to certain triggers, such as pollen, pet fur or dust mites. By targeting the immune system, this reduces the inflammatory response in the lungs and airways.
This helps limit asthmatic symptoms to prevent an attack. It must be used alongside a reliever inhaler such as Ventolin, which will supply immediate relief if your symptoms develop or worsen suddenly.
What are the benefits of using Flixotide?
Flixotide is an effective, preventative treatment for long-term asthma symptoms and asthma attacks. While not everyone has to use a preventer inhaler, people who find they use their reliever inhaler regularly should consider using a preventer inhaler.
It also means you don't have to worry about coming into contact with your asthma triggers. Because it reduces the immune response, using it daily will significantly reduce the likelihood you will have symptoms in response to your triggers.
Can I use Flixotide inhalers?
Flixotide is a safe asthma treatment for most people, including women who are pregnant or breastfeeding. However, you should always check with your doctor or pharmacist to ensure it's safe for you to use.
You should not use Flixotide if you are allergic to fluticasone, HFA 134a, lactose or any of the other ingredients listed.
If you have previously been treated for tuberculosis (TB), you should consult your healthcare provider before using Flixotide. In addition, if you recently or are currently using steroid tablets, your doctor may recommend you carry a steroid card with you whilst you take both steroid medicines together.
If you're not sure whether any of these apply to you, check with a healthcare professional before using this medicine.
What dosages of Flixotide are available?
Flixotide is available in several doses.
You can order the Flixotide Accuhaler in three different strengths; 50mcg, 100mcg and 250mcg. The usual starting dose is either the Flixotide 50 mcg or 100 mcg dose, taken twice a day for adults with mild asthma. The 250 mcg dose is recommended for adults with severe asthma.
The Flixotide Evohaler is available to buy online in three different strengths (50mcg, 125mcg and 250mcg) and the starting dose is usually the same as with the Accuhaler. If you are taking a high dose daily, you should be using a Volumatic spacer device with your Evohaler, which will reduce any soreness in the throat.
Your doctor can advise you on the best dosage for you.
How do I use Flixotide?
Flixotide must be used twice daily in order to effectively reduce asthma symptoms. You also must continue to use your reliever inhaler (blue inhaler) when you need it.
You should not stop treatment unless you have been advised to do so by your doctor. If you miss a dose, don't take a double dose. Just continue from your next scheduled dose.
Flixotide is available as two different devices which administer the steroid slightly differently: the Evohaler and the Accuhaler.
Further information on how to use each device will be available in the patient information leaflet, but your doctor or pharmacist will show you how to use it.
How do I use a Flixotide Evohaler?
The Evohaler is a powder metered dose inhaler (pMDI), which delivers the medicine through a pressurised aerosol canister.
A brief set of instructions on how to use it are as follows:
Test it before the first time you use it - shake it well, point the device away from you and release a puff into the air.
Stand or sit upright when using your inhaler.
Shake the inhaler 4 or 5 times to ensure the contents are evenly mixed.
Hold the inhaler upright with your thumb on the base, below the mouthpiece.
Breathe out as far as it feels comfortable.
Place the mouthpiece in your mouth, between your teeth. Close your lips around it but do not bite it.
Breathe in through your mouth. Just after starting to breathe in, press down on the top of the canister to release a puff of medicine. Continue to breathe in steadily and deeply.
Remove the inhaler from your mouth and continue to hold your breath for at least 3 seconds.
Wait around 30 seconds before taking another puff, if you have been advised to do so by your doctor.
Replace the mouthpiece cover as soon as you're finished.
You should rinse your mouth with water once you have taken your dose. You should also wipe the mouthpiece with a dry cloth or tissue. Do not use water or remove any of the other parts of your Evohaler.
How do I use a Flixotide Accuhaler?
The Accuhaler is a dry powder inhaler or DPI. It holds blisters that contain fluticasone as a dry powder. Each time you use it, a blister is released and that is the equivalent of one "puff".
A brief set of instructions on how to use it are as follows:
Remove the wrapper by tearing along the jagged edges, then remove the Accuhaler. Do not use sharp objects to remove it.
To open your Accuhaler, hold the outer case in one hand and put the thumb of your other hand on the thumb grip.
Push on the thumb grip away from you until you hear a click. This will open a small hole in the mouthpiece and expose a lever.
Hold the Accuhaler with the mouthpiece towards you.
Slide the lever back as far as it goes. You should hear a click. This places a dose into the mouthpiece. Do not play with the lever.
Then hold the device away from your mouth and breathe out as far as is comfortable. Do not breathe into your Accuhaler yet.
Put the mouthpiece to your lips, breathe in steadily and deeply through your mouth. Remove the device from your mouth and hold your breath for at least 10 seconds. Then breathe out slowly.
Close the device by sliding the thumb grip back towards you as far as it will go. The lever will return to its original position and is reset.
Rinse your mouth with water once you have taken your dose. Then, wipe the mouthpiece with a dry cloth.
On the device, there is a counter which will tell you how many doses are left. When you reach the final 5 doses, the numbers on the counter will turn red to remind you.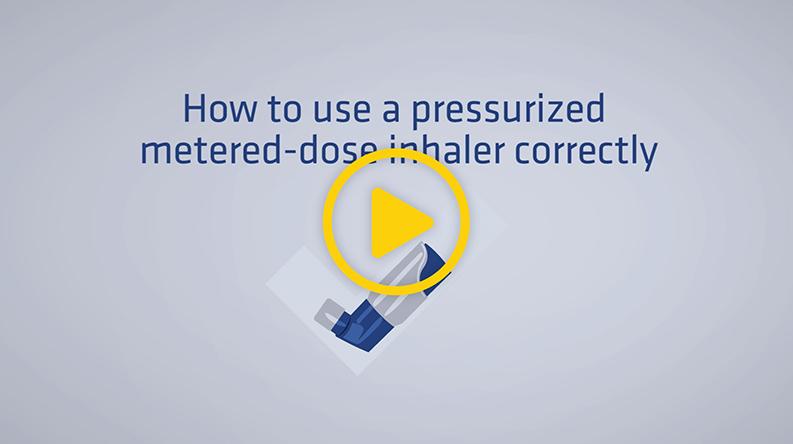 Does Flixotide react with other medicines?
Some medicines can alter the effects of Flixotide, so it's important you tell your prescriber all the medicines you take. This includes any over-the-counter or herbal medicines you take.
Other medicines that may react with Flixotide include:
protease inhibitors (e.g ritonavir)
medicines to treat fungal infections (e.g ketoconazole or itraconazole)
non-steroidal anti-inflammatory drugs (e.g ibuprofen or naproxen)
anti-seizure medicines (e.g phenytoin)
certain antibiotics (e.g clarithromycin or rifampicin)
If you take any of these medicines or are not sure what you take, ask your doctor or pharmacist before taking Flixotide.
What are the side effects of Flixotide inhalers?
As with all prescription medicines, Flixotide can cause some side effects. The most common side effects are mild and easily treated.
The most common side effects include:
thrush in the mouth or throat (oral thrush)
sore throat or tongue
hoarseness of voice
You can reduce the risk of developing these side effects by brushing your teeth, rinsing your mouth, or gargling with water each time you use your inhaler.
If you experience symptoms of an allergic reaction such as sudden swelling or a skin reaction, seek medical attention. If you experience any other persistent adverse effects, contact your doctor.
How do I buy Flixotide inhalers online?
The Flixotide Evohaler and Accuhaler are available to purchase online from euroClinix, provided you have been prescribed it before. All you need to do is complete a quick online medical questionnaire. This is so our UK-registered doctors can review your medical history and ensure it's right for you to take. Once you are approved for treatment, our in-house pharmacy will dispense and dispatch your treatment with free next-day delivery.
Note: You must complete a short online consultation so that our doctor can ensure that the treatment is suitable for you. The above pricing should only be used as a reference. The final decision to issue this treatment lies with the prescribing doctor.