What is Cialis?
Cialis is prescription medication used to treat erectile dysfunction (ED).
Often called 'the weekend pill', Cialis lasts longer than other ED medications, allowing you to be spontaneous without worrying about the effects wearing off. Tadalafil, the active ingredient in Cialis, works in as little as 30 minutes and stays in your system for up to 36 hours.
Cialis is usually taken before planned sexual activity, but lower doses, like those found in Cialis Daily, can be taken over the long term so that you can enjoy sex without having to worry about the timing of your medication.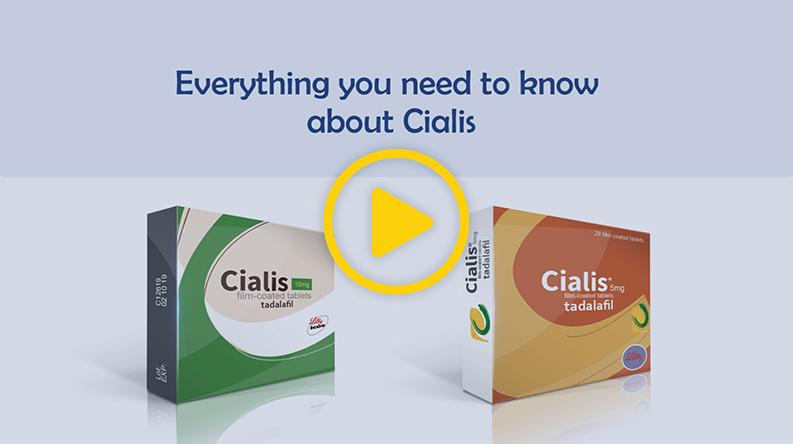 How does Cialis work?
The active ingredient in Cialis is tadalafil, a type of medication classified as a PDE-5 (phosphodiesterase type 5) inhibitor. PDE-5 inhibitors work by relaxing the blood vessels in the penis, which improves blood flow and enables you to achieve and sustain a fuller, firmer erection.
Cialis stays in your system for up to 36 hours, although this does not mean you will get an erection for the entire period - it simply allows you to get an erection through sexual stimulation during that period.
What is the difference between Cialis and Tadalafil?
Cialis is a brand-name medication sold by the pharmaceutical company Eli Lilly. It is also sold generically under the name of its active ingredient, Tadalafil. Generic medications work in exactly the same way, but are not manufactured by the same company.
How do I take Cialis?
You should take one tablet with water at least 30 minutes before sexual activity. The medication will continue to work for up to 36 hours, only supporting blood flow to the penis when you are aroused.
Do not crush or chew the tablets. No more than one tablet should be taken in a 24-hour period. This medication should be stored at room temperature.
What dosage should I take?
The right dosage of Cialis will depend on many different factors, taking into account:
how many times a week you are sexually active
the level of your erectile dysfunction
your past and current level of health
other medications you are taking
euroClinix offers the following Cialis dosages:
| | | | |
| --- | --- | --- | --- |
| | | | |
| 20mg dosage | 10mg dosage | 5mg dosage | 2.5mg dosage |
Both the 10mg and 20mg dosages remain active in the body for up to 36 hours after taking them, which is why this treatment is often called the 'weekend pill'.
There are two types of Cialis: regular Cialis, which is taken as needed; and Cialis Once Daily, which is taken daily as a long-term impotence treatment.
10mg dosage
The Cialis 10mg dose is the lowest dose of Cialis available and may be prescribed to you if you are more likely to experience side effects, or if you have certain medical conditions or are on certain medications.
20mg dosage
The 20mg dosage is the usual starting dose. Most people will start out on this dose. Your doctor may also prescribe this dose if you've started out on 10mg and have not experienced a benefit.
Cialis Once Daily
If you have sex more than twice a week, Cialis for once daily use could be a better option for you. As a consistent dose is taken daily, it remains active in your body continuously, allowing you to enjoy more spontaneous sex.
Cialis Daily is available in dosages of 2.5mg or 5mg.
Who can take Cialis?
You can buy Cialis tablets in the UK if you are over the age of 18 and are currently experiencing erectile dysfunction on a regular basis.
If you are purchasing Cialis tablets for the first time, you will usually be started on a lower dosage to avoid the risk of side effects.
You can read about other people's experiences with Cialis from the reviews at the bottom of this page.
What precautions should I be aware of?
Medication is one of many ways to treat erectile dysfunction, but it may not be suitable for everybody.
You should detail any medical conditions you have, as well as your medical history, during your consultation so that our doctors can ensure that this medication is safe for you to take.
This medication may not be right for you if you have:
an allergy to any of the ingredients in this medication
heart problems, including heart failure, angina, heart disease, heart attack or an irregular heartbeat
­problems with blood pressure, such as low blood pressure or high blood pressure
a hereditary eye disease, or have experienced a loss of vision due to non-arteritic anterior ischemic optic neuropathy (NAION)
a condition that affects the shape of your penis, such as Peyronie's disease
a serious liver or kidney problem
sickle cell anaemia
cancers of the blood or bone marrow multiple myeloma
leukaemia
Stop taking Tadalafil and get medical help immediately if you experience a sudden decrease or loss of vision.
Are there any interactions between other medications?
During your consultation, it is important to mention any medications that you may be taking, even if they are herbal or over-the-counter products. This gives the doctor a clearer idea of your condition so that they can make sure that you are able to safely take Cialis tablets.
Some medications can negatively impact your health if they are used alongside Cialis or may even influence how well Cialis works.
Do not take Cialis if:
You are using nitrates
Nitrates are often prescribed for treating chest pain. Taking these with Cialis may increase your risk of dizziness, fainting and potentially a heart attack. Examples of nitrates include glycerol trinitrate or nicorandil.
You are taking alpha-blockers
Alpha-blockers are used to treat high blood pressure, and the combination of these two medications can lead to a significant drop in blood pressure. However, your doctor may be able to adjust the dosages so that it is safe for you to take alpha-blockers and Cialis together.
You are using other erectile dysfunction treatments
Taking more than one erectile dysfunction medication at a single time can be dangerous and isn't likely to be any more effective at treating impotence.
You are taking recreational drugs known as 'poppers'
Amyl nitrate and butyl nitrate are both examples of poppers. If you use poppers while you are using Cialis, your blood pressure may decrease to unsafe levels, putting your health at risk.
You are taking any antifungal medications or medicines for HIV
You should not take Cialis if you are taking any antifungal medications or medicines for HIV as it could increase the chance of negative side effects.
You are taking certain antibiotics
Mixing Cialis and certain antibiotics, such as erythromycin, can raise the level of tadalafil in your blood, leading to an increased risk of side effects.
You are taking Adcirca
Adcirca contains the same ingredient (tadalafil) as Cialis but you must not use them together. Adcirca is designed to treat pulmonary arterial hypertension. Taking both of these medications could lead to you overdosing on the main ingredient, tadalafil.
You eat grapefruit on a regular basis
Grapefruit can influence how Cialis is absorbed in your system, and may cause the treatment to stay in the body for longer than is considered healthy. Do not consume grapefruit or grapefruit products, such as grapefruit juice, if you are taking this medication.
You are using St. John's wort
St. John's Wort is a natural mood enhancer that can influence how effective certain medications are because of how it influences liver enzymes.
You should also avoid excessive alcohol consumption, as it increases your risk of side effects, such as headaches, dizziness and changes in blood pressure.
What are the possible side effects of Cialis?
Side effects are a possibility of any prescription medication, although not everybody gets them. Some side effects may be mild to moderate and may go away as your body gets used to the medication.
Common side effects of Cialis include:
Common:

Headache
Facial flushing
Back pain
Muscle aches

Pain in arms and legs
Indigestion
Nasal congestion
Cialis increases the risk for some rare but serious side effects. If you experience a severe allergic reaction, chest pain, a painful erection that will not go away (priapism) or a sudden loss of vision, you should stop using Cialis and seek medical attention immediately.
A full list of side effects is included in the patient information leaflet.
Can I buy Cialis online?
You can buy Cialis online from euroClinix after completing a quick and confidential online consultation. During your consultation, you will answer some short questions, which will help our doctors assess whether or not this medication is right for you. If your consultation is approved, your treatment will then be dispatched from our UK registered pharmacy for next-day delivery.
All of our medications are delivered discreetly in plain, tamper-proof polyethylene courier bags.
Can I buy Cialis over-the-counter?
Cialis is a prescription-only medication and is not available over-the-counter. Only an authorised UK-qualified doctor can prescribe it to you. Our doctors will review your consultation and prescribe an appropriate dose if they feel that this medication is suitable for you.
What are some alternative ED medications?
You can purchase a range of other medications from euroClinix, including Cialis Daily, Viagra, Tadalafil, Levitra, and Levitra Orodispersible.
Note: You must complete a short online consultation so that our doctor can ensure that the treatment is suitable for you. The above pricing should only be used as a reference. The final decision to issue this treatment lies with the prescribing doctor.