What is Cialis?
Cialis (tadalafil) is an effective erectile dysfunction (ED) treatment. It is often referred to as the 'the weekend pill' because its effects last for up to 36 hours. Cialis begins working within 30 minutes, which means you can enjoy the same benefits as quickly you would with treatments like Viagra and Levitra but they last for much longer.
Cialis' long-lasting results provide you with more freedom to choose when you want to have sex, allowing you enjoy a more spontaneous love life. You can take the 10mg / 20mg tablet knowing that you have a longer time period in which the treatment will be effective without having to worry about the effects wearing off. Out of the three leading erectile dysfunction treatments (Viagra, Cialis and Levitra) you can buy in the UK, Cialis tablets have the quickest reaction time of around 20-30 minutes.
In addition to the higher dosages of Cialis which are taken before planned sexual activity, Cialis Daily can be taken over the long term by men who are in an active sexual relationship and by those who have a persistent problem with their erection. There is no need to plan to take the tablet just before sex. By taking Cialis Once Daily you can enjoy sex at any time, without having to worry about when to take medication.
How does Cialis work?
In order to fully understand how Cialis works, you need to understand the mechanics involved in getting an erection.
When a man is sexually aroused, cGMP is released in his body. This chemical takes effect by relaxing the blood vessels in the penis, allowing more blood to flow inside the penile tissues. PDE-5 is a natural enzyme that breaks down cGMP after an erection. If too much PDE-5 is present in the body, it can restrict blood flow to the penis and keep it flaccid, even when a man is sufficiently aroused.
Cialis uses an active ingredient called tadalafil, which inhibits the PDE-5 enzyme. Tadalafil stops PDE-5 from restricting blood flow to the penis, so you can enjoy a firmer, stronger erection. Since this treatment enhances the actions of the chemical messengers responsible for producing an erection, it will only start to take effect once these messengers are present. As a result, adequate sexual stimulation is required for the treatment to help endure your erection.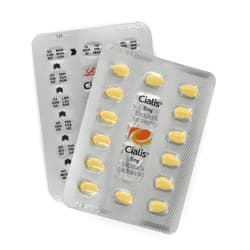 Who can take Cialis?
You can buy Cialis tablets in the UK if you are over the age of 18 and are currently experiencing impotence on a recurring basis. It can also be ordered in either 10mg or 20mg which can be taken daily to treat erectile problems; ideal for men in relationships or who tend to have sex more than twice a week.
Like all medication, ordering the correct dosage is vital and is dependent on your state of health. If you are purchasing Cialis tablets for the first time, it is generally recommended to test out a low dosage and work your way up if necessary to avoid the risk of experiencing side effects.
How do I take Cialis?
A single tablet should be taken at least 30 minutes prior to sexual intercourse. Alternatively, you can take Cialis much earlier and still experience the effects, as it stays in the system for up to 36 hours.
Our UK qualified doctors will usually recommend the lower 10mg dosage to first-time users looking to buy this treatment. If, while taking the lower dose, you do not experience the desired results but have no side effects, the higher dose may be prescribed to you.
How to take Cialis daily
If you enjoy an active sex life and wish to treat erectile Dysfunction in a more permanent way to enable more spontaneous intercourse, Cialis daily may be the right option for you:
Take one daily tablet at the same time each day
The medication can be taken at any time of day, but no more than one tablet should be taken within a 24-hour period
Do not split or break a tablet – swallow it whole with a drink of water.
Store the medication at room temperature away from heat and moisture
It can take a few days before the medication may start to work for ED or you may get results earlier. The time it takes for the medication to take effect varies from person to person. If you are not satisfied with the results, talk to your doctor or healthcare provider, who may advise a change to your dosage.
Cialis dosages
The right dosage of Cialis will be prescribed to you depending on many different factors including:
How many times a week you are sexually active
The level of your erectile dysfunction
Your past and current level of health
Any medications you are taking
There are two types of Cialis that you can buy online: regular Cialis, which is taken as needed; and Cialis Once Daily, which is taken daily as a long-term impotence treatment. If you are unsure which type and dosage is best for you, you may find the below dosage information helpful.
| | | | |
| --- | --- | --- | --- |
| | | | |
| 20mg dosage | 10mg dosage | 5mg dosage | 2.5mg dosage |
Both the 10mg and 20mg dosages remain active in the body for up to 36 hours after taking them, which is why this impotence treatment is often called the 'weekend pill'.
10mg dosage
The Cialis 10mg dose is the lowest dose of Cialis available and is prescribed to: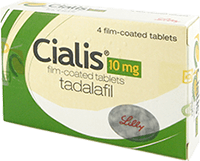 Patients who are likely to suffer from side effects
If you are currently taking medications such as alpha-blockers
People with underlying conditions like kidney or liver problems
Benefits of taking the 10mg Cialis dose:
Reduced risk of side effects
Effectively treats impotence in most men
Dose can be increased if not as effective as desired
20mg dosage
The higher 20mg dosage is given as the starting dose, but can be decreased, depending on the results you experience. People most suited to this dose are: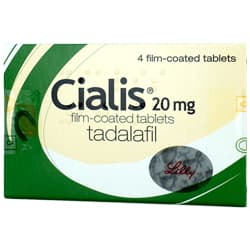 Patients who haven't used an impotence treatment before
Ideal for people who aren't likely to suffer from side effects
Those who aren't currently taking any other contraindicated medications
Benefits of taking the 20mg dose:
Useful in cases where the lower 10mg dose didn't provide a benefit
Can be decreased if required
Able to treat most moderate to severe cases of impotence successfully
Cialis Once Daily
If you expect to have sexual intercourse more than twice a week, or if you have a more prolonged problem with impotence, then Cialis Once Dailycould be a better option for you. It remains active in your body continuously, meaning that you can enjoy more spontaneous sex. Cialis Once Daily is available in a dosage of 2.5mg or 5mg.
What precautions should I be aware of?
Medications only available to buy on prescription, like Cialis, pose a risk if taken by people with certain health conditions, or if it is combined with other medications:
| Blood Pressure | Kidneys |
| --- | --- |
| A combination of high blood pressure medications and Cialis can dramatically lower your blood pressure. | Use Cialis with caution if you have a decreased kidney function, and don't take Cialis if you have suffered from kidney failure in the past. |
| Nitrates | Women |
| If you are taking any form of Nitrates, you should not take Cialis as it can cause dizziness or lead to a heart attack. | Women should avoid taking Cialis, as it hasn't been approved for use in women. |
Some people fall into a risk group, because they are either taking regular medication or are suffering from a medical condition that is not too severe to stop them from using this impotence treatment. They still, however, need to be aware of the risks involved in taking Cialis, and to follow the doctor's guidelines for the correct dosage. Other men may simply be unable to take Cialis, or any PDE-5 inhibitors, due to their age, pre-existing medical conditions or the medications they are taking.
Risk groups and contraindications
If you fit into any of the below groups, you must ensure your doctor is aware before you start taking Cialis. In many cases, a doctor can prescribe a low dose to suit your needs, or even suggest a safer, better option for you if this impotence treatment is not suitable.
Risk groups – use Cialis with caution
Contraindicated groups - don't use Cialis

Those with decreased kidney or liver function
People with cardiovascular disease
Those using treatments for high blood pressure
Patients with sickle cell disease or high blood pressure
Men with a physical abnormality of the penis

Women
Those under the age of 18
Those who suffer from a condition where sex is not recommended
Patients with uncontrolled angina
Men who have recently suffered a heart attack or stroke
Men with hypotension
Those using nitrates in any form
Those with an allergy to tadalafil or any of the other ingredients present in Cialis
People who have suffered from kidney failure
Are there any interactions between other medications?
During your consultation with the doctor, it's important to mention any medications that you may be taking, even if they are herbal or over-the-counter products. This allows the doctor to get a clearer idea of your health and to see whether you are able to safely take Cialis tablets. There are some medications that can become dangerous if they are used alongside Cialis or may even influence how well Cialis works.
Do not take Cialis if:
You are using nitrates
Nitrates are often prescribed for treating chest pain. If you take these with Cialis, you risk suffering from dizziness, fainting and potentially a heart attack. Examples of nitrates are glycerol trinitrate or nicorandil.
You are taking alpha-blockers
Alpha-blockers are used to treat high blood pressure, and the combination of these two medications can dramatically lead to a significant drop in blood pressure. However your doctor may be able to adjust the dosages so that it is safe for you to take alpha-blockers and Cialis together.
You are using other impotence treatments
If you are suffering from impotence, taking more than one erectile dysfunction medication at a single time can be dangerous and isn't likely to be any more effective at treating impotence.
You are taking You are taking a recreational drug called 'poppers'
Amyl nitrate and butyl nitrate are both examples of poppers. If you use poppers while you are using Cialis, you risk the adverse reactions listed above, and will likely put your health at risk.
You are taking any anti-fungal medications or medicines for HIV
If you are taking any anti-fungal medications or medicines for HIV, don't take Cialis because the HIV or anti-fungal medications can extend the duration of the effects of Cialis, which can be dangerous and increase the chance of you experiencing negative side effects.
You are taking erythromycin
Mixing Cialis and erythromycin medications can lead to severe reactions, but can also hinder your ability to maintain an erection. Erythromycin is a macrolide antibiotic that is used in the treatment of a number of different microbial infections.
You are taking Adcirca
Adcirca contains the same ingredient (tadalafil) as Cialis but you must not use them together. Adcirca is designed to treat pulmonary arterial hypertension. Taking both of these medications could lead to you overdosing on the main ingredient, tadalafil.
You eat grapefruit on a regular basis
Grapefruit can influence how Cialis is absorbed in your system as it reduces the level of enzymes involved in breaking down certain medication for absorption. Eating grapefruit while using Cialis can cause the treatment to stay in the body for longer than is considered healthy.
You are using St Johns wort
St Johns Wort is a natural mood enhancer that can influence how effective certain medications are because of how it influences the liver enzymes.
In addition to this, you should also avoid excessive alcohol consumption as well as the handling of machinery and vehicles.
What are the possible side effects of Cialis?
Most men who use the treatment do so without it causing any ill effects; however, as it's a prescription medication, it may carry some risk of side effects. Cialis side effects are not necessarily harmful or dangerous, and do not affect everyone who takes the treatment.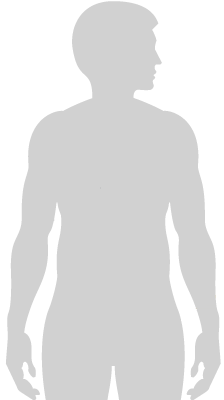 Neurological
Headaches and dizziness are common neurological side effects of Cialis. These are usually very mild and are not a cause for concern. Fainting is a rare side effect of this medication.
Head
Facial flushing and a stuffy nose are two common effects of this medication. Dry mouth is an uncommon side effect. A very small number of people who take this medication may experienced nosebleeds.
Cardiovascular
Cardiovascular side effects such as palpitations or an increased heart rate are uncommon but should be taken seriously if they occur. Rare cardiovascular side effects like stroke and increased blood pressure are extremely serious and will require medical attention.
Gastric
Indigestion is one of the more common side effects of Cialis. Nausea may occur, but this is less common.
Muscular
Common muscular side effects include mild back pain and muscle aches. Experiencing more significant muscle pain is far less common but may occur.
Cialis side effects
Click on the relevant area of the body to find out about how it may be affected by Cialis
Common side effects
Some common side effects may occur when taking this medication, but these are usually quite mild and shouldn't persist. If you experience a side effect that makes you physically uncomfortable or unwell, then contact a doctor. As the active ingredient in Cialis remains active in the body for a much longer time than other impotence drugs, the side effects that persist for the duration of its active life could become uncomfortable. If this does occur, it's worth speaking to a medical professional about adjusting your current dose.
COMMON
UNCOMMON
UNCOMMON

Headaches
Indigestion
Back pain
Muscle aches
Flushing
Stuffy nose
Dizziness

Blurred vision
Dry mouth
Fatigue or tiredness
Chest and muscle pain
Palpitations
An increased heart rate
Those using nitrates in any form
Nausea
Rash

Heart attack or stroke
Allergic reaction
Increased of decreased blood pressure
Priapism (when you have an erection for a prolonged period of time)
Fainting
Nosebleeds
How can I buy Cialis online?
You can buy this long lasting and fast acting erectile dysfunction (ED) treatment online from euroClinix after successfully completing a quick and confidential online consultation with one of our doctors. They will ask you some short questions, which will help them assess whether you are suitable to take this medication. On the doctor's approval, the treatment will then be dispatched from our UK registered pharmacy for next day delivery. All of our medications are delivered in plain, tamper-proof polyethylene courier bags in order to maintain discretion.
As Cialis is a prescription medication, you cannot buy it over the counter or without a prescription. Only an authorised UK qualified doctor can prescribe it you. If you come across an online clinic that offers Cialis pills without a doctor's prescription, they are operating against the law and may deliver counterfeit treatment.