What is Salamol
Salamol works by widening the airways in your lungs to allow air in and out. This helps you to feel less breathless, wheezy or tight chested. This kind of medicine is known as a 'Reliever', or a bronchodilator. Your doctor may have recommended that you buy this inhaler to treat asthma, bronchitis, emphysema, or other breathing problems. This treatment provides fast relief of symptoms (within 5 minutes), and relief for around 4-6 hours.
You can also order Salamol online to prevent asthma caused by exercise or asthma caused by a substance that you are allergic to (e.g. house dust, pollen, dogs, cats, cigarette smoke, etc.) or to treat breathing difficulties, which are caused by other chest diseases.
What are the benefits of using Salamol?
Salamol is a reliever inhaler that works quickly to help relieve an asthma attack and its distressing symptoms. This medication helps to keep the airways open and relaxed, making it easier for you to breathe. It can also be used to help prevent known triggers such as exercise from aggravating symptoms. As this treatment is inhaled directly into the lungs, your risk of side effects is reduced significantly.
You can buy this inhaler online from euroClinix after completing an online consultation. The consultation will be reviewed by one of our doctors, to ensure that your prescription medication is suitable for you. Your prescription will then be passed on to our UK registered pharmacy, and will be sent out free of charge for delivery the next day.
How does Salamol work?
Conditions like asthma cause the airways to narrow, which makes breathing difficult. This treatment is used to relieve such symptoms and asthma attacks. Using the active ingredient salbutamol, it works by acting on the lungs receptors otherwise known as beta 2 receptors. It prohibits the workings of these receptors on the lungs, allowing the airways to become relaxed. Once relaxed, the airways open, which makes it easier for you to breathe and helps the symptoms of an attack to subside.
How to use the Salamol inhaler?
How you use this inhaler or Easi-breathe will depend on factors like the severity of your condition. It is important to speak to your doctor before you begin using your inhaler so you can be sure you are doing so properly. When used as a relief treatment, one puff of either type of Salamol inhaler should be sufficient, but this can be increased to two puffs if necessary.
To prevent the onset of an attack, two puffs 10-15 minutes before you begin exercise or exposure to known triggers is advised. Make sure you do not exceed 8 puffs a day when using either the CFC-free inhaler or the Easi-breathe inhaler.
Salmeterol inhalers are generally used regularly twice daily. Nevertheless, you should follow the guidelines given by your doctor or healthcare provider regarding when to use this treatment and how many inhalations you should use daily. Do not go over the prescribed dose.
How to correctly use Salamol inhaler?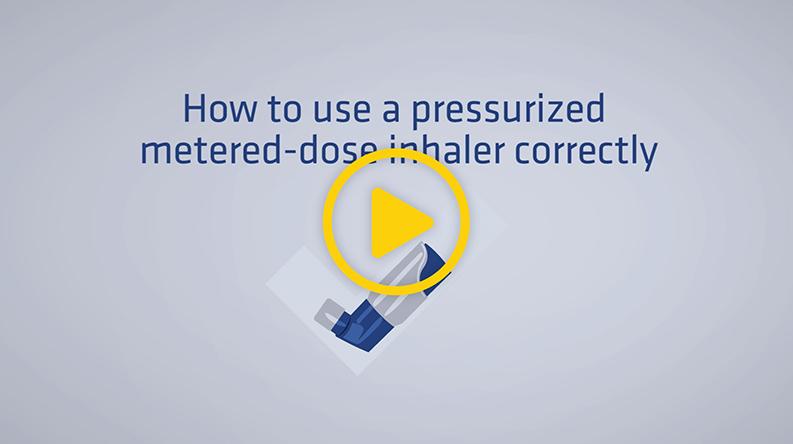 Salbutamol - the active ingredient
Salamol inhaler contains the active ingredient salbutamol. Salbutamol is also available without a brand name, i.e. as the generic medicine. Salbutamol works by acting on receptors in the lungs called beta 2 receptors. When salbutamol stimulates these receptors it causes the muscles in the airways to relax. This allows the airways to open.
In conditions where there is narrowing of the airways, such as asthma or chronic obstructive pulmonary disease (COPD, e.g. emphysema and chronic bronchitis), it is difficult for air to get in and out of the lungs. By opening the airways, salbutamol makes it easier to breathe.
Salbutamol precautions
The Salamol inhaler is used to relieve an asthma attack or symptoms of asthma when they occur. It should not be used as a preventer treatment. This medication is unsuitable if you are allergic to its active ingredient, salbutamol. If you have diabetes, heart disease, high blood pressure or hyperthyroidism or are pregnant or breastfeeding then this medication may be deemed unsuitable for you to buy.
Salamol side effects
Salamol, like all prescription medications, may cause side effects. If you experience any side effects you should contact a doctor immediately. Potential side effects with this medication may include headaches, tremors, tension, low blood potassium levels, narrowing of the airways and hyperawareness of your heartbeat. More information on the side effects caused by this medication can be found in the patient information leaflet.
How to buy Salamol inhalers online?
If you are looking to effectively treat asthma and chronic obstructive pulmonary disease (COPD) you can order Salamol inhalers online at euroClinix. However, you need to have been prescribed this asthma treatment in the past before buying this medication. We first ask that you complete our short online consultation form, so one of our doctors are able to verify that this medication is suitable for you to use. If you are approved for this treatment, a prescription will be sent to our UK pharmacy, from which point your medication will be dispensed and dispatched using a free next day delivery service.
Note: You must complete a short online consultation so that our doctor can ensure that the treatment is suitable for you. The above pricing should only be used as a reference. The final decision to issue this treatment lies with the prescribing doctor.