What is Treclin gel?
Treclin gel is prescribed for the treatment of acne vulgaris. It is a topical treatment, meaning that it is applied directly to the affected areas of skin on your body.
You can use Treclin gel on face acne, as well as chest and back acne.
Treclin gel contains two active ingredients that work to fight off spots and blemishes:
The gel comes in a tube of either 30g or 60g. The product itself is a translucent yellow colour.
How does it work?
Treclin gel works by combining 2 active ingredients which fight against acne.
Clindamycin is an antibiotic (a medicine that kills bacteria). It works by killing any acne-causing bacteria found on the skin.
Tretinoin belongs to a group of medicines called retinoids. Retinoids help to regulate the growth of your skin cells, meaning that acne-damaged and scarred skin can heal faster.
Tretinoin also helps with clogged pores, which can reduce or prevent more spots from forming.
Is it effective?
Although treatment outcomes will vary depending on the individual, Treclin has been proven to be very effective at treating acne.
One study compared the effects of Treclin (Clindamycin & Tretinoin) with just Tretinoin and just Clindamycin.
Treclin (combining 2 active ingredients) was shown to be more effective than just using one of the active ingredients:
| | Treclin gel | Tretinoin | Clindamycin |
| --- | --- | --- | --- |
| Percentage (%) in acne reduction after 12 weeks of using treatment: | 65% | 45% | 60% |
As shown in the table above, Treclin gel was shown to reduce acne by 65% (on average) after it was used regularly for 12 weeks.
How do I apply Treclin gel?
You should apply Treclin as per your doctor's instructions. However, a brief guide on the recommended use of Treclin gel is as follows:
Just like other topical acne treatments, it is important to apply the product to clean, dry skin. Start by washing your face gently and patting it dry with a towel.
Squeeze a pea-sized amount of gel from the tube (to cover your entire face). You can use more of the product if you are applying it to your chest or back.
Make sure to spread the gel thinly and evenly over the entire affected area.
Apply the treatment once per day, preferably before bedtime. Do not shower or bathe after applying the cream as this can stop it from working properly.
After using, replace the cap and make sure it is tightly closed. Do not store above 25℃.
What are the possible side effects?
Like all medications, there is a chance that you might experience some side effects after putting Treclin gel on your skin.
Remember, it is normal to experience side effects - although not everyone will get them.
The most common side effects include:
dry or flaky skin
redness of the skin
increased sebum production (an oily substance produced by the skin)
sensitivity to sunlight and UV light (resulting in sunburn)
itching, possibly accompanied by a rash
scaly skin
burning, inflammation, tingling, or redness when applied to the affected areas of the skin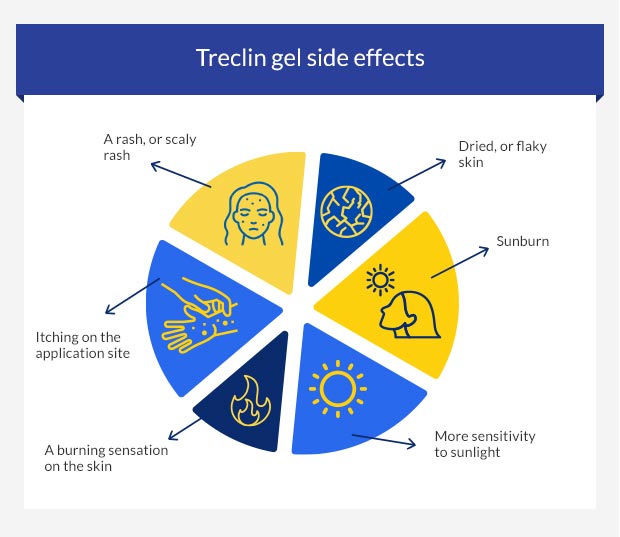 If your side effects are bothering you (or if you have any side effects that aren't listed in the patient leaflet) we recommend that you speak with a doctor or healthcare professional.
What are the precautions?
Before you use Treclin gel, make sure you're aware of the following warnings and precautions. This will ensure that you are using the treatment correctly and safely.
If you are a woman of childbearing age, you must take extra precautions not to become pregnant (by either taking hormonal contraceptives or ensuring that your partner wears a condom).
Avoid getting the product in or around your eyes, nose, or mouth. Rinse well with water if any contact takes place with these sensitive areas.
Avoid using this product on cut or scraped skin.
Talk with your doctor about taking this treatment if you have atopic eczema (chronic itching, inflamed skin).
Avoid any unnecessary exposure to sunlight or UV light.
Make sure to wear a protective suncream (at least factor 30) any time that you are outdoors.
Do not use Treclin gel at the same time as other cosmetic products, as this can increase your chances of skin irritation.
Do not use medicated soaps or exfoliants with a strong drying effect on the skin. Be careful of products containing alcohol, astringents (something used to tighten and decrease the size of your pores), spices, or lime.
Can I take Treclin gel with other medications?
It is important to tell your doctor about any medication you are currently taking (or have recently taken) as Treclin gel can interact with other treatments. This includes:
prescription medicines
over-the-counter medicines
herbal medicines
Taking other medicines with Treclin gel can stop the treatments from working properly.
Whilst using Treclin gel, you must also avoid any skincare products that contain:
sulphur
salicylic acid
benzoyl peroxide
resorcinol (or other chemical abrasives/exfoliants)
Who can use Treclin gel?
Treclin gel is safe to prescribe to most teenagers and adults suffering from acne.
However, you must NOT use Treclin gel if:
you are pregnant, or trying to conceive a child
you are allergic to any of the active ingredients (Clindamycin or Tretinoin) or any of the other ingredients in Treclin gel
you are allergic to Lincomycin
you have a chronic inflammatory bowel disease (such as Crohn's disease)
you have ever suffered from, or have a family history of skin cancer
you have acute eczema (that is scaly, inflamed, red, or dry)
you are suffering from rosacea
your acne presents as pustular with deep nodules (very severe forms of acne)
Is Treclin gel safe during pregnancy?
No, Treclin gel is NOT safe to take whilst you are pregnant, or if you are breastfeeding.
Tretinoin (one of the active ingredients in Treclin gel) is related to something called Isotretinoin, which is known for causing birth defects during pregnancy.
When you apply Treclin gel to the skin, Tretinoin is absorbed into your bloodstream through the skin. This can then be passed onto your unborn baby in the womb, or into your breastmilk.
If you happen to fall pregnant whilst taking Treclin gel, stop using the treatment immediately.
If you suspect you are pregnant, stop any use of the treatment until you have a confirmed negative pregnancy test.
Can I buy Treclin gel online?
Yes, you can buy Treclin gel online at euroClinix. Along with the price of the treatment, we offer a free consultation with one of our doctors who will provide you with a prescription.
If you are approved for treatment, your order will be sent out in discreet packaging with free delivery.
If you are not approved for treatment, your payment will bounce back into your account within several working days.
Note: You must complete a short online consultation so that our doctor can ensure that the treatment is suitable for you. The above pricing should only be used as a reference. The final decision to issue this treatment lies with the prescribing doctor.