What is Fluvastatin?
This is a cholesterol-lowering medication that is taken orally.. Fluvastatin belongs to a class of drugs called HMG- CoA reductase inhibitors, regularly referred to as "statins."
Statins lower the amount of cholesterol in the blood by inhibiting an enzyme in the liver that is required when producing cholesterol. In the blood, statins lower the amount of bad cholesterol as well as triglycerides. In many cases, bad cholesterol and triglycerides can be the cause of coronary artery disease. Coronary disease can be slowed down or even reversed in some cases by lowering the cholesterol levels in the blood.
What are the benefits?
Most people who have high levels of cholesterol are not aware of the fact, as it shows no outward symptoms. However the potential risks can be very serious so it is important to treat the problem as fast and effectively as possible. In some cases, changing your diet and doing regular exercise can improve your cholesterol levels. However, some people may also need to take medication, in which case you can buy Fluvastatin to help improve the condition and increase life expectancy.
How does Fluvastatin work?
This medication works in a similar way to most statins, which are a type of medication used to lower cholesterol. In the body, it blocks an enzyme known as HMG-CoA, which helps to produce "bad" cholesterol (LDL). This prevents a build up of lipids in the arteries, which can lead to a heart attack or stroke, as it puts pressure on the heart by making it harder for the blood to flow through the body.
Who can take Fluvastatin?
Most people who suffer from high levels of LDL can safely buy Fluvastatin to reduce cholesterol levels, although it is not advised for women who are pregnant or breastfeeding. Similarly, you will not be prescribed the medication if you have had liver problems in the past or if you are allergic to any of its ingredients. During your online consultation, be sure to mention any other medical conditions you are suffering from such as liver, kidney or muscle disease, as it may affect your dosage.
How do you take the medication?
Your doctor will prescribe the appropriate dosage for you, which may range from 20mg to 80mg. You can buy Fluvastatin in the form of tablets. This medicine should not be taken with grapefruits, as statins and grapefruit can have adverse effects when they are combined in the body.
Your dosage may be reviewed regularly by your doctor. You should not increase your daily dose without first consulting with your doctor. If you miss a dose, do not take double the amount the next day, as excessive amounts of the medication can be dangerous.
Are there any side effects?
As with all medications, Fluvastatin can cause side effects in some patients. The most common side effects include trouble sleeping, headaches, abdominal pains and nausea, although some of the rare ones can include memory loss, sexual difficulties and depression. Consult a doctor immediately if you experience any of the following: unexplained muscle pain, skin reactions, trouble breathing or any yellowness of the skin or eyes.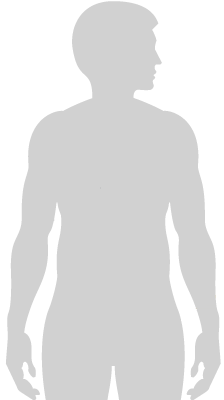 Neurological
Headaches are a fairly common side effect of this medication, and sleeping difficulties may also occur. Behavioural changes are extremely rare.
Gastric
Abdominal pain and general stomach discomfort is a common side effect, often accompanied by nausea. Indigestion may also occur. Abdominal pain that is unusually severe could be a sign of pancreatic difficulties and as such is a cause for concern that should be reported to a doctor.
Skin
Skin reactions, including itchiness or a rash, are rare, as is skin inflammation.
Muscular
Muscle pain, tenderness or weakness is rare but could occur as a result of this medication.
Fluvastatin side effects
Click on the relevant area of the body to find out about how it may be affected by Fluvastatin
Sleeping problems, stomach discomfort, headaches, nausea and abdominal pain are side effects that occur most often. They aren't likely to be serious, but you should tell your doctor if you experience them as they may be an indication that you require a different dose or even a different statin, that will be less likely to interact negatively in your body.
| | | | |
| --- | --- | --- | --- |
| Side effects | Common | Rare or very rare | Other |
| Sleeping difficulties | | | |
| Stomach discomfort | | | |
| Headache | | | |
| Abdominal pain | | | |
| Nausea | | | |
| Muscle pain and tenderness | | | |
| Hepatitis | | | |
| Allergic reaction | | | |
| Tingling or numbness | | | |
| Decreased sensitivity | | | |
| Muscle weakness | | | |
| Skin reactions | | | |
| Skin inflammation | | | |
| Severe upper abdominal pain which can be a sign of pancreatic difficulties | | | |
| Disturbances in your sleep such as insomnia | | | |
| Loss of memory | | | |
| Sexual problems | | | |
| Changes in mood such as depression | | | |
| Breathing difficulties of any kind | | | |
What should I avoid?
If you take medications like cholestyramine or colestipol, it is advised that you avoid taking these medications within two hours before taking Fluvastatin.
It is advised that you avoid eating foods which are high in fat or cholesterol. This medication will not decrease your cholesterol, at its optimum rate, if you do not follow a low cholesterol diet.
It is also advised that you refrain from drinking alcohol. Alcohol consumption can raise triglyceride levels in the blood and can possibly increase your risk of liver damage.
Can you buy it online?
Yes. You can buy Fluvastatin to lower cholesterol from euroClinix by completing an online consultation with one of our doctors. This protocol has been put in place to ensure that you are suitable for this medication. If you are approved for Fluvastatin, your medication will be dispensed for a free next day delivery.
Please note that the manufacturer of Fluvastatin may differ from that shown on the image above, but the ingredients, benefits and possible side effects of the medication will be the same.
Note: You must complete a short online consultation so that our doctor can ensure that the treatment is suitable for you. The above pricing should only be used as a reference. The final decision to issue this treatment lies with the prescribing doctor.