What is Saxenda?
Saxenda is a prescription weight loss treatment taken daily in the form of a pre-filled injection pen. It helps support weight loss when combined with a healthy diet and exercise. It also helps to control your blood sugar levels.
It works by lowering your appetite. When taken daily for over 12 weeks, most patients will have lost at least 5% of their initial body weight.
Treatment is only suitable for patients with a body mass index (BMI) of 30 and over, or 27 and have a weight-related condition.
How does Saxenda work?
Saxenda works by reducing your appetite. This enables you to eat less and your weight will decrease gradually. However, it's still important that you eat well and exercise regularly to get the best results.
More specifically, Saxenda contains the active ingredient Liraglutide and belongs to the same class of medicines as the weight loss injection Wegovy (Semaglutide). These drugs work by increasing levels of the GLP-1 hormone.
The GLP-1 hormone is responsible for how much and how often you eat. By increasing hormone levels, Saxenda slows down digestion and delays stomach emptying. This causes you to feel fuller for longer and means you will eat fewer calories.
What are the benefits of taking Saxenda?
Multiple clinical trials have demonstrated that Saxenda is effective for many people looking to lose weight.
One clinical trial followed over 3,000 adults using Saxenda across 56 weeks. They found the following results:
85% of patients lost weight
3 out of 5 patients lost an average of 5.4kgs (around 5% of their body weight)
1 in 3 patients lost an average of 10.4kgs (around 10% of their body weight)
6% of patients lost an average of 21.3kgs (around 20% of their body weight)
It is also a sustainable weight loss method. Most people lose weight gradually and keep it off. One study found that patients who stayed on the drug for over 2 years maintained a 7.7kgs weight loss.
Who is Saxenda suitable for?
To use Saxenda, you must have a BMI of 30 or above or a BMI of 27 or above and have a weight-related condition such as type 2 diabetes, high blood pressure or high cholesterol.
Do not use Saxenda if you are allergic to any of the ingredients, have a condition called multiple endocrine neoplasia (MEN) or are pregnant, breastfeeding or planning on conceiving. It is also not recommended if you are over 75 years of age.
If you have certain conditions, consult your doctor first, such as if you have:
diabetes
inflammatory bowel disease (e.g. Crohn's disease)
kidney or liver problems
pancreas problems
thyroid problems (e.g. an underactive thyroid)
a history of gallbladder problems like gallstones
a history of mental health problems
If you have any other medical conditions not mentioned above, always consult your healthcare provider before using this medication.
What does a Saxenda pen look like?
Before injecting, it's important to familiarise yourself with the pen before injecting it as they are several components.
See below for a diagram of a Saxenda pen.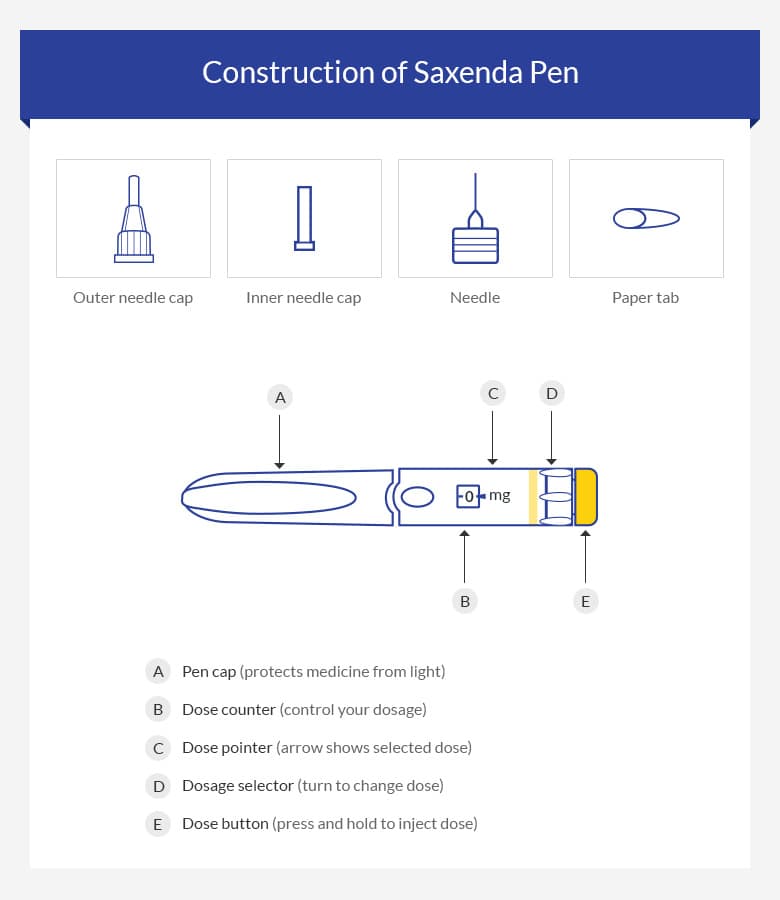 How do I use Saxenda?
Make sure you read the PIL (patient information leaflet) closely before starting Saxenda. It contains more detailed information on how to administer it, the doses and the potential side effects.
Saxenda must be injected daily at around the same time each day. You can take it with or without food.
Before injecting, you should prepare the pen.
Wash your hands and pull off the pen cap
With each new pen, check the flow counter and turn it to the flow check symbol.
Check that the solution in your pen is clear, and not cloudy.
Select your dose by turning the dose selector until the dose counter shows your dose.
Then you can inject the medication.
Inject into the upper arm, abdomen or thigh. You should rotate the injection site each time to prevent injection site reactions. Do not inject into a vein or muscle.
Press and hold down the dose button as you inject until the dose counter shows 0.
Once it shows 0, count slowly to 6 to ensure that you administer the entire dose.
Remove the needle from your skin and discard it in your sharps bin.
You will receive enough needles for the usable doses of the pen and a safe needle disposal box in your delivery.
What dosage of Saxenda should I use?
A Saxenda pen can deliver doses of 0.6mg, 1.2mg, 1.8mg, 2.4mg or 3mg. The starting dose is 0.6mg.
It is a daily injection, and the dose of Saxenda will increase each week until you reach the recommended daily maintenance dose (3mg).
Week 1 - take 0.6mg each day
Week 2 - take 1.2mg each day
Week 3 - take 1.8mg each day
Week 4 - take 2.4mg each day
Week 5 and onwards - take 3mg each day
Once you are taking the 3mg dose, each pen should last six days. There is a table contained in the PIL that will make these instructions easier to follow. Or, you can follow our guide below.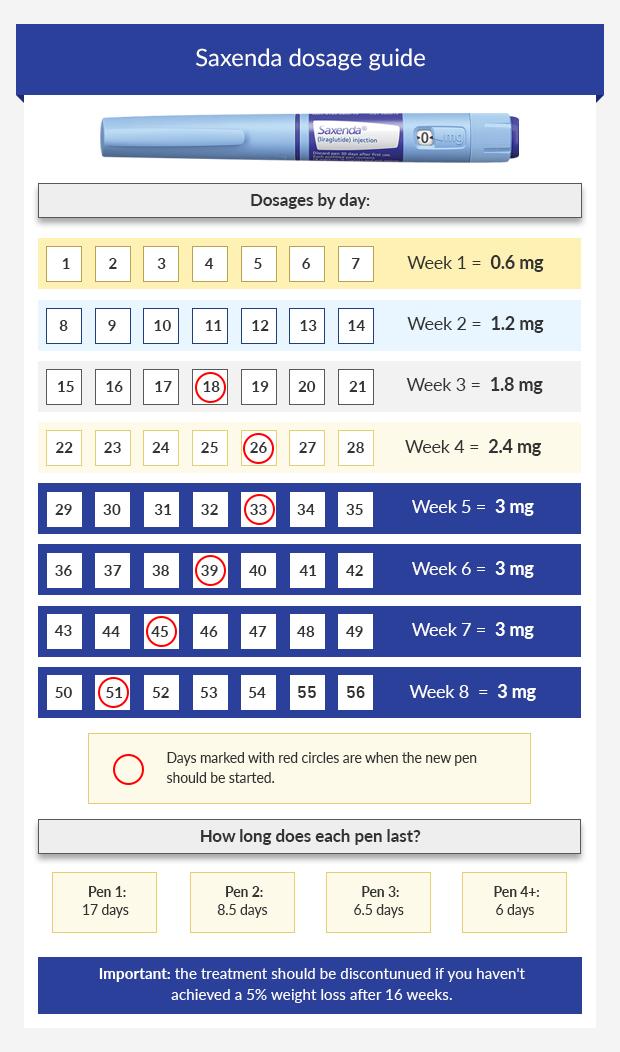 If you have not lost at least 5% of your initial body weight after 12 weeks of treatment at 3mg daily, discontinue treatment and talk to your doctor about alternatives.
If you forget to take Saxenda, take the missed dose as soon as you remember. However, if more than 12 hours have passed since your usual time, skip the missed dose and continue the next day.
You should not take more than 3 mg a day. If you take more than you should, you may experience side effects. If you use more Saxenda than you should, seek medical attention even if you feel fine.
How do I store Saxenda?
A new and unused Saxenda pen should be stored in the refrigerator at 2°C to 8°C. Once opened, you can keep it in the refrigerator or at room temperature between 15°C to 30°C away from bright light. Do not freeze Saxenda pens.
You should discard opened pens after 30 days even if there is Saxenda left over in the pen.
What are the side effects of Saxenda?
Side effects are possible with all prescription medication, and Saxenda is no exception.
When beginning treatment, side effects such as nausea and diarrhoea are common, but these symptoms usually decrease as time goes on. Drink plenty of fluids while on Saxenda to avoid this.
The most common side effects of Saxenda include:
Common side effects:

digestion problems (e.g. heartburn or flatulence)
feeling weak or tired
changes in your taste
dizziness
difficulty sleeping (insomnia)

gallstones
irritation around the injection site
low blood sugar levels
an increase in pancreatic enzymes
Saxenda also increases the likelihood of some rare but serious side effects, like an allergic reaction and pancreatitis. Symptoms of these are detailed in the patient information leaflet. Should you develop these symptoms, or any other concerning side effects, please stop taking the medication and get immediate medical help.
Talk to your doctor if you have palpitations (you feel aware of your heartbeat) or if you have feelings of a fast heartbeat during treatment.
Does Saxenda react with other medicines?
You should inform your doctor about any other medications or supplements you take, even if they are not on prescription.
Tell your doctor before using Saxenda if you take:
sulfonylurea medicines for diabetes (e.g. glimepiride)
medications to help your blood clot (e.g. warfarin)
Do not use Saxenda with other weight loss medicines, e.g. Ozempic, Rybelsus, Orlistat, Xenical or Mysimba.
If you take any other medicines not listed, consult your doctor first.
What should I eat when on Saxenda?
You can take Saxenda with or without food or drink. When you first start treatment, you may experience nausea and diarrhoea, so drink plenty of fluids to avoid dehydration.
You must follow a healthy and reduced-calorie diet while on Saxenda to get the best results.
In general, a well-balanced diet should consist of:
high-fibre grains like brown rice, whole-grain pasta and bread, and porridge
foods high in lean protein like lentils, legumes, fish, and poultry
both leafy and starchy vegetables like spinach, rocket, carrots, and parsnips
a wide variety of fruit, like apples, berries, bananas, and oranges
healthy oils and fats, such as those from nuts, seeds, avocados, and vegetable oils
Ensure that you also do regular physical activity while on Saxenda to help with weight management.
The NHS guidelines recommend that adults do at least 150 minutes of moderate-intensity activity a week (such as brisk walking or riding a bike) or 75 minutes of vigorous-intensity activity a week (like jogging or skipping rope).
If you have any concerns about your diet while on Saxenda, talk to your doctor or a registered dietitian.
Can I buy Saxenda online?
You can buy Saxenda online from euroClinix. As a part of the order process, you will need to complete an online consultation. One of our registered UK doctors will review your responses and issue a prescription if the medication is suitable for you. Your prescription will be sent to our pharmacy, where it will be reviewed before being packaged and sent out with free next-day delivery.
Can I buy Saxenda without a prescription?
No, Saxenda is a prescription-only medication. It is only available to purchase if you have a valid prescription from a doctor or an online clinic. Saxenda can cause potentially dangerous side effects, so a doctor must ensure that the medication is appropriate for you.
Can you get Saxenda on the NHS?
Saxenda is available on the NHS via a referral from your GP. Your GP will need to refer you to a specialist weight management clinic to get a prescription for Saxenda. Saxenda is typically only prescribed to those that have tried other methods of losing weight, such as diet and exercise, as well as other weight loss treatments without success. Otherwise, you will need to pay for Saxenda privately.
How much does Saxenda cost?
The cost of Saxenda will vary depending on the provider you're buying it from. See our prices for Saxenda above, which include consultation and delivery.
Note: You must complete a short online consultation so that our doctor can ensure that the treatment is suitable for you. The above pricing should only be used as a reference. The final decision to issue this treatment lies with the prescribing doctor.