What is Saxenda?
Saxenda is a prescription weight loss treatment taken in the form of a pre-filled injection pen. It helps support effective weight loss when combined with a healthy diet and exercise. Saxenda also improves glycemic control.
Saxenda is only suitable for patients who exceed a Body Mass Index (BMI) of 30 or 27 in cases of existing weight-related comorbid conditions, such as high blood pressure, diabetes or dyslipidemia.
After using the standard dose of 3 mg per day for 12 weeks, you should have lost at least 5% of your initial body weight for treatment to be continued.
How does Saxenda work?
The active ingredient of Saxenda is liraglutide. Liraglutide imitates a hormone that helps regulate appetite, helping you feel fuller for longer.
An additional positive side effect of liraglutide is that it can improve the control of blood glucose levels by influencing insulin and glucagon secretion. However, the medication is not suitable for the sole treatment of diabetes.
How do I take Saxenda?
You should begin a healthy diet and exercise programme prior to using Saxenda, and stay on this programme throughout treatment.
Liraglutide is offered in a solution which is injected into the skin. You will receive an injection pen which contains multiple doses of the medication.
The starting dose is 0.6 mg a day for the first week. This is increased each following week in increments of 0.6 mg each. The subsequent doses of 0.6 mg, 1.2 mg, 1.8 mg, 2.4 mg and the maximum dose of 3 mg can all be delivered with the same pen. The subcutaneous administration can be done on the arm, thigh or abdomen.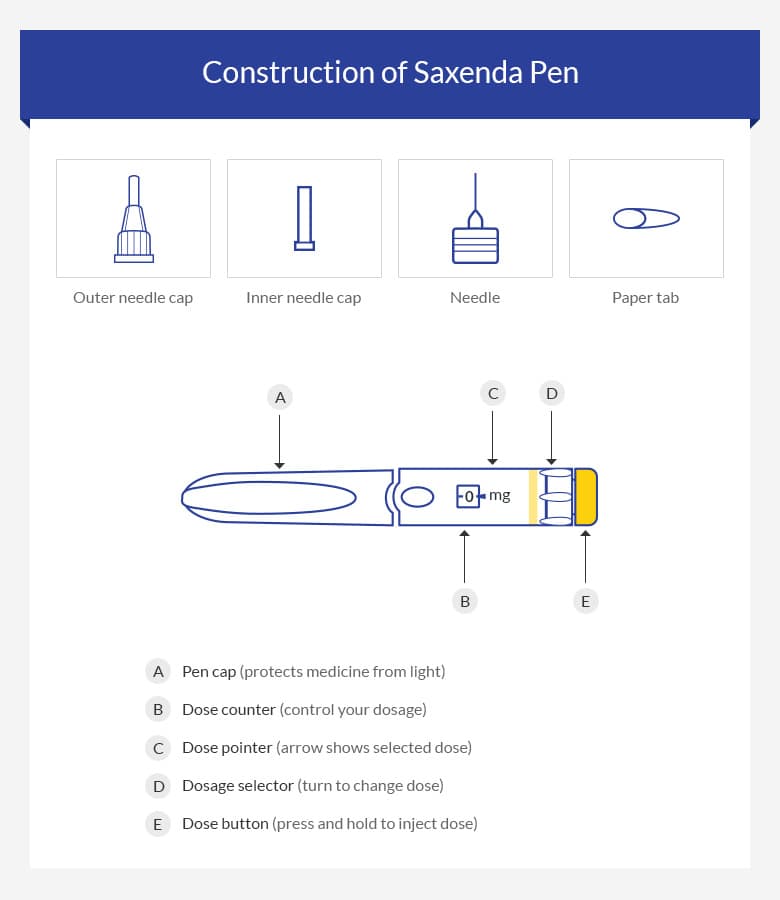 You should take Saxenda around the same time each day, with or without food. After each application the single-use needle should be securely disposed of and the pen stored without a needle attached. You will receive enough needles for the usable doses of the pen and a safe needle disposal box in your delivery.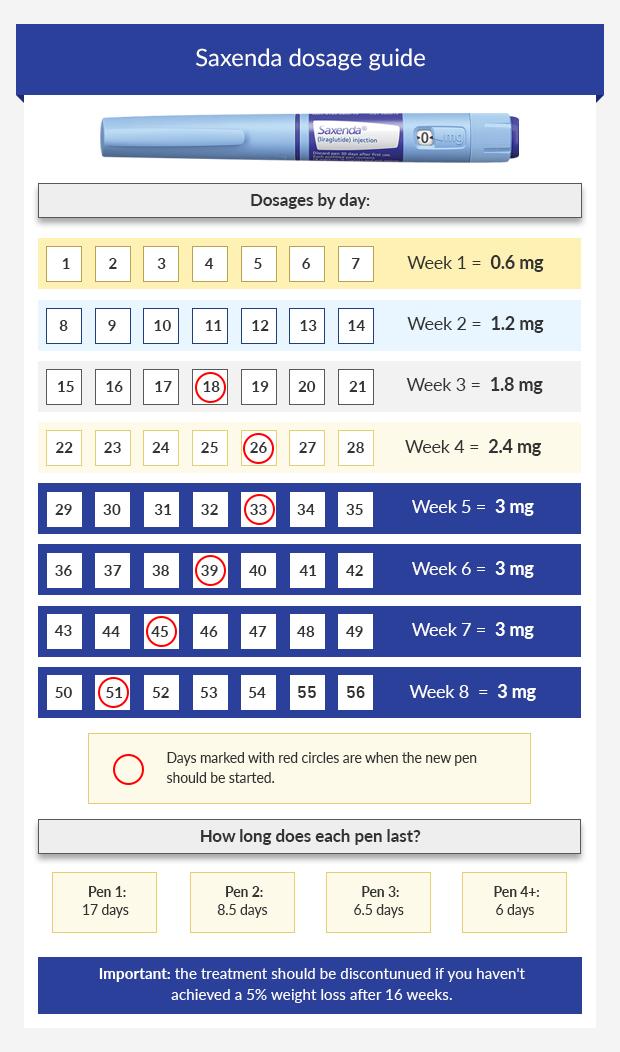 How should Saxenda be stored?
For Saxenda to be used safely and efficiently the medication has to be stored at temperatures between 2°C and 8°C in the refrigerator. It should never be frozen, however, so storage near or in the freezer compartment is not recommended. A Saxenda pen can be used for up to a month after its first use.
For protection from light and to avoid deterioration of the solution the pen cap has to be placed back after each use. The solution should be clear and colourless or almost colourless to still be used. Should Saxenda have been frozen at any point it should also no longer be used.
What are the side effects of Saxenda?
Side effects are possible with all prescription medication, and Saxenda is no exception.
When beginning treatment, side effects such as nausea and diarrhoea are common, but these symptoms usually decrease as time goes on. You should drink plenty of fluids while on Saxenda to avoid this.
The most common side effects of Saxenda include:
Common:

Stomach and intestinal problems
Feelings of weakness or tiredness
A change in your sense of taste
Dizziness
Insomnia

Gallstones
Irritation around the injection site
Low blood sugar
An increase in pancreatic enzymes
Saxenda also increases the risk for certain rare but serious side effects, like anaphylaxis and pancreatitis. Symptoms of these are outlined in the patient information leaflet. Should you develop these symptoms, or any other concerning side effects, please stop taking the medication and get immediate medical help.
Talk to your doctor if you have palpitations (you feel aware of your heartbeat) or if you have feelings of a racing heartbeat while at rest during Saxenda treatment.
Saxenda is not suitable for patients with a history of depression or suicidal ideation as the treatment might heighten the risk for suicidal thoughts and behaviour.
What precautions should I take?
This treatment is not recommended for use if you:
have a known sensitivity to the medication or any of the ingredients
are pregnant or breastfeeding
are older than 75
have severe heart failure
have kidney disease or if you are on dialysis
have liver problems
have IBS or severe stomach and gut problems
It is important to detail your medical history during your consultation, especially if you currently have or have previously had a disease affecting the pancreas, or if you have had any issues with your thyroid, such as thyroid disease. Completing your consultation thoroughly and accurately will help the doctor ensure that this medication is suitable for you.
Losing weight too quickly can put you at risk of adverse health conditions. The safe weekly rate of weight loss is between 0.5kg to 1kg, or 1lb to 2lb a week. If you lose weight too quickly, whatever the method, you're at a risk of gallstones and an inflamed gallbladder. Stop taking Saxenda if you experience severe pain in your upper abdomen, usually on the right side under the ribs, that extends to your back or shoulder.
Medication alone is not enough to get to a healthy weight, which is why Saxenda should only be used in addition to a healthy lifestyle with good eating habits and regular physical exercise. There is no advantage gained by combining Saxenda with other weight loss medications - in fact, there is a higher risk of dangerous side effects.
If the excess weight is primarily caused by an eating disorder, endocrinological problems or as a side effect of medications, it is not advised to use Saxenda.
Saxenda can help control blood glucose levels, but is not suitable as a stand-alone treatment for diabetes, and should not be used as a replacement for insulin.
Possible interactions with other medications
You should inform your doctor about any other medications or supplements you are taking, even if they are not prescribed.
This includes a class of diabetes medications called 'sulfonylurea', as your doctor may need to adjust your dose when taking Saxenda to ensure you do not get low blood sugar. You should also inform your doctor if you are on warfarin or other anticoagulants as you may need to undergo more frequent blood tests.
What should I eat when on Saxenda?
You can take Saxenda with or without food or drink. When beginning treatment, you may experience nausea and diarrhoea, so it is important to drink plenty of fluids to avoid dehydration.
It is important to consume a healthy diet while on Saxenda.
In general, a well-balanced diet should consist of:
high-fibre grains, like brown rice, hulled barley, whole-grain pastas and breads, and porridge
foods high in protein like lentils, legumes, fish, and poultry
both leafy and starchy vegetables like spinach, rocket, carrots, and parsnips
a wide variety of fruit, like apples, berries, bananas, and oranges
healthy oils and fats, such as those from nuts, seeds, and avocados, and vegetable oils
It is important to ensure that you also engage in regular physical activity while on Saxenda. The NHS guidelines recommend that adults participate in at least 150 minutes of moderate intensity activity a week (such as brisk walking or riding a bike) or 75 minutes of vigorous intensity activity a week (like jogging or skipping rope).
If you have any concerns about your diet while on Saxenda, talk to your doctor or a registered dietitian.
Can I buy Saxenda online?
You can buy Saxenda online from euroClinix. As a part of the order process, you will need to complete an online consultation. One of our registered UK doctors will review your responses and issue a prescription if the medication is suitable for you. Your prescription will then be sent to our pharmacy, where it will be reviewed before being packaged and sent out with free next-day delivery. You can read more about deliveries here.
Can I buy Saxenda without a prescription?
Saxenda is a prescription-only medication. It is only available to purchase if you have a valid prescription from a doctor. This also applies to online pharmacies. Saxenda can cause potentially dangerous side effects, so a doctor must ensure that the medication is appropriate for you.
Note: You must complete a short online consultation so that our doctor can ensure that the treatment is suitable for you. The above pricing should only be used as a reference. The final decision to issue this treatment lies with the prescribing doctor.