What is Ramipril?
Ramipril is an ACE inhibitor that is taken orally. ACE is an abbreviated term for angiotensin converting enzyme. We provide this medicine to people with hypertension (high blood pressure) or those who have recently had a heart attack. You can only order this treatment if you've been prescribed Ramipril before.
This medicine is used to treat high blood pressure or congestive heart failure, and to increase the chances of surviving after a heart attack in the future. Taking only one Ramipril capsule a day can be helpful in lowering blood pressure in patients that are at risk of developing serious cardiovascular problems such as a heart attack, stroke or aneurysm. It is also used to treat patients diagnosed with heart failure or kidney problems as a result of diabetes.
How do Ramipril capsules work?
Inside the body, you have a natural compound that controls blood pressure. This is known as an angiotensin II and is produced by the angiotensin-converting enzyme (ACE). Angiotensin II's job is to make the blood vessels constrict, which causes the pressure exercised by blood in the veins and arteries to increase.
Ramipril inhibits ACE from producing as much angiotensin II as it usually would, which allows the blood vessels to relax and blood to flow more freely through arteries and veins. This means that the heart doesn't have to contract as hard to ensure that blood gets around the body, which is why it is not only helpful in reducing blood pressure but also in helping people with symptoms of heart failure.
How to take Ramipril?
Although the Ramipril dosage may vary depending on the condition it's required to treat, a doctor will normally recommend that you take one oral capsule once a day, preferably in the mornings.
Once you have already ordered Ramipril in person with your doctor, you will be able to buy at online pharmacies including euroClinix. It is advised to continue with your recommended dosage unless a medical professional suggest otherwise.
Ramipril dosages
Ramipril is available in four dosages, which can be daunting, however your doctor will be able to recommend the ideal dose for you in person. Before buying Ramipril online, you will be told your particular dosage.
The advised starting dose is 1.25mg, which is the smallest available dosage in the UK. If this medication is proving ineffective, then you can increase to 2.5mg, 5mg and 10mg.
Precautions of Ramipril
You can only buy Ramipril online from euroClinix if you've been diagnosed with high blood pressure and have been advised to use this medication to lower it. If you require it to treat any other condition, it's best to speak to your doctor about your prescription.
As this is a prescription medication intended to treat a specific condition, certain restrictions apply to ensure that you can safely use this medicine.
You should not buy Ramipril online if you are pregnant. You may need to seek an alternative treatment or use an adjusted dose of this hypertension treatment if you have kidney, heart or liver disease, diabetes or connective tissue disease. Make sure that you mention any other relevant medical information or medication you are taking during your online consultation.
Ramipril side effects
If Ramipril capsules are taken correctly, side effects aren't likely to occur, especially as the recommended starting dose is small. If the smallest dosage of Ramipril is ineffective, you can increase with the largest dose being 10mg. However, this does increase the likelihood of experiencing side effects.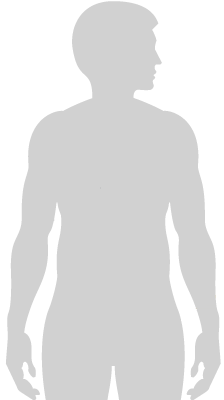 Neurological
Mild headaches are among the most common neurological side effects that could occur when taking Ramipril. Disorientation is very rare but there is a chance that it could occur.
Gastric
Stomach pain and diarrhoea are fairly common side effects of this medication.
Skin
There is a chance you may experience itching when taking Ramipril. It is very rare to experience a severe skin rash, though this may occur.
Eyes and nose
A congested nose is an uncommon side effect. It is very rare to experience itchy eyes after taking this medication, but it is a possibility.
Ramipril side effects
Click on the relevant area of the body to find out about how it may be affected by Ramipril
The most common side effects reported by people taking Ramipril are a dry mouth, pale skin, fever, confusion, jaundice and chest pain. Speak to your doctor if you experience any bothersome or serious side effects. The following common, uncommon and rare side effects have been reported:
| | | | |
| --- | --- | --- | --- |
| | COMMON | UNCOMMON | RARE |
| Headaches | | | |
| Fatigue | | | |
| Fainting | | | |
| Stomach pain | | | |
| Diarrhoea | | | |
| Itching | | | |
| Change in taste | | | |
| Congested nose | | | |
| Irregular heartbeat | | | |
| Blurred vision | | | |
| Severe skin rash | | | |
| Itchy eyes | | | |
| Feeling weak | | | |
| Bruising | | | |
| Disorientation | | | |
Some side effects have been reported on occasion but there is not enough data to give exact figures as to how common they are. They occur in a very small number of patients and may be an indication of an intolerance to the medication. If you suffer from any of the following symptoms you must contact a doctor as soon as possible in order to see whether a different high blood pressure medication may be more appropriate for you. These side effects include:
Heart palpitations or increased heart rate
Lung problems such as a cough or shortness of breath
Easy bruising or bleeding for longer than usual, such as from the gums
Severe stomach or back pain which can indicate pancreatitis
Signs of liver problems such as yellowing of the eyes.
On rare occasions a patient may experience an allergic reaction to Ramipril. If this occurs you must stop taking the medication and contact your doctor immediately. The symptoms you may experience include swelling of the face, mouth or throat, making it difficult to breathe or swallow. You may also experience a severe skin rash or swelling and blistering.
Where can I buy Ramipril online?
You can buy Ramipril capsules online for the treatment of hypertension, safely and securely from euroClinix. As this is a prescription treatment, we ask you to complete a consultation during the order process, which is mandatory when buying any prescription medication in the UK. Only our doctor will view this form in order to prescribe you the most suitable treatment for your condition. The prescription will be sent straight to our pharmacy, where it will be dispatched straight to your delivery address of choice. When reordering high blood pressure treatment with euroClinix, you can take advantage of our reorder service to buy Ramipril even quicker. If you can't buy Ramipril online capsules with us, our doctor may recommend an alternative treatment and you will not be charged.
Please note that the manufacturer of this medicine may differ from that shown on the image above, but the ingredients, benefits and possible side effects of the medication will be the same.
Note: You must complete a short online consultation so that our doctor can ensure that the treatment is suitable for you. The above pricing should only be used as a reference. The final decision to issue this treatment lies with the prescribing doctor.