What are the benefits of Bendroflumethiazide tablets?
Bendroflumethiazide helps treat high blood pressure by reducing water retention. This can reduce a person's chances of developing cardiovascular health problems and other hypertension-related illnesses in the future. It can also be used to treat symptoms of heart failure, because it takes pressure off the heart.
How do Bendroflumethiazide tablets work?
Bendroflumethiazide is a thiazide diuretic which acts in the kidneys to increase their ability to remove salts from the blood. This increases the levels of minerals and salts (namely potassium), which causes the excess water in the blood to be drawn out and transferred to the kidneys where it is removed naturally from the body through the urinary tract, causing the patient to urinate more regularly. Reducing the volume of fluid in the blood makes it easier for it to flow through the arteries which decreases the pressure within the blood vessels as well as the heart pumping the blood.
| | | | | | | |
| --- | --- | --- | --- | --- | --- | --- |
| | | | | | | |
| Medication increases potassium levels | | Potassium draws water out of the blood | | Excess liquid flows to the kidneys where it is passed in urine | | Healthier blood vessels lower pressure on the heart |
Who can take it?
Bendroflumethiazide is intended for hypertensive people who need to lower their high blood pressure. It's only available to patients over the age of 18 from euroClinix.
You may not be able to use this medication if you are pregnant or breastfeeding. Also make sure that you mention in your online consultation if you have liver or kidney problems; if you suffer from diabetes or gout; if have an adrenal gland disorder; low blood potassium or sodium; high blood calcium or if you have problems passing water.
What are the cautions when taking Bendroflumethiazide?
Caution should be taken before use in those with diabetes mellitus as it can raise blood glucose levels. Patients are also advised to limit the amount of alcohol consumed as this may reduce blood pressure even further, increasing the risk of various associated side effects. Always remain well hydrated and limit exertion in very hot weather
Interactions with other medications
Make your doctor aware of any other medication you are taking such as antifungals, antiarrhythmics, antipsychotics or corticosteroids which may increase the risk of hypokalaemia (low potassium levels). The below are a list of medications that can interact adversely with Bendroflumethiazide.
Blood thinners such as warfarin
Insulin or anti-diabetic medication
Diazoxide
Pimozide
Thioridazine
Calcium channel blockers
Digoxin
Lithium
How do you take Bendroflumethiazide tablets?
A doctor may recommend that you start on a low dose of Bendroflumethiazide to judge how you react to the treatment. Normally treatment with Bendroflumethiazide involves taking a single tablet daily over an indefinite period of time.
It is also recommended to have regular check ups with your doctor to ensure your blood pressure is being controlled effectively by the medication. If you are taking a thiazide diuretic it is important to have your blood monitored regularly. One of the main things they will test for is an altered number or types of blood cells. You should contact your doctor for a blood analysis if you suffer from any of the following symptoms:
Increased bruising
Nose bleeds
Sore throat
Infections
Excessive tiredness or fatigue
Breathlessness
Pale skin
Are there any side effects?
Although Bendroflumethiazide is clinically proven to be a very safe treatment, there is a slight risk – as with all prescription medication – that some patients may experience side effects when taking it. The most common effects are thirst, muscle cramps, diarrhoea, nausea or vomiting, impotence and high blood glucose. If these effects do occur they will likely be very mild and should not last for too long. Make sure that you mention to your doctor if you experience any of these because it may mean that you require a different dose.
Use the interactive map below to highlight the areas of the body most at risk of side effects. It's worth noting that side effects of long-term medication do tend to subside after time, once your body gets used to the medication.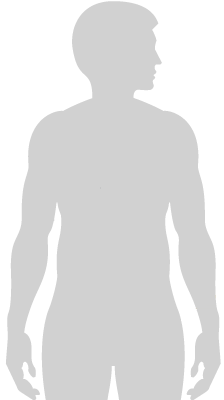 Neurological
It is possible that you may experience some dizziness or light-headedness after taking this medication. This is due to the drop in blood pressure, especially when moving quickly and when getting up whilst lying or sitting down. To avoid this, take care in your movements and visit your doctor if this is severe and persists over the first few months.
Gastric
It is fairly common to experience mild stomach upsets such as nausea, abdominal pain and vomiting, which may be accompanied by constipation or diarrhoea. You also find that you need to urinate more often.
Blood
Though rare, it is possible that you may experience a drop in blood pressure as a result of this medication. A decrease in levels of potassium and sodium may also occur. Levels of cholesterol, calcium, glucose and uric acid may rise.
Muscular
Mild muscle cramp or weakness may occur after taking Bendroflumethiazide as a result in the drop in blood pressure and other changes in the blood as mentioned.
Bendroflumethiazide side effects
Click on the relevant area of the body to find out about how it may be affected by Bendroflumethiazide
In some extremely rare cases, patients will suffer from an allergic reaction whilst taking Bendroflumethiazide, due to a hypersensitivity to thiazides or any of the other ingredients. Some of the symptoms you may suffer from due to an allergic reaction include:
Rashes
Flaky or peeling skin
Light sensitivity
Viral lung infection (pneumonitis)
Pulmonary oedema
Can I buy Bendroflumethiazide tablets online?
euroClinix provides you with a convenient way to buy Bendroflumethiazide tablets online. Our checkout process includes a quick consultation form, which will be checked by our doctor to make sure that you can safely take this treatment. After reviewing the medical information you provided, they will provide a prescription if it's appropriate. This prescription will be filled by our registered EU pharmacy, where it will be dispensed by a registered pharmacist and sent via secure overnight delivery. Should it not be safe for you to buy Bendroflumethiazide, our doctor may recommend a more suitable medicine for you to use or contact you to verify any information.
Please note that the manufacturer of Bendroflumethiazide may differ from that shown on the image above, but the ingredients, benefits and possible side effects of the medication will be the same.
Note: You must complete a short online consultation so that our doctor can ensure that the treatment is suitable for you. The above pricing should only be used as a reference. The final decision to issue this treatment lies with the prescribing doctor.