What are the benefits of Lisinopril?
Lisinopril works to effectively lower blood pressure, in just a single daily dose. This can help to reduce the risk to patients if their blood pressure is dangerously high and they are at risk of a stroke or heart attack. In these cases Lisinopril is recommended alongside various lifestyle changes. Lisinopril has also been proven to be successful in treating patients with symptoms of heart failure.
When blood pressure is high it shows that the heart has to work harder to pump the blood around the body delivering essential nutrients to the vital organs. It does not have any symptoms until an associated health problem occurs. It is easily checked with a non-invasive cuff to measure the pressure that takes a minute or two. If readings are taken at different times of day and are shown to be consistently high, it's a warning sign that action needs to be taken to lower it.
How do Lisinopril tablets work?
The body has natural compounds that control blood pressure and one such compound is angiotensin II, which is produced as a result of the angiotensin-converting enzyme (ACE). Angiotensin II causes blood vessels to constrict.
Lisinopril inhibits ACE so that it produces less angiotensin II. This reduces its narrowing effect on blood vessels, allowing blood to flow more freely within the vessels. Consequently this places less strain on the heart so that it doesn't have to work as hard. This is also why it's so effective at helping people with heart failure.
Who can take it?
You can only buy Lisinopril tablets from euroClinix to help lower blood pressure. We also only provide our service to people over the age of 18. If you are already using it for another purpose, it's better to speak to your doctor about your prescription.
Who cannot take it?
You should not buy Lisinopril tablets if you are pregnant. If you require treatment for high blood pressure during pregnancy it's best to see your doctor straight away for advice. If you have diabetes or kidney, liver, heart or connective tissue disease, you may have to either use a lowered dosage of this medication or be prescribed an alternative.
You should also make sure that you mention any medications you are using, whether it be prescription or over the counter, when you complete your online consultation as this may influence whether you can take this treatment safely.
How do you take Lisinopril tablets?
Taking Lisinopril for the treatment of hypertension is very straightforward and a doctor will usually recommend that you take one 2.5mg, 5mg, 10mg or 20mg tablet with a full glass of water. Normally the starting dose for this treatment is 10mg, which can then be adjusted depending on your condition. Each tablet can be taken with or without food and many people choose to take their tablet just before bed, especially when first starting the treatment.
If you miss a dose take it as soon as you remember unless it is close to when the next dose is due. Never take two tablets at the same time.
Before you buy Lisinopril online at euroClinix you should first read the manufacturer's instructions, which are available at the bottom of this page before purchase and are also provided with the Lisinopril tablets. This will give you more information about the medication than the overview contained on this page.
Are there any side effects?
Side effects with this medication are a possibility, but they won't affect every patient. The most common effects are light-headedness, fainting, feeling tired, rapid weight gain and a difference in how often you urinate.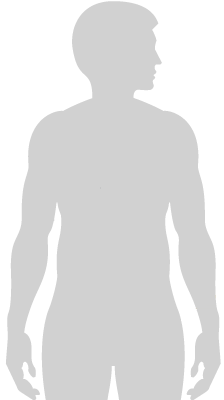 Neurological
Headaches, dizziness and light-headedness are commonly reported side effects of Lisinopril. Confusion is very rarely caused by this medication.
Gastric
Diarrhoea and vomiting are common side effects of Lisinopril.
Heart
It is uncommon to experience chest pain while taking this medication, but it is a slight possibility. It is also possible that sudden extreme low blood pressure could occur as a result of this medication, though this is very rare.
Skin
It is possible that the skin may become itchy or produce a rash as a result of this medication.
Lisinopril side effects
Click on the relevant area of the body to find out about how it may be affected by Lisinopril
More serious side effects are allergic reactions, dizziness, drowsiness, nausea, diarrhoea or mild skin itching, but luckily these are extremely rare. Speak to your doctor immediately if you experience any serious or bothersome side effects.
The following side effects have been recorded with varying frequency:
| | | | |
| --- | --- | --- | --- |
| | COMMON | UNCOMMON | RARE |
| Headaches | | | |
| Dizziness | | | |
| Diarrhoea | | | |
| Vomiting | | | |
| Light-headedness | | | |
| Low blood pressure | | | |
| Chest pain | | | |
| Rhinitis | | | |
| Sneezing | | | |
| Itchy skin | | | |
| Skin rash | | | |
| Dry mouth | | | |
| Hair loss | | | |
| Breast enlargement (in men) | | | |
| Confusion | | | |
Less than one in every 10,000 people will experience some of these extremely rare side effects. If any of these persist you should contact a doctor as soon as possible. These side effects include:
Common:

Low blood sugar level
Passing less urine than usual

Severe difficulty breathing
Wheezing or tightness of the chest
There are certain side effects that have been reported but the frequency of their occurrence has not been established. The most notable of these side effects are depression and fainting although they are unlikely to occur in the majority of patients.
The medication is also known to on occasion affect the results of some blood test you will need to undergo. It can sometimes increase potassium and sodium levels as well as liver enzymes.
In the event of an allergic reaction to Lisinopril
If you suffer from an allergic reaction to the medication you should stop taking the medication and go to a hospital straight away. Symptoms of an allergic reaction include:
Swelling of the face, throat or mouth
Sever skin rash and itchiness
Blistering of the skin
High temperature
Swollen glands
Taking other medicines
If you're taking other medicines, it is of utmost importance that you are completely honest and open about this during your online consultation. This includes medicines bought without prescription and herbal medicines. Similarly, it is advised that you consult your doctor or pharmacist before taking any new medicines while taking this one. Your doctors or local pharmacy will be able to advise you on which medicines will have a negative affect on your body when collaborated with Lisinopril.
The following medicines may interact with this medicine:
Acetylsalicylic acid
Allopurinol
Amiloride
Glyceryl trinitrate
Heparin
Insulin
Lithium
Procainamide
Sodium aurothiomalate
Spironolactone
Triamterene
Can I buy Lisinopril tablets online?
You can buy Lisinopril safely and securely from euroClinix. We take patient safety very seriously and that's why we ask that when you buy Lisinopril you complete an online consultation form. It shouldn't take too long, but the information you provide will provide our doctors with important information about your suitability for this treatment. All your information will be treated with discretion and once one of our doctors has reached a decision a prescription may or may not be approved. If it is, it will be sent straight to our pharmacy, where it will be dispensed, securely packaged and shipped for overnight delivery. If Lisinopril tablets aren't right for you, our doctor may provide an alternative or contact you to verify any unclear information.
Please note that the manufacturer of Lisinopril may differ from that shown on the image above, but the ingredients, benefits and possible side effects of the medication will be the same.
Note: You must complete a short online consultation so that our doctor can ensure that the treatment is suitable for you. The above pricing should only be used as a reference. The final decision to issue this treatment lies with the prescribing doctor.