What is Tadalafil (Cialis generic)?
Tadalafil is a prescription medicine which is used to treat erectile dysfunction. It is the active ingredient found in the erectile dysfunction medication Cialis. Tadalafil can be purchased without the Cialis branding and is often referred to as 'generic Cialis'. It is just as effective, but because it is a generic medication, it usually costs less.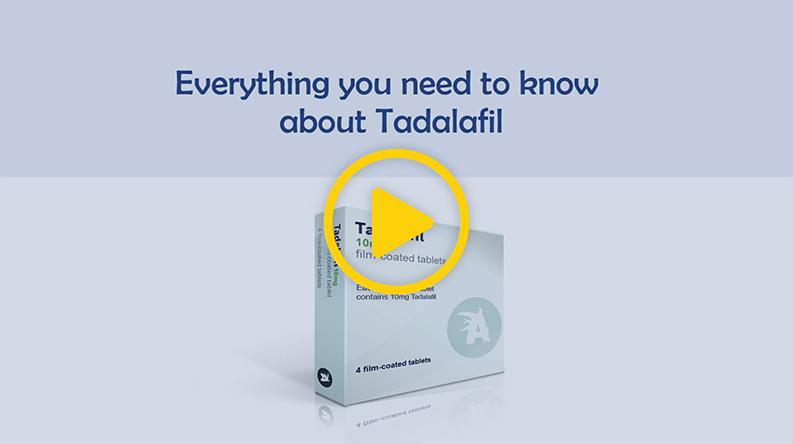 Tadalafil is a long-lasting medication, working in as little as 30 minutes and lasting up to 36 hours. It's the longest lasting erectile dysfunction treatment currently available. Tadalafil is also used to treat prostate gland enlargement and other conditions affecting men's sexual health.
The lower dose of 5mg (branded as Cialis Daily or Cialis Once-a-Day) may be taken by men who otherwise can't use a PDE-5 inhibitor, including men with heart conditions, high blood pressure and diabetes. Your doctor will advise further and choose the correct medication and dose for you.
You may have heard Tadalafil referred to as The Weekend Pill. This is due to its long lasting nature. Men who take Tadalafil on Saturday may find it lasts the whole weekend – a benefit appreciated by couples as it relieves the pressure of timing sexual intercourse.
How does Tadalafil work?
Tadalafil, like most erectile dysfunction medications, is a PDE5 inhibitor – a phosphodiesterase type 5 inhibitor that increases blood flow to the penis when you are sexually stimulated.
One of the main reasons for impotence is poor blood flow to the penis, but there are other reasons. These can include: a fall in testosterone, nerve damage, stress, anxiety, depression or a lack of sexual interest.
Erections begin in the mind. Sexual stimulation sends chemical messengers to the penile blood vessels, which encourages them to relax and allows blood to collect in the penis, creating an erection.
The two corpora cavernosa chambers located inside the penis fill and swell with blood to create an erection. The chemical cGMP is used to relax the blood vessels – your brain releases this chemical when sexually stimulated. After sex the chemical known as PDE5 is automatically released to break down cGMP and allow the blood to move out of the penis.
PDE5 can be inhibited for some time using an erection medication such as Tadalafil. This gives you more control over when your erection dissipates, helping you create and sustain an erection.
It's important to remember that all PDE-5 inhibitors, including Tadalafil, will only work if you are sexually stimulated. If you take Tadalafil, or other impotence medication, but are not stimulated then an erection won't occur. Some men worry they will take Tadalafil and immediately have an erection they cannot control, but this is not the case.
How do I take Tadalafil?
Swallow one tablet whole with water at least 30 minutes before sexual activity. Do not chew or crush the tablets.
Do not take more than one tablet in a 24 hour period, as this may create unwanted side effects. Your doctor will prescribe the right amount for you, and you should not alter this dose without prior consultation.
Tadalafil can be taken with or without food. However, excess alcohol should be avoided as it could dangerously lower your blood pressure. If you decide to have a drink, be careful when you stand or move quickly. Grapefruit juice has been found to interfere with Tadalafil too, reducing its potency, so avoid grapefruit juice for the best results.
Taking too many Tadalafil can bring on side effects that make you ill. Only take the prescribed dosage and if you feel you need a higher dose speak to your doctor first. If you take too many Tadalafil seek medical advice.
What dosages are available for Tadalafil?
Tablets are available in 5, 10 and 20mg single doses. The usual starting dose for erectile dysfunction is 10mg, which is often enough for the majority of men but if you have side effects it's possible to cut the dose down to 5mg. If the 10mg dose is not enough and you are still struggling to achieve or maintain an erection, your doctor may suggest raising the level to 20mg.
Generally the 5mg dose is prescribed to men with other heath related problems, those who have frequent erectile problems, and men who have prostate gland enlargement.
If you've had a reaction or side effect from other PDE-5 inhibiters Tadalafil may still suit you. All PDE-5 inhibitors have slightly different ingredients, even though they work in the same way, so you may find Tadalafil is a better fit. Report any previous experiences of PDE-5 inhibitors to your doctor.
What are the side effects of Tadalafil?
All prescription drugs come with risk of side effects. Tadalafil is usually well-tolerated, but if you do experience any of the following, speak to your doctor. They may adjust your dose or recommend a different medication.
Common side effects are usually mild and usually only last for a short period as your body becomes used to the new medication.
These include:
Common:

Headache
Back pain
Muscles aches
Nasal congestion

Facial flushing
Indigestion
Pain in arms and legs
Less common side effects include:
Uncommon:

Dizziness
Stomach ache
Feeling or being sick
Chest pains

Rash
Palpitations
Vision loss
Hearing loss
A very rare side effect of Tadalafil is an allergic reaction. This happens infrequently, but difficulties in breathing, or hives or sudden loss of vision require immediate medical help.
A persistent uncountable erection, known as priapism, is a common concern with erectile dysfunction medication users, but it is very rare. If you think you might be experiencing this, you should seek medical advice.
Tadalafil is a prescription-only medication and is not available to purchase over the counter at a pharmacy. Never take Tadalafil unless it has been prescribed specifically to you.
What precautions should I be aware of?
Tadalafil should not be used in conjunction with nitrates, either prescribed medications such as some angina treatments, or recreational drugs known as 'poppers'. Tadalafil increases the effect of nitrates which can lead to side effects.
Other medical conditions such as serious heart disease, a stroke, diabetes, or uncontrolled blood pressure may cause an interaction with Tadalafil, but it depends on the level of your condition.
All PDE5 inhibitors are made to treat blood flow to the penis. This means it will not have any effect on women, and should not be taken. Women taking Tadalafil will not experience a rise in sexual desire, but may fall foul of side effects.
How can I buy Tadalafil online safely?
Registered online pharmacies with a dispensing doctor can sell Tadalafil online. It's an easy way to treat your erectile dysfunction without needing to get a doctor's appointment.
Do I need a prescription?
Tadalafil is a prescription drug as there are potential interactions with other medications and effects on certain medical conditions that a clinician will need to consider before starting you on the drug. If you are offered Tadalafil online without a prescription, it is being sold illegally and you may not receive genuine medication.
Can I buy Tadalafil safely online?
You can request and pay for a prescription through our online doctor service. One of our doctors will determine whether or not the medication is suitable for you before issuing a prescription, which will be sent to our pharmacy and dispatched to your with next-day or nominated-day delivery.
How do I know it is safe?
We dispense our medications straight from a UK registered pharmacy directly to you when you have a valid prescription. Our online doctor can provide a consultation.
Only buy medications from pharmacies registered with the Medicines and Healthcare Products Regulatory Agency (MHRA). A logo should be prominently displayed on the website with a link to the register. When the medication arrives it should be in original, authentic packaging with a full patient information leaflet.
Note: You must complete a short online consultation so that our doctor can ensure that the treatment is suitable for you. The above pricing should only be used as a reference. The final decision to issue this treatment lies with the prescribing doctor.