What is erectile dysfunction (ED)?
ED refers to a persisting inability to achieve and maintain an erection, whether you are attempting masturbation or sex with a partner.
ED does not refer to a one-off occasion in which you cannot become erect.
Click below to hear what one of our doctors has to say: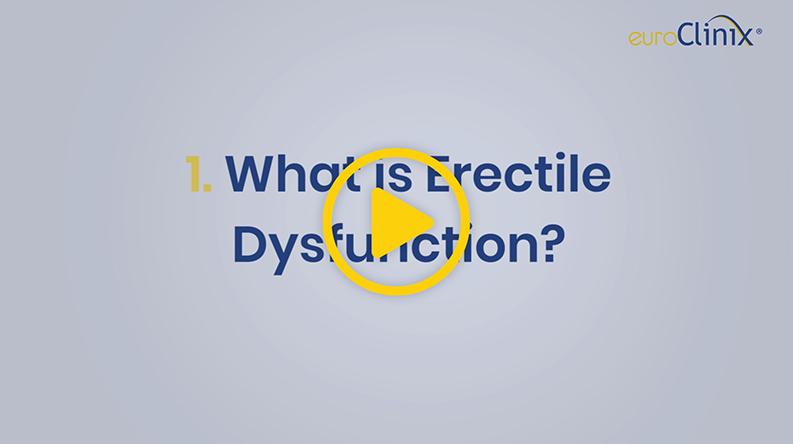 What are the symptoms?
The symptoms of erectile dysfunction vary from person to person.
If any of the following have been happening to you on multiple occasions, you may be experiencing ED:
you can't get an erection hard enough for penetrative sex
you can't get an erection at all
you can get an erection, but you lose it during intercourse
your erection doesn't last long enough to reach the point of ejaculation
Ejaculating earlier than you would like is not a symptom of ED. This refers to another condition called premature ejaculation which needs to be treated differently.
What causes erectile dysfunction?
Causes of erectile dysfunction stem from a lack of blood flow to the penis. This can be due to either physical or psychological factors.
Click below to learn about the varying causes of ED.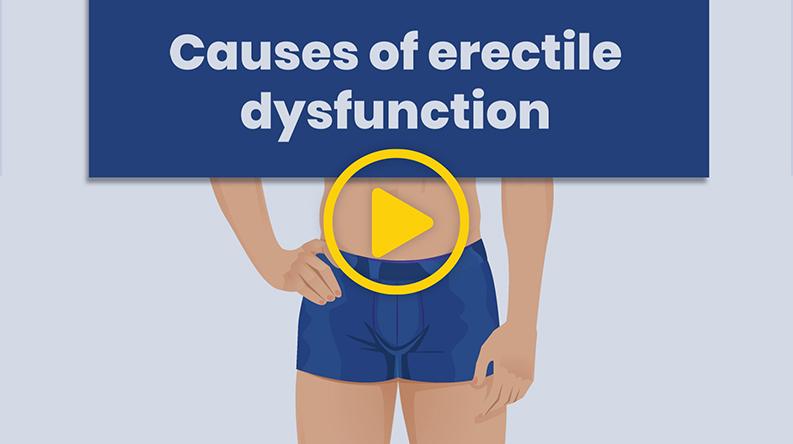 Physical causes:
Physical causes of ED include:
ageing
certain medical conditions
some medications
certain lifestyle choices (such as being overweight or smoking)
As you get older, your testosterone levels get lower which can impact erectile function.
You are also more likely to develop the following conditions or require the following medications:
Conditions that can cause ED
Medications that can cause ED

Type 2 diabetes
Heart disease
Atherosclerosis
High blood pressure
Kidney disease
Prostate cancer (that requires surgery)
Peyronie's disease

Blood pressure medications
Antiandrogens (used for prostate cancer therapy)
Sedatives (which make you calm or sleepy)
Appetite suppressants (which make you less hungry)
Ulcer medicines
One study found that as many as 60% of diabetic men showed symptoms of erectile dysfunction.
Due to this, being obese also increases your chances of getting ED (as being overweight plays a large role in developing diabetes.)
Can a swollen prostate cause erectile dysfunction?
Some conditions affecting the prostate can also be a cause for ED.
For example, benign prostatic hyperplasia (BPH) is a condition that causes the prostate to swell or become enlarged.
Some medications used to treat BPH can result in short-term erectile dysfunction. Once you finish treatment, your erectile function should return to normal.
Psychological causes:
Some men struggle with ED even when their bodies are functioning healthily. This type of erectile dysfunction is due to psychological causes, such as:
depression
stress
anxiety
relationship troubles
If you feel under pressure, worried, or stressed about getting an erection, then it is very easy to fall into a cycle of anxiety-induced ED (or performance anxiety).
In other words, the more you worry about not performing, the more your body isn't able to perform.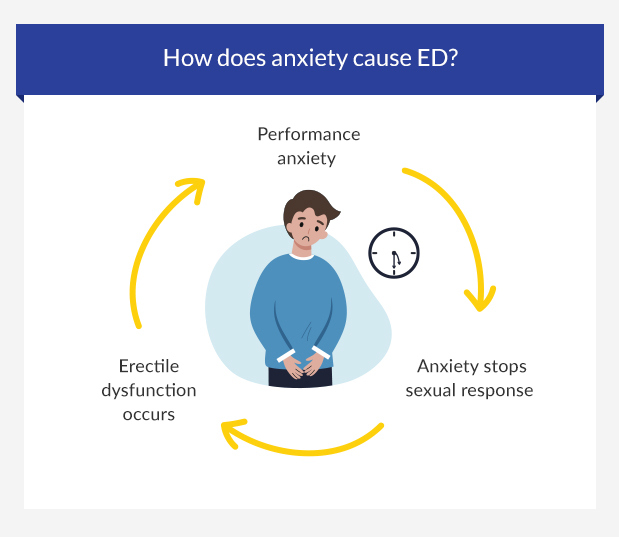 Recent studies have also shown links between ED cases and the watching of pornography - something called porn-induced erectile dysfunction (PIED).
Excessive amounts of alcohol and drugs can also cause ED, as well as activities which limit blood flow to the groin area such as cycling.
Does masturbation cause erectile dysfunction?
It is a myth that masturbation can cause you to suffer from ED. It is a natural act that does not affect your ability to get erections - no matter how frequently you do it.
It may be difficult to get an erection right after ejaculation - but only due to something called the male refractory period. This simply refers to the amount of rest time needed after orgasm before another erection is possible.
How can I prevent erectile dysfunction?
Not all cases of erectile dysfunction are preventable. However, by tweaking your lifestyle you can reduce your chances of developing conditions which cause ED.
These include:
eating a healthy, balanced diet
exercising multiple times per week
reducing your alcohol intake
avoiding recreational drugs
Smoking negatively impacts your heart health and blood vessels, slowing the body's blood flow and potentially increasing your chances of ED.
Poor diets often lead to hypertension and diabetes, which are conditions known to cause ED.
By increasing your weekly amount of exercise you can improve your body's overall blood flow.
Lastly, alcohol and recreational drugs negatively affect sexual performance even if you don't usually suffer from ED.
What are erectile dysfunction treatments?
There are many ways of beating erectile dysfunction, whether they are changes to your lifestyle or prescription medications like Viagra.
Natural treatments
There are many herbal remedies that you might want to try before taking prescription medication.
These include herbs like ginseng and maca, and are often referred to as 'herbal viagra' treatments.
Alternatively, you can try using vacuum devices such as penis pumps if you don't wish to take ED pills.
Some foods that effectively fight ED can be added to your diet, too.
Prescription meds
The most effective way of treating ED is with prescription tablets. There are a variety of options available, including:
Which erectile dysfunction drug is best?
Your doctor can help to advise you on which ED drug may be best suited to you - it depends on your age, overall health, and desired lifestyle.
Click below to view our comparison video on all 4 erection pills.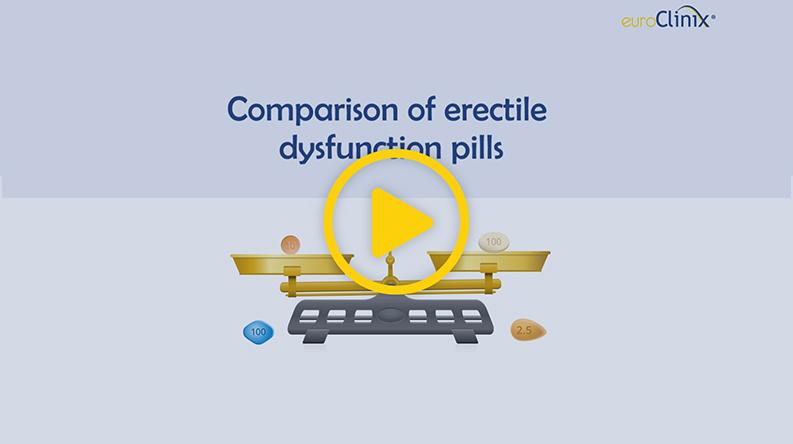 The following table outlines some of the main differences between the 4 main ED treatment pills:
Viagra (Sildenafil)

The most recognisable ED treatment pill
Taken 30-60 mins before sexual intercourse
Lasts 4-5 hours

Cialis (Tadalafil)

Lower dose tablets should be taken once daily
Higher dose tablets can be taken 30 min before sex
Lasts 36 hours

Levitra (Vardenafil)

Usually prescribed to older men (50+) with diabetes
Taken 25-60 mins before sex
Lasts 4-5 hours

Spedra (Avanafil)

Taken 15-30 minutes before sex
Lasts up to 6 hours
Dissolves on the tongue (doesn't need to be swallowed)
Can I buy ED meds over the counter?
Unfortunately, it is not possible to purchase Viagra or other ED meds without a prescription.
You can, however, purchase a product called Viagra Connect in select pharmacies without a prescription.
This treatment contains the same active ingredient as Viagra, but is only available in 50mg doses (whereas Viagra has a variety of dosage options).
Can I buy ED meds online?
Yes, you can buy any of the 4 available ED treatment pills online here at euroClinix.
Simply answer a few questions in order to complete your online consultation. This will then be reviewed by one of our UK doctors to ensure you are suitable for your chosen treatment.
Once approved, your choice of ED medication will be sent straight to your doorstep with free next-day delivery.