What is erectile dysfunction?
Erectile dysfunction (ED) is an inability to gain an erection or to sustain an erection that is firm enough for sex. It is a highly common condition, with over 40% of men in the UK reporting they they experience some degree of erectile dysfunction.
This condition can be caused by physical, psychological and lifestyle factors. While it is commonly believed that erectile dysfunction only affects older men, it can affect younger men, too. Erectile dysfunction can be effectively treated and managed through a number of treatments, including clinically proven medications such as Viagra, Sildenafil and Cialis.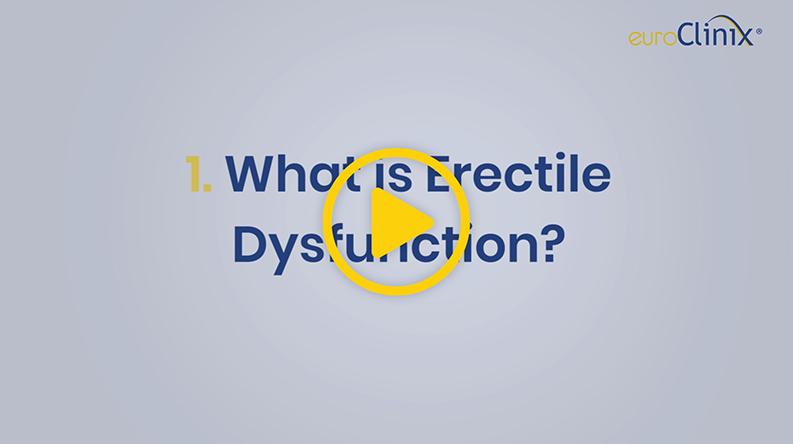 Erectile dysfunction symptoms
The most obvious symptom of impotence is the inability to attain an erection that lasts for the duration of intercourse. However, many men will occasionally experience difficulties with getting or maintaining an erection, and a one-time occurrence does not always indicate a medical condition. If the symptoms of impotence are recurrent or at least semi-regular, then it is likely that it could be erectile dysfunction.
You may have an occasional inability to achieve an erection, or you may experience only the occasional inability to sustain an erection for sexual intercourse with a partner, but be able to get erections when masturbating, or when waking up in the morning.
Abrupt development of erectile dysfunction usually suggests a psychological cause, such as anxiety, stress or depression. If you find that your inability to get an erection is something that develops slowly and steadily over time, your symptoms may more likely be due to a physical cause.
Other symptoms of impotence include problems with ejaculation or orgasm. These symptoms are usually related to other conditions, but they may play a role in erectile dysfunction.
How is an erection formed?
Put simply, an erection forms due to increased blood flow into the erectile tissues of the penis, called the corpora cavernosa. This causes the penis to become rigid and erect.
The corpora cavernosa consists of two tubes that run along the entire penis shaft. They are made of a sponge-like tissue that expands and stretches when you are sexually aroused, accommodating an inflow of blood, making your penis get larger and firmer.
The first step of an erection is in the brain, following arousal from mental or sensory stimulation. Nerves then send chemical messages which relaxes the muscles in the penile wall, allowing more blood to flow in. Veins stop allowing blood to leave, trapping it in the penis, allowing it to remain erect.
Erections end when your body produces an enzyme called phosphodiesterase type 5 (PDE-5), which causes the inflow of blood to stop and breaks down the erection.
If this process is disrupted in any way, it will not be possible to achieve an erection sufficient for intercourse.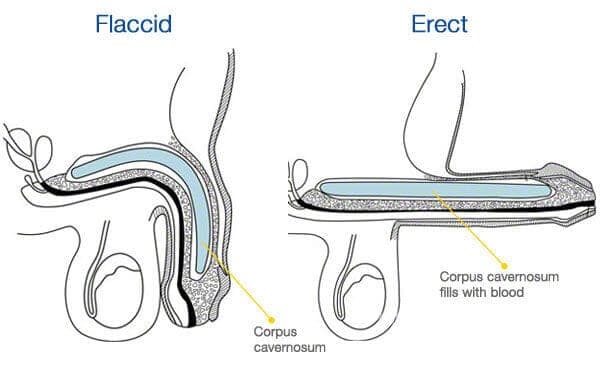 Causes of erectile dysfunction
Issues with blood flow to the penis is one of the main reasons for difficulty getting or maintaining an erection. This can be brought on by physical, psychological or lifestyle factors.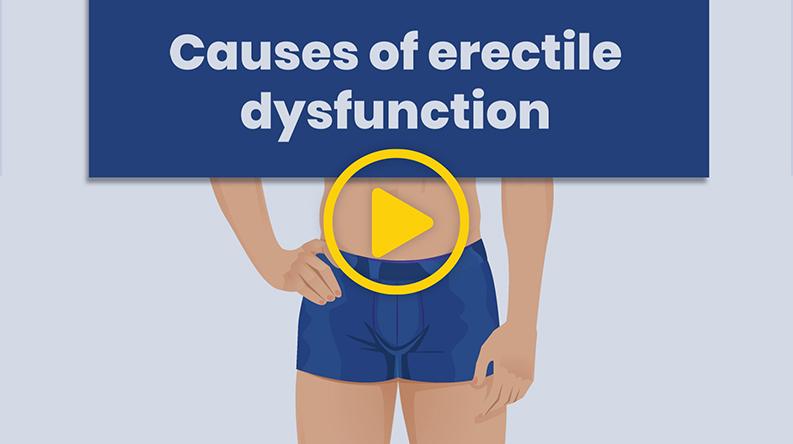 Most men will experience moments during their lives where they find it difficult to get or keep an erection. It only becomes an issue when it starts happening regularly, or if you lose your erection more than once during sex in a short space of time.
Once you've established the root cause of your condition, you can then move on to find a suitable impotence treatment that works for you.
Physical causes of male impotence
Erectile dysfunction can be the result of physical conditions, including health problems such as:
diabetes - consistently high blood sugar from diabetes can damage blood vessels throughout the body, including the ones in the penis, which can make getting an erection more difficult
atherosclerosis - atherosclerosis causes plaque build-up in the arteries, which can reduce blood flow
high cholesterol - high cholesterol is a risk factor for heart disease, which is why the two are often linked
high blood pressure - hypertension is a major risk factor for erectile dysfunction as it can damage arteries, reducing blood flow to the penis
coronary heart disease - coronary heart disease can affect blood flow, including blood flow to the penis
Peyronie's disease - caused by scar tissue forming inside of the penis, this condition can result in physical changes to the penis that make it more difficult to get an erection
benign prostatic hyperplasia - one of the side effects of medications for benign prostate hyperplasia medications is erectile dysfunction
obesity - excess weight can increase your risk of cardiovascular diseases, such as high blood pressure, and cause damage to blood vessels and decrease testosterone levels
hormonal problems - rarely, hormone abnormalities, such as low testosterone, high prolactin, and abnormal thyroid hormone levels can lead to ED
multiple sclerosis - the nerve damage associated with multiple sclerosis can lead to erection and ejaculation problems
sleep disorders - although the exact cause is unknown, sleep disorders, such as sleep apnea, are associated with ED
surgery - damage to the penis as a result of surgical procedures such as surgery for prostate enlargement or cancer of the bladder can sometimes result in erection problems
injury - cerebral or spinal cord injuries can cause issues with the neural pathways involved in the formation of an erection
Physical causes can be treated through a mixture of lifestyle changes and medication.
Psychological causes of erectile dysfunction
A sign that your erection problems may be psychological rather than physical is if you wake up in the mornings with an erection or if the same difficulties do not arise when masturbating.
The following psychological factors are known causes of impotence:
depression - depression and antidepressants can both reduce sex drive and cause ED
stress - stress from other areas in your life can bleed over into your sex life
performance anxiety - a desire to please your partner can put unnecessary strain on your sexual performance
relationship difficulties - communication problems can affect erectile function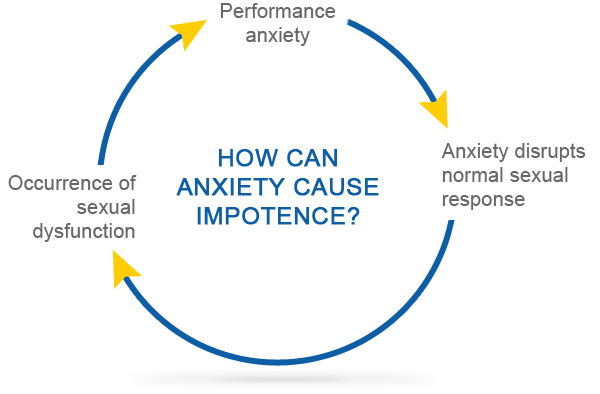 Lifestyle factors that cause erectile dysfunction
Activities which restrict the flow of blood to the arteries and veins can contribute to the development of erectile dysfunction, as erections depend on adequate blood flow. This includes smoking, cycling, and certain medications.
Studies have also shown that excessive amounts of alcohol and drug consumption can lead to long-term impotence. This includes premature ejaculation and loss of sexual desire.
Age and erectile dysfunction
Erectile function decreases as you age, with half of men between the ages of 40 and 70 experiencing ED. This may be because many of the health conditions associated with ED are also more prevalent with increased age.
However, younger men do experience ED, with a 2019 study reporting that half of men under the age of 50 have experienced some degree of it.
Preventing erectile dysfunction
While it is not possible to completely prevent or reduce all of the factors that lead to erection problems, some lifestyle factors can help prevent the development of erectile dysfunction.
​These include:
quitting smoking - smoking can negatively impact the health of your heart and blood vessels, increasing your likelihood of developing ED
eating a healthy diet - poor diets are associated with health conditions that can lead to erectile dysfunction, such as high blood pressure and diabetes
exercising - physical activity can promote increased blood flow throughout the body
reducing alcohol consumption - although alcohol consumption is known to affect sexual performance in the short term, excessive consumption over long periods of time may have long-term negative effects on sexual function
Even if you already have ED, these lifestyle changes can help improve your condition.
Treating erectile dysfunction
Erectile dysfunction has a variety of causes, and the most suitable treatment will address the root cause of your condition. There are many things which may disturb the natural erection process, ranging from alcohol use, physical illness to relationship problems, all of which may require different treatment methods.
You can improve your outlook by making positive lifestyle changes, such as changes to your diet and exercise regime. A healthy diet including wholegrain and low-fat food, as well as a decreased alcohol intake can improve your overall health and reduce the impact chronic health conditions can have over your erectile function.
Some men may find that natural herbal remedies help, but there is little evidence to support their effectiveness.
Surgery, penile implants, testosterone replacement therapy (TRT), and vacuum devices such as penis pumps are all common treatments. Your GP may recommend any one of these, depending on the cause of the erectile issues.
Prescription medications
PDE-5 inhibitors like Viagra, Cialis, and Levitra are all popular treatment options. These medications contain different active ingredients and are available in different dosages and forms, but work in the same way to treat impotence. Some PDE-5 inhibitors can be taken as little as 20 minutes before sex.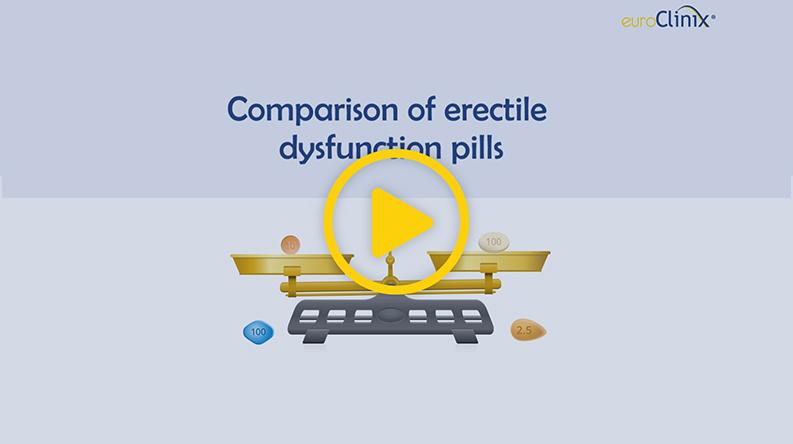 | | |
| --- | --- |
| | Approved by the FDA in 1998, Viagra is one of the best known PDE-5 inhibitors. It contains the active ingredient sildenafil. A single tablet is swallowed whole with water half an hour before sex. |
| | Levitra was launched in 2003 and is the only type of PDE-5 inhibitor to have a dissolvable option, called Levitra Orodispersible. This can be taken discreetly without water. The active ingredient in Levitra is vardenafil. |
| | Cialis is the most recently launched prescription medication that is available either as a low dosage daily tablet or a tablet to be taken on an as needed basis. It is the longest-lasting PDE-5 inhibitor, containing tadalafil. If taken 30 minutes before any planned sexual activity, Cialis lasts for up to 36 hours. |
Avanafil, sold under the brand name of Spedra, is another type of PDE-5 inhibitor which works in exactly the same way as the medications above. Though these medications are generally well tolerated, PDE-5 inhibitors may not be suitable for everyone. For example, medications such as nitrates can interact and cause side effects.
Can I buy erectile dysfunction treatments over-the-counter?
In the UK, Viagra Connect is the only treatment available without a prescription. It is a pharmacy-only medication, so you will still need to get it through a pharmacy.
You can also purchase Viagra and other treatments which require a prescription through an online clinic, without the need for a face-to-face appointment.
Can I buy erectile dysfunction treatments online?
You can order erectile dysfunction treatments, such as Viagra, Levitra, Levitra Orodispersible, Tadalafil, Cialis, and Cialis Daily online from euroClinix.
To order online, you will need to complete a short and confidential online consultation, which will be reviewed by one of our doctors. They will approve a prescription for your treatment if they feel it is suitable for your condition.
Once your prescription has been approved and sent to our UK pharmacy, your order will be dispatched via our next-day delivery service. All of our ED treatments are delivered discreetly in plain, tamper-proof polyethylene courier bags.
For more information about our ED treatments, visit their respective product pages.