What is erectile dysfunction?
Erectile dysfunction (male impotence) is defined as an inability to gain an erection or to sustain an erection, therefore hinder sexual intercourse with a partner. This is a highly common condition affecting an estimated 2.3 million men in the UK, as well as many more millions globally.
This condition can be caused by physical, psychological and lifestyle factors meaning that whilst it's commonly believed that erectile dysfunction only affects men aged from 40 to 70 years old, it can in fact affect many younger men. Erectile dysfunction (ED) can be effectively treated and managed by taking clinically proven prescription medication, such as Viagra, Sildenafil and Cialis.
How an erection is formed
The image below shows how an enlarged corpora cavernosa causes the penis to become larger and more erect. The corpora cavernosa is, essentially, two tubes that run along the entire penis shaft. It expands when you are sexually aroused and accommodates the blood that rushes into it. The corpora cavernosa stretches, making your penis extend and become rigid and erect.
This is how erections are formed. If this process is disrupted in any way, it will not be possible to achieve an erection sufficient for complete intercourse.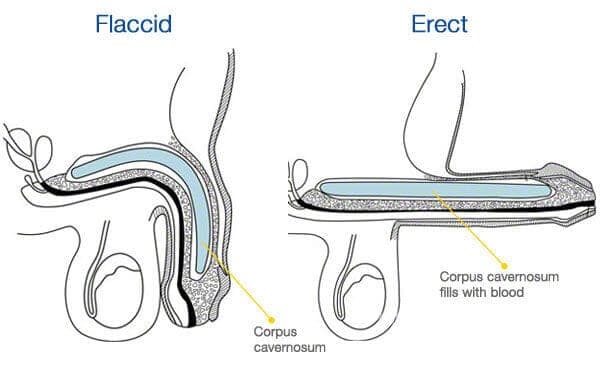 Effects of erectile dysfunction
One of the main reasons why you may be experiencing difficulty getting or maintaining an erection is due to an issue with blood flow to the penis when you are aroused. This is something that can be brought on by physical, psychological or lifestyle factors.
Most men will experience moments during their lives where they find it difficult to get or keep an erection, which is perfectly normal. It only becomes an issue when it starts happening regularly, or if you lose your erection more than once during sex in a short space of time.
Once you've established the root cause of your condition, you can then move on to find a suitable impotence treatment that works for you.
Causes of erectile dysfunction
Physical causes of male impotence
Erectile dysfunction can be the result of physical conditions, such as:
In addition, damage to the penis as a result of surgical procedures for prostate enlargement or cancer of the bladder can sometimes result in erection problems can be a physical cause of ED. Cerebral or spinal cord injuries can also be the reason why men find it difficult to get or keep an erection.
Psychological causes of erectile dysfunction
Young men are far more likely to experience psychologically induced impotence as their desire to pleasure their partner can put unnecessary strain on their sexual performance. A clear sign that your erection problems may be psychological rather than physical is if you wake up in the mornings with an erection – if you do, then the concern is likely to be psychological and not physical. The following psychological factors are known causes of impotence:
Anxiety, stress, guilt or depression
Unresolved issues regarding your sexual orientation
Exhaustion
Relationship difficulties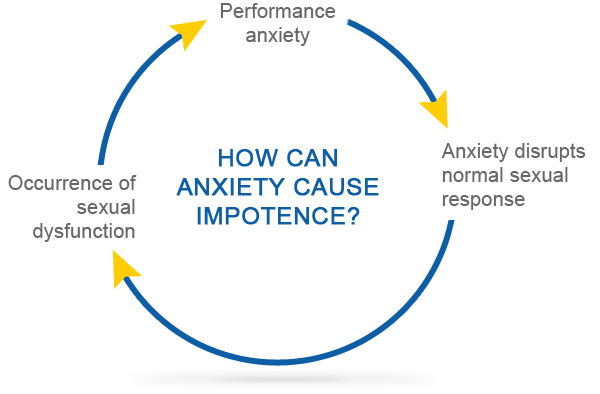 Lifestyle factors that cause erectile dysfunction
There are a number of risk factors that occur as a result of your lifestyle that can contribute to impotence:
Smoking - Tobacco smoking is known to restrict the flow of blood to the arteries and veins. This can contribute to the development of erectile dysfunction, as the process of erection depends on adequate blood flow.
Taking certain medications - These include antihistamines, antidepressants and medications that are intended to treat high blood pressure or prostate cancer.
Alcohol and drug consumption - Studies have shown that excessive amounts of alcohol and drug consumption can lead to long-term impotence. This includes premature ejaculation and loss of sexual desire.
Cycling - Cycling for a prolonged period of time can affect the flow of blood in the penis, which may have a temporary effect on sexual function.
Erectile dysfunction symptoms
The most obvious symptom of impotence is the inability to attain a sufficient erection that lasts for the duration of intercourse. However, a one-off occurrence of this experience does not mean that a man is suffering from impotence, and there are many factors that could influence such an event. If the symptoms of impotence are recurrent or at least semi-regular, then it is likely that the individual is suffering from impotence.
There are several different ways impotence symptoms can become apparent. These include:
An occasional inability to achieve an erection
You may experience only the occasional inability to sustain an erection for sexual intercourse with a partner, while you may be able to get erections when you masturbate, or naturally when you wake up in the morning
Abrupt development of erectile dysfunction usually suggests a psychological cause, such as anxiety, stress or depression. You may find that your inability to get an erection is something that develops slowly and steadily over time and you may notice it becoming more and more of a issue. If this should occur, your symptoms are probably more likely to be diagnosed as being a result of physical restrictions.
Additionally, other symptoms of impotence include problems with ejaculation or orgasm. These symptoms are usually related to other conditions, but they may play a role in erectile dysfunction.
Treating erectile dysfunction
To find the best erectile dysfunction treatment to help with your condition, it is important to isolate the cause of your condition. These can include anything that disturbs the natural erection process. This may range from alcohol use, physical illness or relationship problems, all of which may require different treatment methods.
The questionnaire below can help provide you with a better idea of what could be causing your impotence and what treatment methods are most likely to suit you. Please note that this questionnaire is for guidance purposes only and under no circumstances should be used to self-diagnose. It's always a good idea to speak to your doctor if your erection problems are bothering you.
Prescription medications: PDE-5 inhibitors
If you are suffering from impotence, there are a number of different treatment options available to you. Oral medications carry fewer risks than surgical procedures and are proven to be significantly more reliable than creams and erection inducer devices.
By far the most popular variety of treatment for impotence is the use of PDE-5 inhibitors. These are oral forms of prescription medication that are highly successful and convenient to use. The three brand names of PDE-5 inhibitors are Viagra, Cialis and Levitra. These contain different active ingredients and are available in different dosages and forms, but physiologically they all work in the same way to treat impotence.
PDE-5 inhibitors are clinically proven to be effective while also having a comparatively low risk of side effects. In addition, they are easy to take; while surgery requires recovery time and counselling can take weeks or even months, PDE-5 inhibitors can be taken as little as 20 minutes before sex.
| | |
| --- | --- |
| | Viagra is the best known PDE-5 inhibitor, having been launched in 1998. It contains the active ingredient sildenafil. A single tablet is swallowed whole with water half an hour before sex. |
| | Levitra was launched in 2003 and is the only type of PDE-5 inhibitor to have a dissolvable option, which is called Levitra Orodispersible. Both this and the standard Levitra tablet are particularly suitable for older men or those who have underlying health conditions because it is available at a comparatively low dosage. The active ingredient in Levitra is vardenafil. |
| | Cialis is the most recently launched prescription medication that is available either as a low dosage daily tablet or a tablet to be taken on an as-needed basis. It is the longest-lasting PDE-5 inhibitor, containing tadalafil. If taken 30 minutes before any planned sexual activity, this treatment lasts for up to 36 hours. |
| | |
| --- | --- |
| Why use PDE-5 inhibitors | Why not use PDE-5 inhibitors |
| Convenience, easy to take | If taking other medications |
| Low risk | If suffering from certain health conditions |
| Clinically proven efficacy | Some require you to plan ahead, reducing spontaneity |
Though this type of medication is very safe, it is important to be aware that PDE-5 inhibitors will not be suitable for everyone. For example, if you are taking particular medications, such as nitrates. The combination of the two could cause severe side effects and as such the simultaneous use of PDE-5-inhibitors is not advised.
Natural treatments
You can better your chances of treating impotence by making positive changes to your diet and exercise regime. A healthy diet including wholegrain and low-fat food, as well as a decreased alcohol intake can potentially lower the likelihood of developing erectile dysfunction. Natural herbal remedies may also be helpful, however, there isn't enough evidence to support their effectiveness compared to prescription medication.
Surgery
Surgery is one of the least popular methods of treating erectile dysfunction, as it is expensive and there is a high risk involved in these procedures. However, it can be an effective procedure for men who have been involved in serious accidents, where their penis has been significantly damaged or disfigured. The NHS would provide this kind of surgery. Cosmetic surgeries (i.e. penile implants) are also an option, although, the NHS doesn't provide these.
The most common surgery involves the insertion of splints alongside the penile shaft. There are different types of splints or rods that can be used. The simplest is one that is simply lifted to achieve penetration, but there are more sophisticated inflatable splints available today.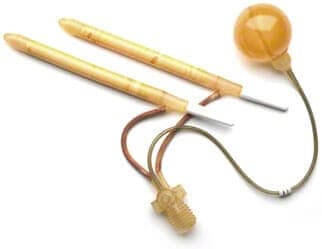 Intracavernosal injection therapy can also be used and can be administered at home. This requires a man to inject Alprostadil into the penile tissues so that blood vessels are able to allow more blood to flow into the penis. Alprostadil can also be inserted into the urethra in pellet form.
Testosterone replacement therapy (TRT)
Testosterone levels can potentially dip during a man's thirties. Testosterone replacement therapy (TRT) alongside dieting and exercising can prevent any significant dips in testosterone levels. If you feel your libido is noticeably low, you can visit a doctor to get your testosterone levels tested.
Sexual aids
Sexual aids can provide men with a temporary solution to their condition; however these impotence treatments have become less popular since the introduction of oral medications. Penis pumps are one of the most popular sexual aids available and work by creating a vacuum around the penis that stimulates blood flow, to the point where the there is enough pressure in the penis to create a sustainable erection.

Penis rings are useful in cases where you can achieve an erection and require help to maintain it, but you could also use a penis ring to sustain your erection after using a penis pump. Studies have showed that vibrators could also be very helpful in encouraging blood flow to the penis, especially in patients with spinal injuries. Unfortunately these are normally quite temporary and therefore may not be suitable for spontaneous intercourse.
Can I buy erectile dysfunction treatments online?
If you are looking to successfully treat erectile dysfunction in order to gain and sustain a longer lasting erection during sexual intercourse, clinically proven male impotence treatments can be ordered online from euroClinix. We ask each of our patients to complete a short and confidential online consultation with one of our doctors as part of our ordering process. Our doctor can approve a prescription for your treatment if they feel it is suitable for your condition.
Once a prescription has been approved and sent to our UK pharmacy, your medication can be dispatched via our next day delivery service. All of our ED treatments are delivered discreetly in plain, tamper-proof polyethylene courier bags.
For more information about our ED treatments, please visit their respective product pages. The links can be found above.