What is Seretide?
Seretide is a preventer inhaler that contains two active ingredients to protect the lungs and airways to stop them from being irritated by allergens, cold air and exercise thus reducing asthma symptoms. This will stop the frequency of asthma attacks and reduce the amount of time the reliever inhaler needs to be used. The handy counter lets users know when they are running low on their medication so that they know the need to order another. As a preventative inhaler it should be used regularly and not during an asthma attack. For instant asthma attack relief you should have fast active reliever such as Salbutamol.
Seretide is available as an evohaler which is a spray canister type and an accuhaler which is an inhaled powder. The choice of inhaler is down to technique and preference not the severity of asthma symptoms.
Before you can buy Seretide online you will first need to fill in an online consultation form. This will allow the prescribing doctor to ensure the medication is right for you. Once this has been agreed your medication will be discreetly packaged and delivered to your address the following day free of charge.
How does Seretide work?
Seretide contains two active ingredients Salmetrol Xinafoate and Fluticasone Propionate.
Salmetarol Xinafoate is a bronchodilator medication which helps to clear the airways of mucus giving more room for air to enter and leave.
Fluticasone Propionate is a corticosteroid which is known for its anti-inflammatory properties. It works by reducing and preventing inflammation in the lungs when asthmatics face known triggers keeping them open to aid breathing.
Together both ingredients make Seretide asthma treatment and can either reduce the amount of asthma attacks the asthmatic has or get rid of them altogether. For the treatment to be constantly effective it should not be stopped even when you start to feel better or the asthma symptoms will return.
How to take Seretide?
Seretide should be taken as prescribed following the comprehensive instructions included in the inhaler box. Please find below guidelines on how to take the medication:
Shake the inhaler before use
Remove dust cap
Exhale fully
Place mouthpiece in mouth
Inhale while pressing the inhaler trigger at the top of the inhaler
Hold breath for as long as is comfortable
Exhale
If you have been told you need more than one spray repeat the process
Place dust cap back on
How to correctly use Seretide evohaler?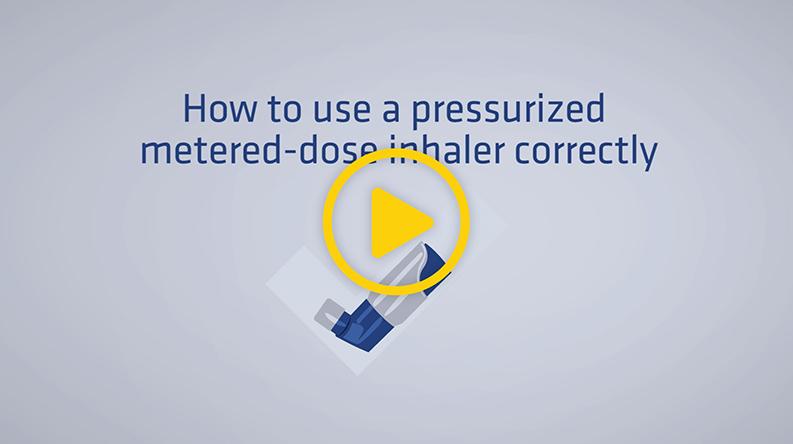 Dosage
The Seretide Accuhaler is available to buy in doses of 100mcg, 250mcg and 500mcg whilst the Evohaler comes in 50mcg, 125mcg and 250mcg doses. If you choose to purchase this treatment, your doctor will tell you which dose is most appropriate. Do not increase your dosage without consulting with your doctor, as the medication will not take effect for a few days.
Side effects and precautions
As with all medications some people do experience side effects as a result of taking Seretide, however most are preventable. The most common side effects that people experience are:
Common:

Headache
Joint aches
Muscle pain

Increased colds
Increased infections of the mouth and throat
After using the Seretide inhaler/accuhaler you can avoid getting infections of the mouth and throat by brushing your teeth and/or swilling your mouth out after use. Most people tolerate the medication well; however it should not be taken if you are known to be allergic to any of the ingredients. In the rare event you show worsening of breathing after using the inhaler you should discontinue use and see your doctor for further advice. People with the following health problems should take extra precautions and be sure to mention them during their online consultation:
Tuberculosis
High blood pressure
Heart disease
Are pregnant or nursing
How to buy Seretide safely online?
You can buy Seretide safely online at euroClinix after filling in an online consultation form. This will allow the prescribing doctor to ensure the medication is right for you if you have any medical conditions or take any medication that could make it unsuitable. Once this has been agreed your medication will be discreetly packaged and delivered to your address the next day.
To ensure you do not run out of your asthma treatment euroClinix provide a free prescription reminder service. You can also use the repeat prescription service to order medication you have ordered before even faster and still receive the same fast free delivery service.
Note: You must complete a short online consultation so that our doctor can ensure that the treatment is suitable for you. The above pricing should only be used as a reference. The final decision to issue this treatment lies with the prescribing doctor.