What is Seretide?
Seretide is a medicine used to treat asthma. The active ingredients help to stop the feeling of wheezing and breathlessness from coming on.
While it can be used to both prevent and relieve the symptoms of asthma, Seretide is primarily used as a preventative treatment. It should not be used in the event of an asthma attack.
It can also be prescribed for Chronic Obstructive Pulmonary Disease (COPD) at the highest dose to help manage and ease symptoms.
Seretide inhalers are purple in colour and should be taken on a daily basis.
Evohaler vs Accuhaler
Seretide is available in 2 different forms of inhaler: evohaler and accuhaler
The evohaler is a metered dose inhaler. It delivers the medicine as a fine spray/mist which is inhaled directly into the respiratory system.
The accuhaler is a type of dry powder inhaler. The medicine is delivered in the form of a powder, which you directly inhale into your lungs.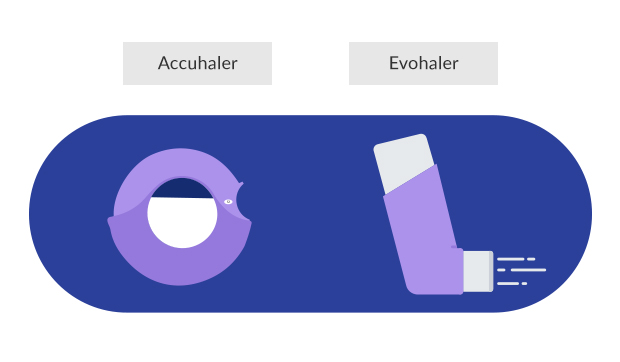 The main difference between these inhalers is the dosage of medicine they deliver in one puff.
You can choose which inhaler you want to take based on your preferred technique.
How does Seretide work?
There are two active ingredients in Seretide which work to prevent and control asthma symptoms: Fluticasone and Salmeterol.
Fluticasone is a type of corticosteroid (an anti-inflammatory medicine). It works to prevent any inflammation in the lungs which could cause breathing difficulties.
Salmeterol is a bronchodilator (a drug which widens the bronchi). It helps to clear your airways to make breathing easier.
Seretide can only work properly if it is taken on a daily basis.
Please note: This type of asthma medication will not work efficiently if you are already wheezing or having trouble breathing. If you need quick relief, try a different medication such as Salbutamol or Ventolin.
How effective is it?
Seretide has been proven to work very effectively when taken correctly.
One study was taken on the effectiveness of Seretide (Fluticasone/Salmeterol) in comparison to just Fluticasone.
According to the results:
71% of patients treated with Fluticasone/Salmeterol achieved 'well-controlled asthma' compared with 59% of patients treated with just Fluticasone.
This evidence suggests that Seretide is more effective than other asthma treatments containing just a corticosteroid.
How do I take Seretide?
Always follow your doctor's instructions on how often to use your Seretide inhaler. You can also consult the patient information leaflet (PIL) for a full set of instructions.
However, a general guide is as follows:
For both types of inhalers, remember to rinse your mouth with water after taking the medication. This prevents you from developing oral thrush.
To watch an in-depth video tutorial on how to use a Seretide evohaler, click below: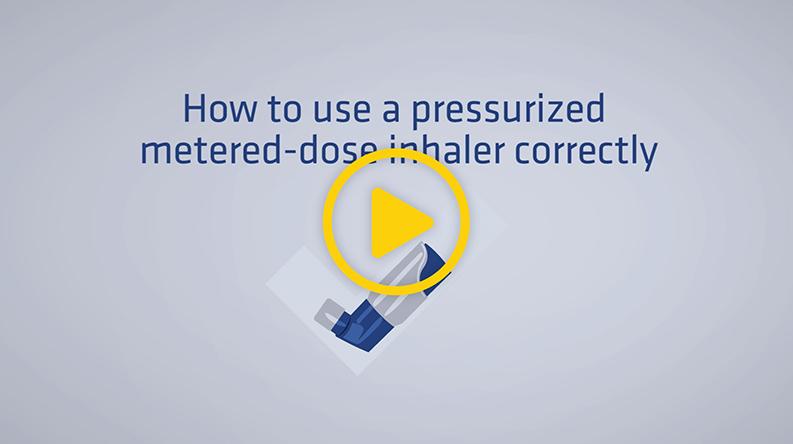 What are the different dosages?
Seretide inhalers are available in a variety of different dosages:
| | 50 mcg | 100 mcg | 125 mcg | 150 mcg | 250 mcg | 500 mcg |
| --- | --- | --- | --- | --- | --- | --- |
| Evohaler | | | | | | |
| Accuhaler | | | | | | |
Your doctor will prescribe you the appropriate dose based on the condition of your asthma.
Generally, both Seretide inhalers should be administered twice per day. For an adult, the advised dosage is usually:
Please note: Always take the medication as per your doctor's instructions, even if they differ from what it says in the patient information leaflet.
What are the side effects?
As is the case with any medication, there is a risk of experiencing side effects whilst taking Seretide.
Common side effects include:

a headache (which usually improves as the treatment continues)
an increased number of colds (if you have COPD)

oral thrush (sore creamy/yellowish patches in the mouth)
muscle pain and aching joints
Consult your doctor if you have persisting side effects that are bothering you. You may benefit from trying an alternative asthma treatment.
What are the precautions?
Seretide is safe for the vast majority of adults with asthma. However, you may not be suitable to take Seretide if you have:
heart disease, or an irregular heartbeat
an overactive thyroid gland
high blood pressure
diabetes (Seretide may increase your blood sugar levels)
low potassium
tuberculosis (TB) at any point in the past or present
Do not take Seretide if you are allergic to any of its ingredients.
Does Seretide react with other medications?
Always tell your doctor about any other medicines you are taking. Some medications are not safe to take alongside Seretide.
Your doctor might advise against Seretide if you are on any of the following:
beta-blockers
antiviral or antifungal medication
other corticosteroids
Can I buy Seretide inhalers online?
Yes, you can purchase Seretide inhalers online here at euroClinix. We sell both evohaler and accuhaler options.
Simply answer the online questions to complete your consultation. Your answers will then be assessed by one of our UK doctors, who will prescribe you the medication if deemed appropriate.
Once approved, your medication will be sent out to you directly with free next-day delivery.
If you aren't suitable for treatment, your pending payment will bounce back into your bank account within a few working days.
Note: You must complete a short online consultation so that our doctor can ensure that the treatment is suitable for you. The above pricing should only be used as a reference. The final decision to issue this treatment lies with the prescribing doctor.