What is Efracea?
Efracea is an oral medication that is used to treat rosacea. It contains a low dose of the antibiotic doxycycline, which decreases inflammation and reduces the appearance of red bumps on the face caused by rosacea.
You can purchase Efracea online from euroClinix.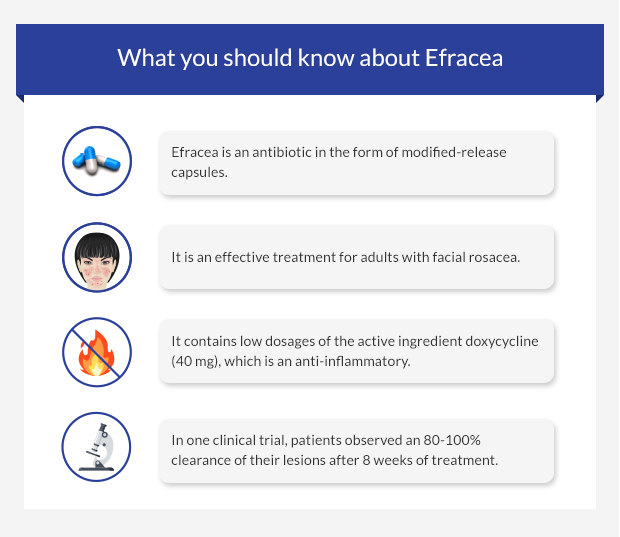 How does Efracea work?
Rosacea is a condition characterised by redness and inflammation in the skin, usually on the cheeks, nose, and forehead.
The active ingredient in Efracea is a low dose of the antibiotic doxycycline. It works by reducing inflammation, which decreases the appearance of red bumps on the face caused by rosacea.
How do I take Efracea?
You should always take this medication exactly as prescribed.
Efracea is available from euroClinix in a 40mg dose.
Take one capsule a day. Capsules should be swallowed whole with a full glass of water and taken on an empty stomach, preferably one hour before a meal or two hours after a meal. Do not chew or crush the tablets.
If you take more than your prescribed dose, seek immediate medical attention. Do not take two tablets at once to make up for a missed dose.
What are the possible side effects of Efracea?
As with all medications, Efracea comes with the risk of side effects. However, they will vary from person to person and not everybody will experience them.
The most common side effects of Efracea include:
Common:

Inflammation of the nose, throat, or sinuses
High blood pressure or increased blood pressure
Abdominal pain or back pain
Fungal infections

Sinus headaches
Dry mouth
Diarrhoea
Anxiety
If you experience anything more serious or particularly long-lasting, stop taking this medication immediately and inform your doctor.
A complete list of side effects can be found in the patient information leaflet included with this medication.
What precautions should I take?
When completing your online consultation, it is important that you detail your medical history, as well as any medications you are currently taking, as some may interact with Efracea. This will allow our doctors to safely prescribe this medication, or offer alternatives if Efracea is not suitable for you.
Do not take Efracea if you:
are allergic to any medication in the tetracycline family, or if you are allergic to any of the other ingredients in this medication
have a condition which causes a lack of stomach acid
are pregnant or breastfeeding
This medication should not be given to those under the age of 12 as it could cause permanent tooth discolouration or problems with tooth development.
This medication may not be suitable for you if:
you have liver disease
you have a history of yeast infections or currently have an oral or vaginal fungal infection, such as thrush
you have certain health conditions, such as myasthenia gravis, colitis, or oesophageal irritation or ulceration
you have an intolerance to some sugars
you have ocular rosacea
What interactions should I be aware of?
Taking this medication alongside other medications and certain foods can decrease its effectiveness or cause adverse effects.
Do not take Efracea if you are also taking:
the acne medication isotretinoin, as there is a risk of increased pressure in the brain
treatments for ulcers or heartburn
certain antibiotics, as it may make them less effective
certain sleeping pills and seizure medications, as it may reduce how long Efracea stays active in your system
If you are currently taking blood thinners or certain diabetes medications, your doctor may need to change the dose of your medication.
You should wait at least 2-3 hours after taking Efracea before taking any products that contain calcium (such as antacids, multivitamins and dairy products), aluminium, magnesium, iron, bismuth, cholestyramine, activated charcoal or sucralfate, as taking both at the same time could decrease the effectiveness of Efracea.
Can I buy Efracea online?
You can buy Efracea online from euroClinix after completing a simple consultation. Our doctors will review your responses to ensure that this medication is suitable for you.
If your consultation is approved, a prescription will be issued and sent to our accredited UK pharmacy. Your medication will then be dispatched with free next-day or nominated-day delivery.
Note: You must complete a short online consultation so that our doctor can ensure that the treatment is suitable for you. The above pricing should only be used as a reference. The final decision to issue this treatment lies with the prescribing doctor.