What is Elocon?
Elocon is a strong topical steroid used to treat inflammatory skin conditions such as:
eczema (which hasn't responded to milder treatments)
dermatitis (atopic or seborrheic)
These skin conditions can have a large impact on one's mental health and daily life. They can also be stubborn and difficult to treat. If milder treatments haven't been effective, your doctor might recommend Elocon as it is a much stronger product.
Elocon is defined as a 'potent corticosteroid'. It should be used with great care as the ingredients are very strong. Due to this, it shouldn't be used on a long-term basis (unless recommended by your doctor).
You can purchase Elocon in the form of a cream, ointment, or scalp lotion.
Forms of Elocon
Whilst Elocon cream and ointment contain the same active ingredient, they are used to treat slightly different conditions:
Elocon ointment is more oily than the cream form. If you have very dry, flaky, and scaly skin (most likely due to psoriasis), ointment is more suitable as it's more moisturising.
If your skin is moist or weeping, then the cream is likely to be a better option for you. It will also be absorbed faster than ointment.
Elocon is also available as a scalp lotion. This is the only form that should be used to treat this region of the body - it's specially designed and easier to use.
How does it work?
Elocon belongs to a group of medicines called topical corticosteroids, which are commonly referred to as steroids. It contains mometasone furoate.
Steroids are able to reverse certain kinds of inflammation in the body, making them an anti-inflammatory drug.
Skin conditions like psoriasis occur when the body's immune system malfunctions, leading to an overproduction of skin cells and inflammation.
A topical steroid treatment like Elocon works by suppressing this response from the immune system, which stops the skin cells from growing as rapidly. It also fights against inflammation to reverse redness and itchiness.
Is it effective?
Elocon has been proven to work very effectively in treating inflammatory skin conditions. One comparative study was taken on Mometasone furoate as well as other (milder) corticosteroids. The results showed that:
Applying Mometasone furoate once daily was significantly superior to other corticosteroids that were applied twice daily in clearing symptoms of inflammatory skin conditions.
The study lasted 12 weeks and included patients with psoriasis, eczema, atopic dermatitis, and seborrheic dermatitis.
What are the precautions?
Before using Elocon, make sure to be aware of the following warnings and precautions:
Elocon treatment is flammable. Do not go near smoke or naked flames when using this product, as you risk getting severe burns.
If this treatment is transferred onto clothes or bedding, they will be more likely to become a serious fire hazard. Any fabrics that have been contaminated must be washed on a long cycle at a high temperature.
Elocon can also make certain skin conditions worse. Do not use Elocon if you already have:
thinning of the skin (skin atrophy)
dermatitis around the mouth
chicken pox
warts
skin infections
wounds
How do I use it?
As Elocon is a strong treatment, it's important to read the instructions thoroughly and take care when applying it. Always follow your doctor's instructions when it comes to using it. However, a general guide to using Elocon is as follows:
wash your hands before and after applying the product
apply a thin layer of cream to the affected area and rub it in gently
wait till it is fully absorbed before getting dressed or covering it with a bandage
Elocon should be applied once daily, for a maximum of 2 consecutive weeks (unless told otherwise by your doctor)
Other important notes:
do not use the cream for more than 5 consecutive days on your face
apply less product to areas that will be covered by a plaster - this is because airtight bandages allow for more product to be absorbed into the skin
do not use Elocon near or around your eyes, including your eyelids
this treatment should not be used for long periods of time
How do I apply Elocon scalp lotion?
Elocon scalp lotion is generally applied once per day. It can be applied to wet or dry hair.
wash your hands before applying the treatment
remove the cap from the bottle and position the nozzle directly on your scalp
apply several drops to places where your skin is affected
gently rub in the lotion with your fingertips until you can no longer see it
wash your hands once again
How long will I use Elocon for?
A course of Elocon treatment normally lasts between 7 and 14 days. If you are using it on the face, you shouldn't use it for more than 5 consecutive days.
Elocon is a short-term treatment. Using Elocon for longer than prescribed will not further improve your symptoms. If Elocon hasn't worked, speak with your doctor for an alternative medication.
Who can use it?
Elocon is suitable for the majority of adults suffering from moderate to severe eczema, psoriasis, or dermatitis. However, it may not be suitable for you if:
you have had an allergic reaction to Mometasone, or any other kind of medicine, in the past
you are trying to get pregnant, or are currently pregnant/breastfeeding
If you have sensitive skin on your face, this treatment isn't recommended. Only apply Elocon to your face if your doctor has told you to do so.
What are the side effects?
As is the case with all medicines, you might experience side effects whilst using Elocon cream, ointment, or scalp lotion.
The most common side effect of Elocon involves mild skin reactions. This is due to the fact that it is a strong cream. A skin reaction to Elocon could look or feel like any of the following:
redness
itching
stinging
tingling
burning
Please note: these sensations would all take place at the application site.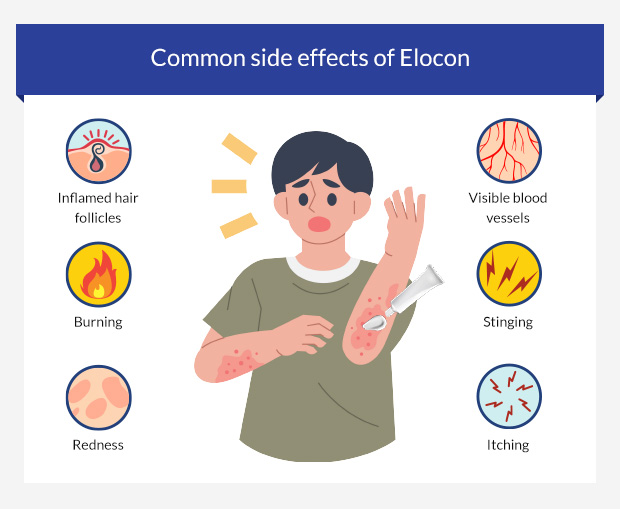 Other common side effects include:
inflamed hair follicles
blood vessels beneath the skin becoming more visible
If skin irritation is persistent, stop using Elocon and tell your doctor. You may require a milder treatment.
Can I use Elocon with other medicines?
If you are taking other medicines, it is unlikely that they will stop Elocon from working properly on your skin.
However, Elocon must not be taken alongside any other steroid treatment, including:
other eczema/psoriasis creams or ointments
inhalers
tablets
injections
nasal sprays
eye or nose drops
Can I buy Elocon online?
Yes, you can buy Elocon with an online prescription here at euroClinix. Simply answer our quick medical questions to complete your free online consultation.
If you are approved for Elocon by one of our doctors, the treatment will be sent out to you promptly with free delivery.
Note: You must complete a short online consultation so that our doctor can ensure that the treatment is suitable for you. The above pricing should only be used as a reference. The final decision to issue this treatment lies with the prescribing doctor.