What is Propecia?
Propecia is a prescription medication used for male pattern hair loss (androgenetic alopecia). It is a clinically proven treatment that can help delay hair loss and promote hair regrowth.
Unlike other hair loss treatments, Propecia targets the root cause of male pattern baldness: the male hormone dihydrotestosterone (DHT). DHT damages hair follicles and causes hair to fall out, but the active ingredient in Propecia, Finasteride, prevents the body from converting testosterone to DHT, allowing hair to stay healthy for longer.
You can purchase Propecia online from euroClinix.
What are the before and after results of Propecia?
Propecia mainly prevents the progression of further hair loss, but can also encourage hair growth.
You should begin to notice a difference after 12 weeks of treatment, with clinical trials showing further results up to a year after starting treatment.
It is important to continue treatment in order to maintain results, as DHT levels will go back to normal as the levels of finasteride decrease in the system, resulting in hair kept during the period being lost.
What is the difference between Propecia and Finasteride?
Finasteride is the active ingredient in Propecia, which is a brand name medication sold by Merck. Sometimes referred to as 'generic Propecia', Finasteride works in exactly the same way.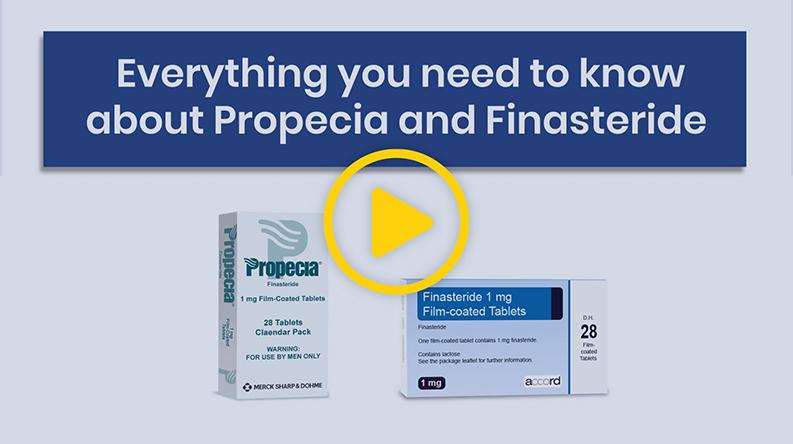 How does Propecia work?
Propecia works by reducing levels of dihydrotestosterone (DHT), a hormone that causes male pattern hair loss.
Finasteride, the active ingredient in Propecia, is a type of medication called a 5-alpha reductase inhibitor. It lowers DHT levels by preventing the enzyme 5-alpha reductase from converting testosterone into DHT. DHT is the hormone responsible for shrinking the hair follicles on the scalp, causing constricted blood flow and preventing hair growth. Finasteride reduces DHT levels in the scalp, preventing further hair loss from taking place.
One study found that 83% of men did not experience any further hair loss while on Propecia, while 66% experienced increased hair growth after two years of treatment.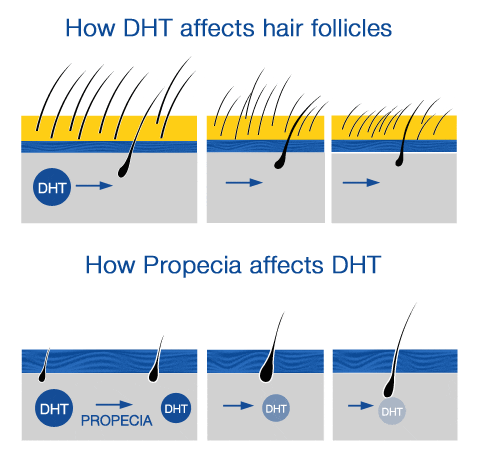 How long does it take for Propecia to work?
Finasteride begins working immediately, but it takes time to see results. It is important to keep using the treatment for at least three to six months. Most men notice significant results by the time they've used the medication for a year.
Finasteride is generally considered to be a long-term treatment, as hair loss will progress if the treatment is discontinued.
How do I take Propecia tablets?
The recommended dose is one pill per day, which can be taken with or without food.
If you miss a dose, do not take an extra tablet - skip the missed dose and take your next tablet as normal. Taking more tablets than prescribed will not make Propecia more effective.
What precautions should I be aware of?
This medication is intended for men with male pattern baldness. Although it should be suitable for the majority of men, there are certain precautions to be aware of.
You should not take this medication if you:
are allergic to finasteride or any of the other ingredients
are already taking finasteride or dutasteride for an benign prostatic hyperplasia (BPH)
Drug interactions between finasteride and other medications are rare.
Women should not take or handle this medication, especially if they are pregnant or attempting to fall pregnant. This medication does not work for female pattern hair loss.
During your consultation, you should detail all medications you are taking, even if they are not prescribed.
Tell your doctor that you are on this medication if you are going to be taking a PSA (prostate-specific antigen), a blood test for prostate cancer, as Propecia can impact the results of the test.
What are the side effects of Propecia?
Side effects are a possibility of all medications. However, not everybody will experience them, and some may be temporary.
You should always follow the advice of the prescribing doctor as well as read through the patient information leaflet before taking any medication.
Side effects of include:
Common:

Decreased sex drive
Ejaculation problems, such as a decrease in the amount of semen released during sex
Breast tenderness

Heart palpitations
Testicle pain
Depressed mood
Sexual side effects tend to be temporary, and only affect a small proportion of users, but can occasionally be permanent after the discontinuation of treatment.
Although it is rare, infertility has been reported in men taking finasteride with other risk factors that affect fertility.
You should seek immediate medical help if you experience the symptoms of an allergic reaction, such as swelling of the lips and face and difficulty breathing.
If you experience any side effects that are particularly concerning or severe, contact your GP for advice.
Can I buy Propecia online?
You can buy Propecia from euroClinix after completing an online consultation. This will help our doctor ensure that this medication is right for you.
If your consultation is approved, our doctor will issue a prescription, which will be sent to our accredited UK pharmacy, who will then ship the medication to you in discreet packaging with free next-day or nominated-day delivery.
Can I buy Propecia over-the-counter?
Propecia is a prescription-only medication and can only be purchased with a prescription from a doctor.
You can complete an online consultation through euroClinix, which will be reviewed by a doctor, who will assess whether or not this medication is appropriate for you.
Note: You must complete a short online consultation so that our doctor can ensure that the treatment is suitable for you. The above pricing should only be used as a reference. The final decision to issue this treatment lies with the prescribing doctor.