What is Propecia?
Propecia (finasteride) is an effective prescription medication designed to help stop the effects of balding and hair loss in male pattern baldness, and is available to buy online in the UK from euroClinix. It has been proven to help prevent hair loss with over two-thirds experiencing significant hair regrowth as well. In the study lasting over two years:
99% of men experienced no further hair loss
46% experiencing significant hair growth
Propecia is also the easiest hair loss treatment to use, as you only have to take a single tablet of 1mg finasteride a day for the medication to work effectively.
Before and after results of Propecia
Propecia's main benefit is to stop any further hair loss and specifically designed for male pattern baldness, but can also encourage hair growth. While this is not an overnight process, all research and patient feedback from clinical trails strongly supports these claims:
83% of men noticed hair loss stopped after using Propecia for 2 years
More than 66% of men experienced some hair regrowth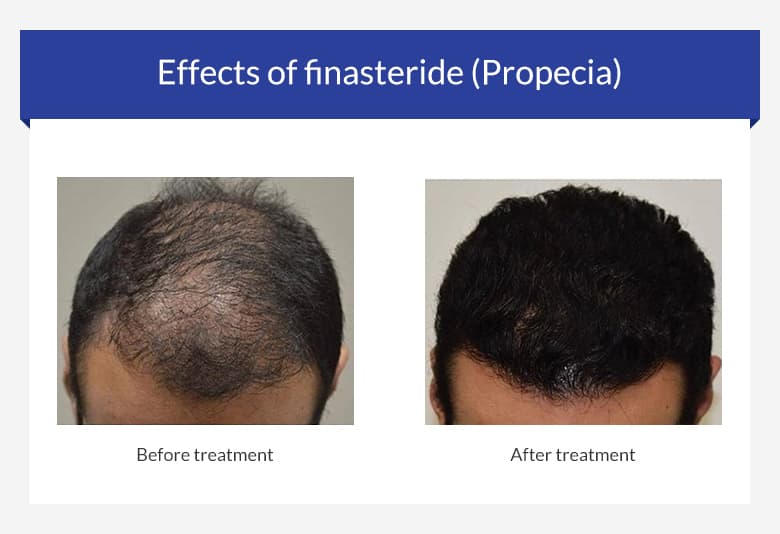 When using Propecia, the first results will normally start becoming visible after you've used it for between 3 to 6 months after purchase and the majority of men start experiencing a benefit after the first 12 months of treatment.
Treatment with Propecia will have to be continued in order to maintain results, as DHT levels will alter back to normal resulting in further hair loss as the levels of finasteride decrease in the system.
How does Propecia work?
Finasteride works by preventing an enzyme within the body, type II 5-alpha reductase, from converting testosterone into dihydrotestosterone (DHT). DHT is the hormone responsible for shrinking the hair follicles on the scalp. This eventually stops the follicles from growing hair, as blood flow is constricted and as a result they fall out. When finasteride stops 5-alpha reductase from doing its job, DHT levels are reduced in the blood and areas of the scalp. This stops any further hair loss from taking place, and will help hair follicles to heal and grow hair again. 66% of patients using Propecia noticed an increase in hair regrowth after just 2 years of using the treatment.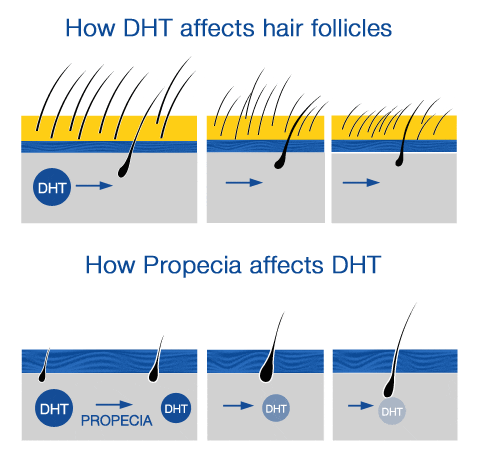 How long does finasteride take to work?
Everyone would like an overnight solution to male pattern baldness, but it can take time for hair loss to be reversed. Finasteride does not work straight away; if you want to see positive results, it's important to keep using the treatment for at least three to six months after starting treatment. Most men notice significant results by the time they've used the treatment for a year.
Finasteride is generally considered to be a long-term treatment, as hair loss can return after you've stopped taking it.
How to take Propecia
Propecia is easy to take. The recommended dosage is one pill per day, which can be taken with or without food and follow these basic guidelines:
If you miss taking a daily 1mg dosage, do not take an extra tablet; simply take the next tablet as normal.
You will need to take a tablet daily for three months or more before noticeable results can be seen.
Remember to only take prescription hair loss treatment as prescribed, to ensure maximum effectiveness but also personal safety.
Propecia dosages
Propecia is available in a dosage of 1mg, which you can buy from euroClnix. This is the recommended dose that has been clinically tested and proven to be effective with minimal chance of experiencing side effects.
As Propecia is a long-term treatment, the dosage is a smaller amount in comparison to other medication such as antibiotics.
Precautions of Propecia
Men over the age of 18 and suffering from male pattern baldness can buy Propecia pills online. Women should not take or handle the hair loss pills, especially if they are pregnant or attempting to fall pregnant as the ingredients can cause complications.
Propecia side effects
As with every medication, there is a small risk of side effects. The severities of side effects whilst taking Propecia are not serious and are usually temporary. There are some side effects that may be more serious, but they are extremely rare. Before buying Propecia, it is important to read through the patient leaflet, which is available at the bottom of this page for your convenience.
"During clinical trials, Propecia only affected less than 2 in 100 men."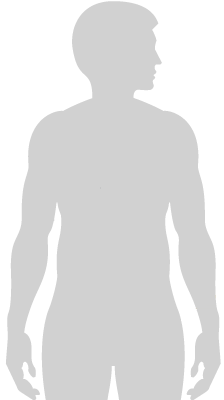 Cardiovascular
Heart palpitations are not a common side effect of Propecia but it is possible that they could occur.
Face
Though very rare, allergic reactions are a possibility with this medication. These can be characterised by swelling of the lips, face, tongue or throat. If you experience this you must stop taking Propecia and contact a doctor as a matter of urgency.
Genital area
It is possible that you may experience a lower sex drive or some kind of difficulty achieving an erection while taking Propecia. You may also notice that the amount of semen you produce decreases. Testicular pain is very rare but may occur.
Skin
Though rare, itchiness or a rash on the skin is possible with Propecia.
Propecia side effects
Click on the relevant area of the body to find out about how it may be affected by Propecia
The most common Propecia side effects are only seen in less than one in every 100 men and they include:
It should be noted, however, that most men who experience problems with their erection do so only temporary and can ease over time taking the medication, or stop completely if the treatment is not right for you. If you begin to notice any signs of impotence and you are finding this worrying, then contact your doctor and get advice on whether you should continue using this medication.
| | COMMON | RARE |
| --- | --- | --- |
| Difficulty in achieving an erection | | |
| Less desire for sex | | |
| Decreased amount of semen | | |
| Skin rash | | |
| Itchiness | | |
| Hives or nettle rash | | |
| Testicle pain | | |
| Swelling of the lips or face | | |
You should also seek help immediately if you experience any symptoms of an allergic reaction as you may require additional medical attention. These include swelling of the lips and face, and difficulty breathing.
There are certain groups that should ideally not use Propecia, as they might be at an increased risk of developing side effects. You may therefore not be able to use this treatment if you are currently receiving treatments for prostate cancer, if you are galactose intolerant or allergic to the active ingredient finasteride.
Where can I buy Propecia online?
You can buy Propecia securely and discreetly online from euroClinix. All you need to do is complete our free online consultation before ordering, so our doctors can make sure the treatment is safe and beneficial for you to take specifically for male pattern baldness. Once they have established that is safe for you to use based on your medical history, they will issue a prescription for the desired treatment ready for the pharmacy. Order Propecia online before 4.30pm and you will receive your medication the next day.