What is Pravastatin?
This medication belongs to a drug group called "statins". Statins are a class of drugs that are often prescribed to aid people with high cholesterol by lowering the amount of cholesterol levels in the blood.
Pravastatin works by reducing the amount of cholesterol that is made in the liver, lowering bad cholesterol and triglycerides, decreasing the risk of heart disease, preventing strokes and heart attacks. It's advised that this medication is used along with maintaining a healthy diet to help lower the levels of bad cholesterol and raise the levels of good cholesterol in the blood.
In addition to eating a healthy diet, other recommended lifestyle changes that could increase the effectiveness of this medication include exercising, weight loss and smoking cessation.
What are the benefits?
Most people who suffer from high cholesterol can benefit from taking a statin medication in order to reduce cholesterol levels and improve their health. Because high cholesterol rarely shows any symptoms, the benefits will not necessarily be outwardly noticeable. However, the health risks that come with high levels of "bad" cholesterol are significant and can include the possibility of heart attacks, stroke or angina (severe chest pains). Taking a medication such as Pravastatin can help avoid these risks.
How does it work?
Cholesterol is often classified into "good" and "bad". This is because high-density lipoproteins are necessary in the body in order to produce hormones and blood cells. However, low-density lipoproteins can cause cholesterol, which builds up in the blood vessels and arteries, making it more difficult for the blood to flow through the body and causing the heart to strain.
This medication works by inhibiting the enzymes, which help to create this type of cholesterol, making it harder for the body to produce good HDL. They also increase the amount of "good" cholesterol in the body, which improves circulation and limits the risks of any complications.
How to use Pravastatin
This is an oral medication that can be taken with or without food on a daily basis. To get the optimum result from this medication, it is recommended that you take it during the evenings.
If you take medication that lowers the cholesterol levels in your blood, you should take this medication at least one hour before or alternatively four hours after taking these medications. Medications that lower the cholesterol levels in your blood can react with Pravastatin, preventing it full absorption
This medication should not be taken with large quantities of alcohol and you should avoid eating grapefruit as it reacts negatively in the body in conjunction with statins.
Precautions when using Pravastatin
Most people with high levels of cholesterol can safely buy Pravastatin in order to improve their health where lifestyle changes such as exercise and low-cholesterol diets haven't worked. However certain people may not be able to use this treatment, this includes:
women who are pregnant or breastfeeding
those with liver or kidney disease
people who suffer from hypersensitivity to pravastatin sodium
those over the age of 70
those with a blood disorder
You should not consume grapefruit or grapefruit juice whilst taking Pravastatin because it may tamper with the effectiveness of the medication from being as effective.
Please also note that patients need to have been prescribed this medication in order to buy it from euroClinix.
Are there any side effects?
Like all prescription medications, statins can cause side effects in some people. These side effects should lessen as the body becomes used to the treatment and dosage, but if you do experience them you should stop taking the medication and consult a doctor immediately.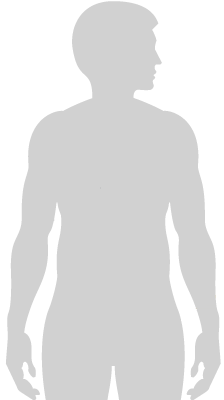 Neurological
As with most prescription medications, headaches are a common side effect of Pravastatin. Sleep disturbances and dizziness may also occur. It is very rare to experience problems with memory or behavioural changes as a result of this medication.
Gastric
Indigestion is quite common when taking this medication, as is nausea, stomach pain and diarrhoea.
Skin
It is quite common for those taking Pravastatin to experience itching, rashes and/or hives on the skin.
Muscular
Some pain in the muscles and joints may occur.
Pravastatin side effects
Click on the relevant area of the body to find out about how it may be affected by Pravastatin
Some of the more common side effects are experienced by one person in every 1,000 and can include nausea, bladder problems and insomnia. However, these side effects should pass as soon as the body adapts to the new medication.
The following common, uncommon and rare side effects have been recorded, but for a full overview please refer to the patient leaflet:
| | | | |
| --- | --- | --- | --- |
| Side effects | Common | Uncommon | Rare |
| Headaches | | | |
| Sleep disturbances | | | |
| Dizziness | | | |
| Indigestion, nausea, stomach pain and/or diarrhoea | | | |
| Skin itching, pimples, hive, rashes and/or hair loss | | | |
| Bladder problems and/or sexual difficulties | | | |
| Muscle and joint pain | | | |
| Numbness or burning sensation when touching things, which could indicate nerve damage | | | |
| Inflammation of the liver | | | |
| Jaundice | | | |
| Increase of liver enzymes in the blood | | | |
| Nightmares | | | |
| Memory loss | | | |
| Depression | | | |
| Breathing problems, shortness of breath or fever | | | |
Can you buy Pravastatin online?
Yes. You can buy Pravastatin safely from euroClinix after filling in a free online medical consultation. This is to make sure that the medication will not have any negative effects and that it is safe and effective for you. Once your prescription has been issued, one of our registered pharmacies will dispatch your order for free next day delivery.
Please note that the manufacturer of this medication may differ from that shown on the image above, but the ingredients, benefits and possible side effects of the medication will be the same.
Note: You must complete a short online consultation so that our doctor can ensure that the treatment is suitable for you. The above pricing should only be used as a reference. The final decision to issue this treatment lies with the prescribing doctor.