What is Finacea?
Finacea is a topical medication that is used to treat rosacea. It contains azelaic acid, which can reduce redness and the appearance of acne-like spots caused by rosacea.
You can purchase Finacea online from euroClinix.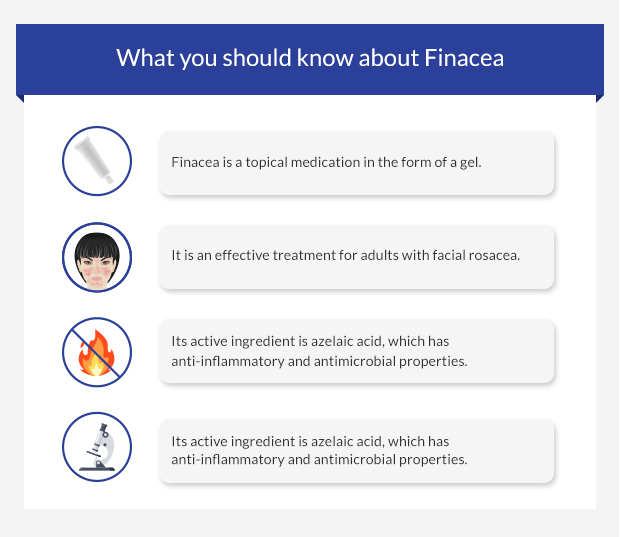 How does Finacea work?
The active ingredient in Finacea is azelaic acid. It has anti-inflammatory properties, which decreases inflammation, reducing the appearance of red bumps on the face caused by rosacea.
Because it also has antimicrobial properties, it is used to treat acne, although euroClinix does not currently offer it for this purpose.
How do I use Finacea?
You should always take this medication exactly as prescribed.
Finacea should be applied twice a day to the affected area - once in the morning and once at night.
To apply:
Wash your hands
Clean the affected skin area with a soap-free cleansing lotion
Pat the skin dry with a soft towel
Apply the gel, rubbing it gently into the skin
Wash your hands again after applying the gel
Do not cover your skin after applying the gel, as this may lead to an excess of the medication being absorbed.
Using this medication consistently can ensure that it is able to work effectively. It can take up to 4 weeks to notice an improvement in your condition.
You should not use more than is prescribed or use double the amount to make up for a missed application.
What are the possible side effects of Finacea?
Side effects are a possibility of any prescription medication, however they will vary in their severity and not everybody will experience them.
Some of the most common side effects of Finacea include:
Common:

Burning, pain and itching where the gel has been applied
Tingling or numbness
If you experience any side effects that are particularly severe or long-lasting, stop taking this medication immediately and inform your doctor. You may need a lower dose or a different treatment.
A full list of side effects is detailed in the patient information leaflet included with this medication.
What precautions should I take?
It is important that you detail your medical history during your online consultation, as well as any medications you are currently taking, as some may interact with Finacea.
Finacea is only intended for external use on the skin. Avoid contact with the eyes and mouth.
Do not use harsh cleansers or peeling agents while taking this medication.
This medication should not be given to those under the age of 18 as there is not enough data on its safety and efficacy for its use in this age group.
Ask your doctor before taking this medication if you are pregnant or breastfeeding.
Rarely, it has been reported that some people with asthma have experienced a worsening of symptoms while taking this treatment.
Can I buy Finacea online?
You can order Finacea gel online from euroClinix after you have completed an online consultation. Our doctors will review your responses to determine if this treatment is suitable for you.
If your consultation is approved, our doctors will issue a prescription and send it to our accredited UK pharmacy. Your treatment will then be shipped to you with free next-day or nominated-day delivery.
Note: You must complete a short online consultation so that our doctor can ensure that the treatment is suitable for you. The above pricing should only be used as a reference. The final decision to issue this treatment lies with the prescribing doctor.