What is Malarone?
Malarone is a clinically proven effective medication for the treatment of malaria in high risk areas. It has been shown to be effective at treating malaria in cases where the disease has proved resistant to other medicines.
As well as being effective as a malaria treatment it has also been proven to be an effective way to prevent getting malaria if taken before and during your trip overseas. As a treatment for mild to severe cases of malaria it quickly gets into the bloodstream preventing the malaria infection from spreading, which allows the body to get rid of the remaining infection naturally protecting your internal organs.
You can buy Malarone malaria treatment online in doses of 100mg/250mg in packs of 24, 36 and 48.
What are the benefits?
The most obvious benefit of Malarone tablets is that they protect you against one of the most harmful parasitic diseases in the world. With a single daily dose you will benefit from comprehensive protection against all forms of the infection, even in areas in which the parasite has become immune to other antimalarials. This medication does not need to be taken for as long as other antimalarials, and also has a lower risk of causing adverse side effects.
How does Malarone work?
Malarone has two active ingredients that work together to prevent and treat malaria. The active Ingredients are proguanil hydrochloride and atovaquone in doses of 100mg and 250mg.
The malaria infection is usually spread by the mosquito. If the mosquito is carrying the infection, it will be passed to your bloodstream when it bites. Although you can take precautions such as hanging netting of a night and repellent during the day, this is not enough of a failsafe to protect you entirely. The Malarone active ingredients work by targeting the parasite to prevent it from multiplying. In doings so it gives your body's natural defence the chance to kill the initial infection.
Malarone precautions
Malarone is considered a safe medication for most people over the age of 18 but there are some people that are more likely to experience Malarone side effects than others and should avoid taking this treatment at all. This includes those who are allergic to the active ingredients in Malarone, people weighing less than 40kg and people with severe kidney problems. Malarone is also best avoided by pregnant women and women who are currently breastfeeding.
There might also be instances where the risk of developing Malarone side effects is moderate and you may simply need to take an adjusted dose or take care while taking it, so make sure that you mention any medical conditions you may have during your online consultation. For a full list of side effects and precautions, you should download the leaflet at the bottom of the page before you buy Malarone online.
Malarone and other medications
Some treatments may affect the efficacy of this treatment, so it is important to fully disclose any medication you are taking when you complete the online consultation if you choose to buy Malarone online. It is possible for people who are taking certain types of medication to be more likely to experience Malarone side effects. The working of these medications might also be affected by taking Malarone. This includes etoposide (cancer treatment), metoclopramide, certain antibiotics (e.g. tetracycline) and warfarin.
How to take Malarone tablets
Malarone malaria treatment is stronger than many of the traditional types of medication for this purpose ,which in some cases mean that they don't have to be taken for as long. In high risk areas the malaria parasite is resistant to chloroquine which means that the medication takes longer to work if at all. To take Malarone you should:
Start treatment of one tablet each day two days before you leave
Swallow the tablet whole with a glass of water
Continue to take one tablet per day while in the high risk of malaria countries
Continue to take the treatment for a further 7 days on your return
It is not recommended to take the medication for more than 28 days
Some people find taking each tablet with either food or a milky drink aids the process of absorption and also reduces the risk of you experiencing side effects.
Malarone side effects
Malarone is considered a very safe medication, but as with all prescription medications there will be a small risk of experiencing adverse side effects. This is more likely to be the case in people who are particularly sensitive to the active ingredients. Luckily, as Malarone is a temporary medication, these are quick to subside after finishing the medication course.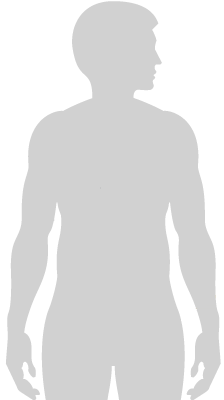 Neurological
Headaches are a common side effect of Malarone, but they are usually mild and do not last for very long. Dizziness is less common but may occur.
Gastric
Nausea and stomach pains are also common side effects of this antimalarial treatment. This may be accompanied by loss of appetite though this is less common.
Skin
It is fairly common for this medication to cause an itchy rash. However, if you experience a severe skin reaction then you must stop taking Malarone and contact a doctor immediately.
Heart
Though it is rare, some people taking Malarone experience heart palpitations.
Malarone side effects
Click on the relevant area of the body to find out about how it may be affected by Malarone
More common mild side effects include nausea and headaches, though you can reduce this possibility by taking the medication with food or a milky drink. If you experience a more serious side effect, or your mild side effects persist or get worse, you should seek medical assistance.
In rare cases Malarone can cause severe skin reactions. It has also been noted that people who take Malarone may experience the following effects, however, they occur so rarely that the actual frequency is not yet known:
Rare:

Hepatitis
Inflammation of the blood vessels
Peeling skin
Blisters
Increased sensitivity to sunlight

Panic attacks
Crying
Mouth ulcers
Seizures
Nightmares
The most severe side effects can occur after an allergic reaction to the active ingredients in Malarone, Atovaquone and Proguanil, which is why this treatment should not be taken if you are aware of an allergy to any of these ingredients. If you take this treatment and you experience any Malarone side effects such sudden difficulty breathing, skin rash, swelling of the face or any other part of the body, you should seek medical help straight away.
How can I buy Malarone online?
To buy Malarone safely online at euroClinix, you will first need to fill in the free and quick online consultation form. This allows the prescribing doctor to ensure you don't have any medical conditions or take any medication that could interact with it. Ordering Malarone can be done from the comfort of your own home without the need to book and attend an appointment in person. On Malarone orders made before 4.30pm, you will receive your medication the the next day, giving you plenty of time to start the treatment before you leave for your trip.
Note: You must complete a short online consultation so that our doctor can ensure that the treatment is suitable for you. The above pricing should only be used as a reference. The final decision to issue this treatment lies with the prescribing doctor.