There are many different types of baldness. For some it can be quite sudden; you could notice a lot of hair falling out when you bath or shower, excessive hair left on your hair brush, or falling out on your clothes, or the appearance of bald patches. Diagnosing hair loss is usually determined by looking at the pattern of hair on the head. Some forms of hair loss could be symptomatic of a more serious disorder, which is why it is advisable to speak to a medical professional and get a full hair loss diagnosis, either in person or by contacting our doctor online.
Types of Alopecia
Alopecia is the medical name given to hair loss from any part of the body. It does not refer to one kind of hair loss, but rather several different types, caused by different factors. Anybody can suffer from alopecia, at any age, regardless of gender.
Diffuse Alopecia
This kind of hair loss involves the thinning of scalp hair and is more common in older people, particularly women. It can be caused by a number of factors, ranging from poor diet and nutrition to hormonal effects, medications and psychological issues.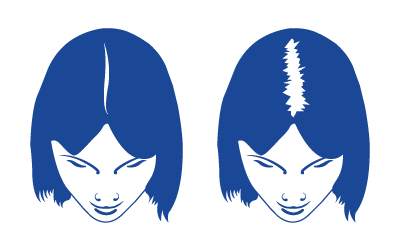 Alopecia Areata
This form of hair loss is also often genetic and more common in children or people with immune system problems. It results in temporary bald patches and occurs when people fall ill with autoimmune diseases that cause the body's immune system to attacks its own tissues.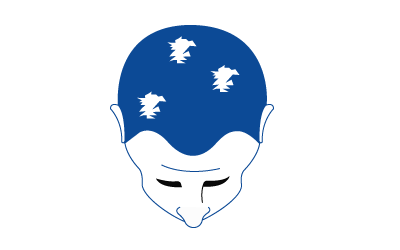 Alopecia Totalis
As the name suggests, alopecia totalis is the name given to someone who experiences a complete loss of hair. This form of baldness only occurs on the head. The cause is unclear, but it is believed that either stress or some form of autoimmune disorder could be the reason for this complete hair loss.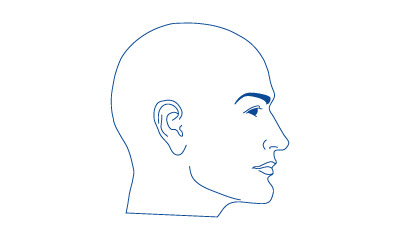 Alopecia Mucinosa
Not too much is known about this particular type of hair loss, but it occurs either on the scalp or face, and appears to leave small flat patches without hair. These patches are often covered in scaly patchy skin. The cause is unknown, but a systemic disease may accompany it. You should seek a formal hair loss diagnosis from a doctor if you experience this.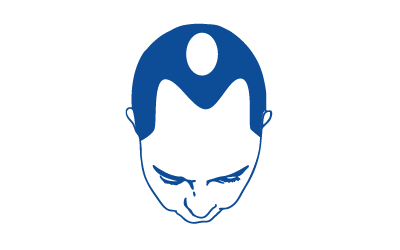 Alopecia Effluvium
This is only a temporary form of hair loss, and is actually caused by stress or psychological factors. It either involves the hair falling out, or the hair thinning. Stress factors cause the hair follicles to go into a resting phase, so they do not grow new hair.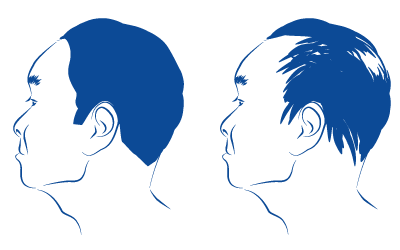 Traction Alopecia
This is a fairly common form of hair loss, mainly because of the causes: pulling, styling or too much heat (hair drying/flat ironing). The pulling and strain causes the hair follicles to stop developing new hair cells. You should change your styling habits and use good treatment products to stop this kind of hair loss.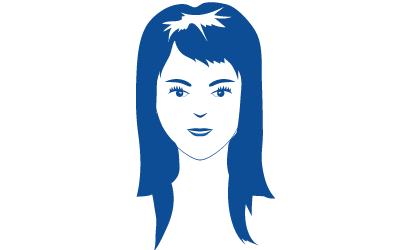 Alopecia Barbae
Found in men only, alopecia barbae is a branch of alopecia areata and is a temporary but sudden loss of hair in a particular area. In this case, the hair loss occurs on the beard area of a man's face. The causes are unknown, but it is thought that stress and potentially immune deficiency disorders can play a part in causing it. A formal hair loss diagnosis would be recommended if you experience this.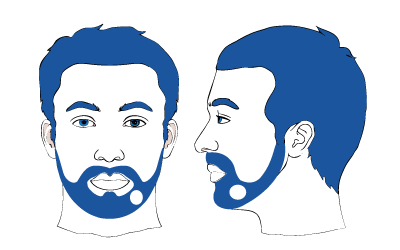 Androgenic Alopecia (Male Pattern Baldness)
If you are between the ages of 25 and 45 and experiencing hair loss on your head, it is likely that you are suffering from androgenic alopecia - also known as male pattern baldness. Women can also suffer from this type of baldness, but it is much more common in men. If it does occur in women, it is usually following the menopause.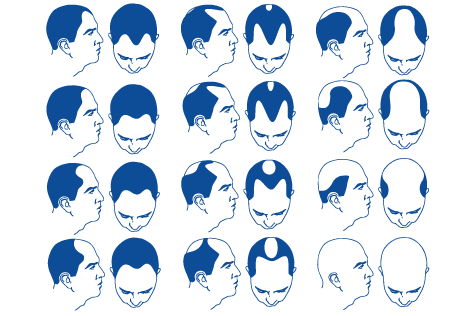 Androgenic alopecia, or male pattern baldness, occurs through a hormonal process and, in the majority of cases; genetics plays a role in causing the condition. Both men and women have a certain amount of the hormone testosterone in their bodies. For those with male pattern baldness, the amount of testosterone being converted into dihydrotestosterone (DHT), by an enzyme 5-alpha reductase, is too high. DHT miniaturises the hair follicles and inhibits hair production. If hair does manage to grow, it is weak and thin.
This genetic condition is generally passed down from the parent and is usually first noticeable by the mid-twenties, but sometimes men can be affected in their teenage years. There are treatments available that can help promote hair growth, as well as prevent it from getting any worse.
Before choosing a treatment for alopecia, you should speak to a specialist or a doctor to get advice on which method will be most beneficial for your condition. This will help you to avoid spending money and precious time on products that aren't effective. While natural supplements and creams are rich in vitamins, have limited side effects and claim to help restore hair, few of them have any clinical data to back up their claims, unlike clinically proven treatments such as Propecia.
Plastic surgery, transplant, scalp reduction and flap-surgery are alternative male pattern baldness treatments that can offer cosmetic improvements Although they offer immediate satisfaction in terms of improved self-esteem and confidence, they are potentially intrusive, expensive, and will most likely require a repeat procedure as time goes on.
Propecia is an FDA-approved alopecia treatment in men, which is proven to treat male pattern hair loss on the vertex (top of head) and anterior mid-scalp area (middle front of head) in men. Finasteride, an active ingredient of Propecia, can halt male pattern baldness in 99% of men, and generate significant regrowth in 66% of users.