What is obesity?
Obesity is a condition described as the excessive accumulation of fat in the body that presents a risk to an individual's health. Obesity has been linked to other health issues, such as diabetes, high blood pressure, heart disease, and certain cancers. This condition is becoming more common in the UK, with obesity figures trebling since 1980, according to a recent survey. Many factors are involved in obesity, including lifestyle, environment, and genetics, but the core cause is due to a difference in calorie intake and calorie expenditure.
Diagnosing obesity
Obesity is diagnosed through a number of measurements and tests. The most commonly known test is body mass index (BMI), a rough measurement used to determine whether a person's weight is healthy in proportion to their height. Medical professionals use this as a screening tool when diagnosing obesity. A healthy BMI is defined as falling between 18.5 and 24.9. A BMI of above 25 is considered overweight and above 28 falls into the obesity range. However, BMI does not take other factors into account, such as body composition and familial history, which is why it is only one part in a larger picture.
Your doctor will use other tests, such as waist circumference, blood tests (including cholesterol, and liver function tests), your health history, and a general physical physical exam to guide treatment decisions.
Causes of obesity
Obesity can be caused by a number of different factors that can be linked to lifestyle choices as well as hereditary links. These factors differ from person-to-person, however, obesity is usually linked to an imbalance in calories consumed and used. Other influences that contribute to obesity can include:
Psychological factors – feelings of sadness, stress and anger can negatively influence your relationship with food
Social factors – overweight family members may influence your dietary habits and increase the likelihood that you too are overweight or obese
Medications – some medications (e.g. antidepressants) can cause weight gain as a side effect, which can potentially lead to obesity
Hormonal complications – health conditions, such as polycystic ovary syndrome and an underactive thyroid gland, may be contributing factors to significant weight gain
How to lose weight
A balanced and controlled diet along with consistent exercise can help you to maintain a healthy lifestyle long-term. Speaking to a doctor or dietitian will help you develop a diet and exercise plan that best suits you.
Diet
Once you have decided on a plan it is important to adhere to the following tips:
• Set goals within a realistic timescale
It is important to decide upon the amount of weight you wish to lose and set an achievable timeframe in which to do it. If you intend to lose a considerable amount of weight it is important to keep progress consistent, even when your goals seem unreachable.
Therefore, it is helpful to set weekly or monthly goals, so that once you've achieved a goal you can then move on to the next. Setting a realistic timescale ensures that you avoid fast weight loss, which can be very harmful to your health.
• Create a step-by-step action plan
Once you have chosen your initial weight loss goals, it is necessary to create a rational action plan in order to achieve each goal. Choose reasonable actions that will make the most impact on your weight loss.
If you are currently eating a substantial amount of food high in fat and/or sugar for example, your action plan could be to reduce your intake of this food per week. Once these goals have been achieved you can revise your action plan in order to attain the next goal.
• Monitor your current food intake prior to the diet
It is useful to know the amount of food you are currently eating. By keeping a diary containing how much you eat over a week or so you can figure out how many times you snack during a day and how many meals you have per day.
You can then decide upon which snacks aren't necessary and can be cut out from your diet, which can be part of your action plan. Sharing your diary with a doctor or dietician can be very beneficial. Simply put, it is necessary to reduce the amount of food you eat in order to lose weight.
Following the UK EatWell dietary guidelines (shown below) can help towards sustaining a healthy, balanced and nutritional diet:
The UK EatWell Plate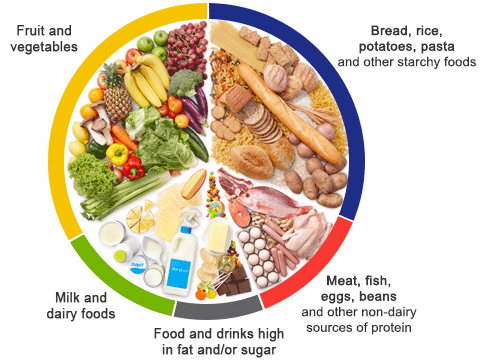 However, dieting can be an issue if you are unable to cook healthy and nutritional meals for yourself due to time constraints or cost of produce. If you live a fast-paced and busy lifestyle it can become near impossible to find the time to create a diet plan and stick to it. In this case, prescription medication can help to support your lifestyle changes and achieve quicker weight loss.
Exercise
It is a simple fact that you have to burn more calories than you consume in order to successfully lose weight. Regular physical activity is paramount when maintaining your weight loss. Start off with just a few minutes of exercise per day. As your fitness improves, you can increase the time you spend exercising and can partake in more strenuous exercise techniques. If it's more convenient, exercise in short spurts for ten minutes or so throughout the day. Eventually the time all adds up and certainly makes a difference.
In terms of which exercises to choose from, you can do anything that works your heart, lungs and muscles. This shows that the exercise is taking affect and is making a difference. Some useful activities to consider are:
Walking
Running
Cycling
Swimming
Jogging
Fitness classes
Dancing
Sporting activities (e.g. football, tennis, skiing etc.)
Strength training is also beneficial. You can use weights, resistance bands and even your own weight. This can be achieved in a gym or at home, if you have access to the necessary equipment. It is also vital to stretch after exercising to improve flexibility and avoid injury.
Ensure you talk to your doctor before starting an exercise program. The American College of Sports Medicine recommends you see your doctor before engaging in vigorous exercise if you are a male over 45, a female over 55 or have a medical condition. This will help you to lose weight safely.
Diet and exercise work directly in unison with your behaviour. Without self-belief and a strong, consistent level of motivation diet and exercise can only help you so much. It is this will to succeed in losing weight that can guarantee you will maintain your desired weight and fitness in the long run. This is demonstrated in the image below: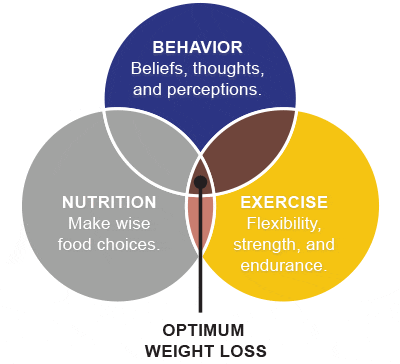 Despite the benefits of exercise it can be very difficult to find the time in the day to exercise enough to make a difference. Various lifestyle factors can get in the way of setting an efficient exercise schedule. Also, if you currently are dealing with an injury or health condition, it can prevent you from partaking in certain exercises that are necessary in order to reach your specific weight loss goals. If this is the case but you are experiencing health issues connected to your weight, alternative options, like prescription medication or a surgical procedure may be discussed with your doctor.
Alternative weight loss options
Prescription medication
If diet and exercise have not been enough for you, your doctor may prescribe a prescription weight loss treatment. While prescription medication can help, it is essential that you continue to maintain a healthy diet and exercise program while on prescription weight loss treatments.
euroClinix offers Xenical with the active ingredient orlistat and Saxenda with the active ingredient liraglutide.
Xenical tablets work by binding to lipases in your stomach. Lipases are enzymes that break down fat so that it can get absorbed into your system and stored. Xenical can stop up to a third of the fat in your diet from being absorbed. Saxenda on the other hand is delivered via injection pin and reduces the appetite while providing glycemic control.
To discover whether or not you are classed as obese you can use a BMI calculator, which is the standard measurement used to determine whether or not you are at risk.
Surgery
If you're weight is causing serious health complications, then something like weight loss surgery could be considered. The surgery would restrict the amount of food you can eat. Common methods include gastric band surgery, gastric bypass, bilopancreatic diversion and sleeve gastrostomy. A privately performed operation by a surgeon can cost up to £20,000 or more and can sometimes lead to side effects such as swelling, bruising and scarring.
Weight loss surgery is usually seen as a last resort under extreme circumstances, and a large number of medical professionals would actually look to avoid recommending this form of treatment as much as possible. Consult your doctor if you believe a surgical option should be considered to protect your health.
Hypnosis and over the counter alternatives
Other alternative options are available, including over-the-counter treatments and alternative mental therapies, however there has not been sufficient research in these areas.
Over-the-counter options, for example, cannot prove their effectiveness, and users may find themselves spending money on treatments that have no, or an incredibly limited, effect. Similarly, although many people do advocate it, mental options like hypnotherapy have not been researched or studied enough to say definitively that they will work.
Can I buy weight loss treatments online?
If you are looking to aid and significantly ease the process of losing weight, we at euroClinix provide an effective solution. The prescription weight loss treatments we are offering are Xenical and Saxenda. These clinically proven medications can be ordered comfortably and securely online after completing an online consultation with one of our registered doctors.
This consultation will be reviewed by one of our doctors and if they feel that you are suitable for this treatment, they will issue a valid prescription. Our UK pharmacy will then dispatch your medication in discreet packaging via our next day delivery service.
Last updated: 25/06/2019