What is Doxycycline?
Doxycycline is an antibiotic used to combat many different bacterial infections and is known under many brand names including Monodox, Doryx, Vibramycin, Oracea and Acticlate. It is particularly effective at treating a number of sexually transmitted infections (STIs) including:
For the vast majority of people, a single course of Doxycycline antibiotics is enough to completely cure any of these STIs, meaning treatment is effective and quick.
You can buy Doxycycline capsules online from euroClinix for the treatment of chlamydia, NSU and ureaplasma urealyticum after completing an online consultation, reviewed by one of our registered doctors.
Other uses of Doxycycline
Doxycycline can treat and prevent a wide range of infections including, but not limited to:
urinary tract infections (UTIs) like cystitis
respiratory tract infections
eye infections like conjunctivitis
rickettsial infections like tick fever
gum disease
At euroClinix, we also offer Doxycycline as an antimalarial. It is a popular medication option when preventing certain types of malaria in travellers who will be visiting moderate to high-risk areas for less than 4 months. Although you can buy the same dose of Doxycycline for malaria, it will require a separate consultation.
How does Doxycycline work?
Doxycycline is an antimicrobial (antibiotic) treatment that fights bacterial infections. It contains the active ingredient doxycycline hyclate which belongs to a particular class of antibiotics called tetracycline antibiotics. These antibiotics work by interfering with the microorganism's ability to make proteins that are essential for it to survive and reproduce. Due to its ability to penetrate deep into cells, Doxycycline is particularly effective for infections of 'intracellular bacteria' that can only survive within the cell. This is true of the microbes that cause certain STDs such as chlamydia and syphilis as well as other bacterial infections like anthrax and acne.
Who can take Doxycycline?
Doxycycline is safe for most adults over 18 years of age, however some people should take caution when taking this medication. Some contraindications include those who have:
liver disease or any other hepatic impairment
kidney problems (renal impairment)
porphyria - a genetic blood disorder
myasthenia gravis - long-term neuromuscular disease
a sensitivity to sunlight (photosensitivity)
SLE (systemic lupus erythematosus) - immune disease
This is because Doxycycline can make symptoms of these conditions unstable. If you are not sure, consult your doctor before taking Doxycycline.
You should also not take Doxycycline if you have had an allergic reaction to Doxycycline or any of its ingredients. It is also not usually recommended for pregnant women, particularly in the last half of pregnancy. This is because it has been found to cause complications in bone development in infants. Doxycycline can also be excreted into breast milk. Short-term use in breastfeeding women has a low risk of complications, however risks of long-term use are not known so it is generally not advised.
Does Doxycycline interact with other medications?
Doxycycline can interact with some medications so it's important you talk to a healthcare professional if you take any prescription or over the counter medications and supplements. This is because Doxycycline, if taken with certain other medicines, can cause adverse effects such as preventing Doxycycline absorption.
Some drug interactions include:
anticoagulants including warfarin - medications to stop the blood clotting
penicillin or rifampicin - other antibacterial medications
isotretinoin (Accutane) or other acne medication
medicines that contain calcium, magnesium, aluminium, zinc, iron or bismuth salts (like antacids)
epilepsy medications such as phenobarbital, carbamazepine, phenytoin or primidone
oral contraceptives ("the pill" or "mini pill")
methoxyflurane - an anaesthetic
ciclosporin - medication to prevent organ failure after transplant
If you're not sure whether you take any of these medications, speak to your doctor before taking Doxycycline.
How do I take Doxycycline?
For the treatment of non-specific urethritis, chlamydia and ureaplasma urealyticum, a doctor will normally recommend that you take one 100mg Doxycycline capsule twice daily. You must swallow the capsule whole with a full glass of water. If you miss a dose, take your missed dose as soon as you remember and take your next dose at your regular time. If your missed dose is too close to your next dose, just wait until your next dose. You should not take two doses at once.
The length of the course will depend on the severity of your symptoms, and will be at the discretion of one of our registered doctors. However, you will generally be prescribed a course lasting between 7 and 10 days. You will probably start to feel better within a few days of treatment, however it's important you finish the full course. This will ensure the infection is treated, prevent it from returning and prevent the bacteria becoming resistant to treatment over time.
You should not drink alcohol throughout the course of treatment. Doxycycline can also make you sensitive to sunlight and cause sunburn. Avoid going in direct sunlight for extended periods and regularly apply sun cream.
What are the side effects of Doxycycline?
As with other prescription medicines, Doxycycline can cause some side effects. The most common side effects are normally mild and tend to pass very quickly. The most common side effects include: headaches, nausea or vomiting. Speak to your doctor if you notice anything more serious or if these side effects are particularly bothersome.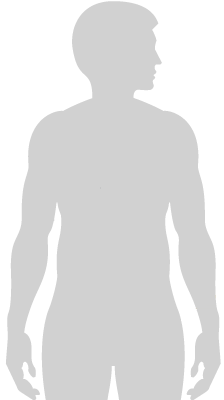 Neurological
It is possible that you may experience headaches as a result of this medication. These should only be mild, but if they are severe you should stop taking Doxycycline and contact your doctor.
Gastric
Mild gastric side effects are fairly common and could include nausea, diarrhoea and an upset stomach.
Skin
You may notice a mild skin rash that may be itchy. If you experience a severe skin reaction, which is far more rare, you should seek medical advice immediately.
Liver
Liver problems as a result of this medication are extremely rare but should be taken very seriously if they occur. If you experience symptoms such as jaundice, you must contact a doctor immediately.
Doxycycline side effects
Click on the relevant area of the body to find out about how it may be affected by Doxycycline
The below Doxycycline side effects tend to be more serious, however they aren't common, but you should contact your doctor straight away if you experience any of the following symptoms:
Uncommon:

Skin sensitivity, redness, skin rash or severe sunburn after being outside
Wheezing, difficulty breathing, fever, sudden swellings around the face, lips, tongue, hands or feet may indicate an allergic reaction
Rash, hives, itching - may indicate allergic skin reaction
Watery diarrhoea fever and cramps - may indicate severe intestinal condition like pseudomembranous colitis (swelling of large intestine)

Throbbing headache, temporary losses of vision or a fever - may indicate intracranial hypertension (build-up of pressure around the brain)
Painful tongue or mouth, heartburn, ulcers loss of appetite - may indicate gastrointestinal conditions
Jaundice, dark urine and liver inflammation (hepatitis)
Unexplained onset of thrush, itching or soreness in the genital or rectal areas
For a comprehensive list of side effects, please refer to the patient information leaflet that is available to download on this page and will be included in the box with your medication.
Does Doxycycline cause tooth decay?
It was previously thought that doxycycline causes tooth decay and staining, particularly in the tooth development of young children. However, subsequent research shows this is not the case as doxycycline binds less readily to calcium. In fact, low doses of Doxycycline can be used to treat gum disease by improving tooth attachment and reducing gum pockets.
How do I buy Doxycycline online?
You can safely buy Doxycycline online in the UK from euroClinix for the treatment of chlamydia, non-specific urethritis (NSU) and ureaplasma urealyticum. All you have to do is complete an online consultation form which will be reviewed by one of our registered doctors. This will help our doctors make sure that this medication is appropriate for you to use. Once a doctor has reviewed your medical history, your medication will be dispensed and dispatched by our pharmacy with next-day delivery.
Please note that the manufacturer of Doxycycline capsules may differ from that shown on the image above, but the ingredients, benefits and possible side effects of the medication will be the same, as with any order. The tablets may be dispensed in plain white packaging with the dosage information included.
Note: You must complete a short online consultation so that our doctor can ensure that the treatment is suitable for you. The above pricing should only be used as a reference. The final decision to issue this treatment lies with the prescribing doctor.