What is Doxycycline?
Doxycycline is an antibiotic used to treat a variety of infections caused by bacteria.
It is sold under brand names such as Monodox, Doryx, Vibramycin, Efracea, and Acticlate.
As well as treating rosacea, malaria, and chest infections, Doxycycline is effective at treating several STIs. These include:
You can buy Doxycycline capsules online from euroClinix for the treatment of the STIs shown above.
*For the treatment of mycoplasma genitalium, you will need to take Doxycycline in combination with Azithromycin (we offer a combination treatment pack).
How does it work?
After having unprotected sex, unwanted bacteria can be passed on from one person to the next which causes an infection.
Doxycycline is from a group of antibiotics called tetracyclines. It works by stopping the bacteria from reproducing, so they can't spread and multiply.
This gives your body's immune system the chance to fight off the infection and kill the remaining bacteria.
Who can take it?
Doxycycline is safe for most adults over 18 years of age.
However, you may not be suitable for this treatment if you have:
liver disease
kidney problems
porphyria (a blood disorder)
a sensitivity to sunlight
an autoimmune disease called lupus
Doxycycline could worsen the symptoms of these conditions. If you are not sure, consult your doctor before starting treatment.
You should also not take Doxycycline if you:
have previously had an allergic reaction to Doxycycline
are pregnant or breastfeeding
Doxycycline has been found to cause complications in bone development during pregnancy.
It can also be passed into breast milk, meaning it isn't safe to take whilst breastfeeding.
If you cannot take Doxycycline, an alternative such as Azithromycin might be suitable.
Is it safe to take with other medication?
Doxycycline can interact with some medications so it's important to tell your doctor about any drugs you are taking, whether they are over-the-counter or recreational.
Some drugs can cause severe side effects when taken alongside Doxycycline. They could also stop the antibiotic from working.
Doxycycline is not safe to take with:
anticoagulants such as Warfarin
indigestion medicines such as antacids
other antibiotics including penicillin and rifampicin
herbal medicines containing aluminium, calcium, bismuth, zinc, or magnesium
iron supplements
ciclosporin (medication to prevent organ failure after transplant)
You should also avoid drinking alcohol on antibiotics. Not only can it stop your treatment from working, but it can slow down your overall recovery time.
How do I take it?
How you take Doxycycline depends on which infection you are treating.
For urethritis, chlamydia, and ureaplasma urealyticum:
Your medication pack will include Doxycycline capsules of 100mg.
take 1 Doxycycline capsule (100mg) twice daily
remember to take 1 tablet in the morning and 1 in the evening
swallow the capsules whole with a glass of water
Your doctor will decide how long you need to take Doxycycline for, depending on how bad your infection is.
However, this is most commonly 7 days (one week).
For mycoplasma genitalium:
take 1 Doxycycline capsule twice daily for 7 days with a full glass of water
take 2 Azithromycin tablets as a single dose on day 8 with a half glass of water
take 1 Azithromycin tablet daily with a half glass of water on days 9 and 10
The treatment course will last 10 days. It is important that you finish all of the antibiotics that have been prescribed to you, even if your symptoms have cleared.
This will ensure the infection is treated and prevents the bacteria becoming resistant to treatment over time.
What if I forget a dose?
If you miss a dose, take the medicine as soon as you remember. If your missed dose is too close to your next dose, just wait until your next dose.
You should never make up for a missed dose by taking a double dose.
What are the side effects of Doxycycline?
As with all medication, there is a risk of side effects. Usually these are mild and will pass once you've finished your course of antibiotics.
Common Doxycycline side effects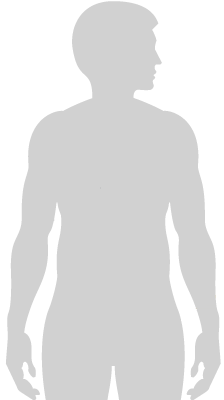 Neurological
You may experience mild to moderate headaches. Drink plenty of fluids and take paracetamol and ibuprofen. These painkillers are safe to take with Doxycycline.
Skin
Your skin may become more sensitive to the sun, meaning you could catch a sunburn. Cover up, and wear suncream (spf 30+) on any exposed areas of skin.
Stomach
Doxycycline might cause nausea or vomiting. Sip water to stay hydrated and stick to simple foods that settle the stomach (such as plain toast, rice, crackers).
Common Doxycycline side effects
Click on the different body parts to find out how they could be affected by Doxycycline.
You can find a full list of side effects in the patient information leaflet, which will be included in your order. You can also view a virtual copy on the right-hand side of this page.
Can I buy Doxycycline online?
Yes, you can buy Doxycycline online here at euroClinix for the treatment of chlamydia and non-specific urethritis.
If you require treatment for mycoplasma genitalium, you can purchase our MGen treatment pack containing both Doxycycline and Azithromycin.
Simply complete our online consultation to be reviewed by one of our UK doctors.
Once a doctor has reviewed your medical history, your medication will be dispensed and dispatched by our pharmacy with next-day delivery.
Note: You must complete a short online consultation so that our doctor can ensure that the treatment is suitable for you. The above pricing should only be used as a reference. The final decision to issue this treatment lies with the prescribing doctor.