What is Doxycycline?
Doxycycline is a tetracycline antibiotic available to buy on prescription in the UK and online at euroClinix. The tablets are a successful treatment taken orally to cure certain types of bacterial infections by working quickly to hinder the growth of the infection. Slowing the bacteria's growth allows the body's immune system to destroy the bacteria, if you're experiencing symptoms, these lessen and recovery time is significantly reduced.
Doxycycline medicine can be used to combat many bacterial infections and is particularly effective at treating a number of sexually transmitted infections (STIs) including:
As this medication is available in a high dosage of 100mg taken over a short period of time, Doxycycline is decidedly convenient and works fast, which means the infection will be quickly cured with limited affect to your everyday life.
For the vast majority of people, a single course of Doxycycline antibiotics is enough to completely cure any of these STIs. It is advised that wait for two weeks, if you want to take another STI test to ensure that the treatment has worked and the bacterium has been cured.
You can buy Doxycycline tablets online from euroClinix after completing an online consultation. The consultation will be reviewed by one of our doctors, to ensure that the tablets are suitable for you. When your prescription has been approved, you can place your order with us immediately. Your prescription will then be passed on to our registered pharmacy, and will be sent out free of charge for delivery the next day on any orders made before 4.30pm.
Other uses for Doxycycline
This medicine may be used in combination with other medicines and treatments to reduce acne or to treat certain amoeba infections. The medication can also be used to treat urinary tract infections, intestinal infections, eye infections and gum disease. It is also a popular medication option when preventing certain types of malaria in travellers who will be visiting moderate to high-risk areas for less than 4 months. It may also be used to prevent or slow the progression of anthrax after exposure.
How does Doxycycline work?
This medication's antibacterial effects prevent the spread of bacteria by stopping it from making proteins that are vital to help it stay alive and increase in size. This allows your natural immune system to combat and kill off the infection. For Doxycycline, the typical length of treatment for a 100mg dosage is around seven days depending on the instructions from your doctor and within the patient leaflet, meaning Doxycycline tablets fast acting.
The nature of the antibiotic and the fact it is in a high dose means Doxycycline is easy to take and highly effective. Many people see symptoms lessening in severity within days and the infection completely cured within a week.
How to take Doxycycline
For the treatment of non-specific urethritis, chlamydia and ureaplasma urealyticum, a doctor will normally recommend the following:
Take one Doxycycline tablet twice daily for a period of seven to ten days
Depending on your consultation, the doctor will advise the length of the course. You can also check the patient leaflet that is attached at the bottom of the page before buying. The tablets get to work pretty quickly, but even if you start feeling better; you shouldn't stop using it before the end of your course. If you want to take another STI test to ensure that the bacterium has been removed completely from your system, you should wait two weeks before doing so.
Doxycycline 100mg
At euroClinix, Doxycycline is available to buy in a 100mg dosage that has been clinically proven to be highly effective. This is the ideal dose for those using Doxycycline to treat an STI, as well as the other infections. Doxycycline tablets are also available in a 20mg, 40mg, 200mg, 250mg, 300mg, 400mg and 500mg dosages, however 100mg is by far the most common option when curing the vast majority of infections.
Any alternative dosages in this antibiotic will be offered if an element of your medical history or current medication suggests you are more prone to side effects that could be potentially unpleasant and the recommended 100mg dose won't be effective.
Doxycycline interactions and precautions
Certain precautions should be considered before buying Doxycycline. This includes if you are using an oral hormonal contraceptive as antibiotics can affect the efficiency of not only the contraception but Doxycycline as well. You shouldn't use this treatment if you are pregnant or breastfeeding. It's also not advised that you take it if you are allergic to Doxycycline capsules.
Make sure that you mention any medical conditions or medications you are taking in your online consultation with us, even if they haven't been mentioned, to avoid side effects or potentially harmful drug interactions. Some medications may make it more likely that you'll experience Doxycycline side effects, however it's also possible for Doxycycline to make these medications not work as they should, so mention to your doctor if you are taking:
Warfarin, which is a treatment to stop blood from clotting
Some medications to treat infections such as penicillin
Antacids
Treatments for epilepsy
Oral contraceptives
Some anaesthetics
Ciclosporin, which is usually used after an organ transplant
Doxycycline side effects
As this prescription is ordered mainly in 100mg and is effective at this specific dose, it is generally well tolerated and side effects aren't often experienced. The most common side effects are normally mild, tend to pass very quickly and include: nausea, diarrhoea, vomiting, indigestion or abdominal pain, loss of appetite, difficulty or pain when swallowing or flushing. Speak to your doctor if you notice anything more serious or if these side effects are particularly bothersome.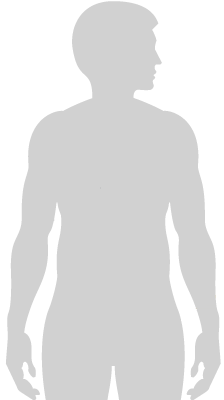 Neurological
It is possible that you may experience headaches as a result of this medication. These should only be mild, but if they are severe you should stop taking Doxycycline and contact your doctor.
Gastric
Mild gastric side effects are fairly common and could include nausea, diarrhoea and an upset stomach.
Skin
You may notice a mild skin rash that may be itchy. If you experience a severe skin reaction, which is far more rare, you should seek medical advice immediately.
Liver
Liver problems as a result of this medication are extremely rare but should be taken very seriously if they occur. If you experience symptoms such as jaundice, you must contact a doctor immediately.
Doxycycline side effects
Click on the relevant area of the body to find out about how it may be affected by Doxycycline
The below Doxycycline side effects tend to be more serious, however they aren't common, but you should contact your doctor straight away if you experience any of the following side effects:
Urinating less than usual
Watery or bloody diarrhoea
Fever, disorientation, a feeling of weakness, pale yellow skin and dark urine
Severe pain in the upper abdomen that spreads to the back and causes nausea and an increase in heart rate
Loss of appetite
Jaundice
Severe skin reactions
An allergic reaction which could cause swelling in the face, tongue, lips or throat, difficulty breathing and/or hives
How to order Doxycycline online
You can safely buy Doxycycline online in the UK from euroClinix by first completing an online consultation form. This will help our doctors make sure that this medication is appropriate for you to use. No face-to-face appointments are needed at euroClinix, saving you the time and effort booking at your doctor's surgery as well as any embarrassment you may feel going to the GP to order in person. All prescription treatment requires a consultation in the UK and our qualified doctor approve all medicine personally. When they issue a prescription for Doxycycline that will be filled by our pharmacy, which will ship it straight to your door. All packaging is completely discreet meaning you can get your treatment delivered to the workplace or shared accommodation in confidence.
Please note that the manufacturer of Doxycycline capsules may differ from that shown on the image above, but the ingredients, benefits and possible side effects of the medication will be the same, as with any order. The tablets may be dispensed in plain white packaging with the dosage information included.