How do you stop smoking?

Quitting smoking firstly requires the willpower and desire to stop permanently. Without these, any method will be an uphill struggle and the success rate reflects this. Smoking cessation treatments vary from person to person and quite often, a combination can work the most effectively. For example, many people call upon the free NHS resources at your disposal as well as proven medication, whether that's in the form of tablets, patches, nicotine gum or lozenges.

When deciding to stop smoking, there are usually some factors to consider before coming up with your quit plan, which can be discussed with your doctor or medical professional. This may include your age and other lifestyle choices as well as medical history of yourself and your family. It may also depend on the number of cigarettes you smoke daily. You should plan your attempt to stop smoking carefully for better results:
Plan a date that you want to quit smoking. Mark it on your calendar and use the time before it to let your friends and family know that you're quitting. Research has shown that people who actually set a quit date tend to be far more successful.
Create your own 'quitting' bible by writing a list of reasons why you want to stop. It helps if you write down a list of smoking facts that will remind you how it harms your body.
Get rid of any cigarettes, ashtrays and lighters. This will help to prevent relapse.
Work out how much you'll be saving by giving up smoking. Looking at this calculation can even be helpful after you've given up smoking, as it can be used to provide you with substantial motivation when it is required.
Knowing what to expect when you do quit will make you more prepared for it when it happens. When you quit smoking, you can expect:
withdrawal symptoms
mood swings
a shortened attention span
increased appetite
strong cravings
A gradual process is always favoured over a quick fix due to the side effects your body goes through once you stop smoking. For example, prescription medication such as Champix is taken over a 12-week course with many people choosing to continue with a second dosage, whilst patches and gums must be applied continually to maintain the nicotine intake your body has become accustomed to. This combined with support from loved ones or from counselling can be the perfect method, but ultimately perseverance, willpower and a strong network of support will help you kick the habit for good.
What happens when you stop smoking?
Quitting smoking can affect our bodies in many different ways, not just physically but also psychologically. The main reason for these effects is that cigarettes contain nicotine, which is a highly addictive substance that is able to influence the hormones released in the brain that make you think that you need a cigarette. Many people find that having a cigarette in a stressful situation helps to relax them, when in fact it's just temporarily satisfying the brain's craving for nicotine.
Physical Side Effects
When you are physically dependent on cigarettes, stopping smoking can cause you some physical side effects, however it is important to remember that these are temporary. The diagram below shows that these effects can range from headaches to agitation and the shakes. Whilst these seem unpleasant, the likelihood of them lasting a long time is extremely low. In fact, statistics show that the majority of people normally experience these for a couple of days, but they can test even the most determined ex-smoker's reserve.
Physical effects of quitting Smoking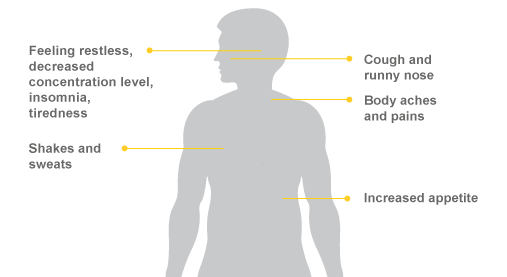 Psychological Side Effects
One of the main reasons people find that they start smoking again after giving up is the emotional and psychological effect nicotine withdrawal has on them, something that is reflected in the diagram below. This is especially amplified if you often use smoking as a way to deal with stressful day-to-day situations, or to help you relax. In addition, the habit of having a cigarette after every meal, for example, can be as strong a smoking trigger as the addictive substance itself. In order to cope with them effectively it is helpful to know what to expect so that you can prepare.
Psychological effects of quitting smoking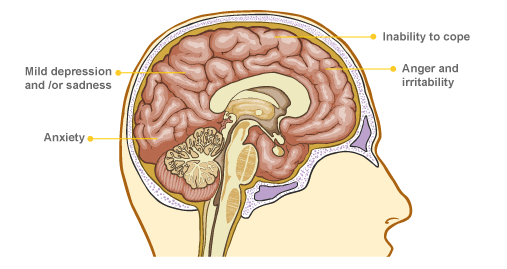 The side effects you experience when you quit smoking are what can make it difficult to stay smoke free, however setting an end goal can help you overcome the side effects.
Stop smoking timeline
It's important to remember that the withdrawal symptoms are temporary whilst the positive effects are long-term. Significant health benefits once you quit smoking can begin to develop as soon as 20 minutes after smoking your last cigarette.
after 20 minutes, your heart rate returns to normal
after 8 hours, carbon monoxide levels will have halved
after 48 hours, all carbon monoxide will have been flushed out of your body
after 72 hours, breathing will become easier as your bronchial tubes relax and your energy levels will increase
As well as the short-term benefits, within 12 weeks your blood will be pumping to your heart and muscles a lot better and after 9 months your breathing problems will be reduced and your lung function will have improved by 10%. By 1 year, your risk of a heart attack will have halved!
The best way to stop smoking
Some people manage to give up using willpower alone, but the majority call on extra help, which is widely available. Cravings and mood swings can be managed so you can kick the habit for good.
Prescription medication
Prescription medication is available and proven effective at helping you quit smoking. This includes Champix, a course of tablets lasting approximately 12-weeks. Champix has the highest success rate of any other type of smoking cessation at 50%. This increases further if you decide to opt for a second dosage of treatment (24-week course altogether). Champix works by minimising cravings and actually helps you develop a dislike for the habit. It doesn't use nicotine like many over the counter methods meaning you can steer away from nicotine dependency.
Therapy
Various forms of behavioural therapy can also be explored as suitable methods and can be particularly successful when combined with a more physical method of smoking cessation. The NHS have a number of support groups, whether that is one-on-one to group sessions that are free that can be used at whatever stage in your journey. Ex-smokers can also visit these support groups in the future if they are fearful of relapsing.
Over the counter medication (nicotine replacement therapy)
Over the counter medication, also known as nicotine replacement therapy (NRT), is well known when researching smoking cessation. Whilst it isn't clinically proven and the success rates vary massively (the permanent quitting rate when using just a NRT method is just 17%) some find gum and patches to be the perfect method when quitting. NRT can come in the form of patches, gums, lozenges, inhalers and nasal sprays all available over the counter and may be advised after a discussion with your doctor or GP.
E-cigarettes
E-cigarettes – also known as vaping - are a new and popular method but the research surrounding them is still ongoing. However, they do not produce tobacco smoke or contain the same chemicals so they differ in risk to normal cigarettes. They can help psychological factors associated with smoking, for example, keeping your hand busy.
Friends and family
Going cold turkey only works for a small number of smokers, however combining this tactic with a strong support network of family and friends can make it successful. When deciding to quit, it is advisable to tell your friends and family. This means existing smokers will be far more wary (you might even persuade them to join you) and they can help you in your time of need (during the side effects and cravings).
Quit smoking technology
The NHS has a program called SmokeFree which has its own free app to help you quit smoking. It allows you to monitor your progress including the savings you've made so far, tips on continuing your journey and all online resources. There are also a whole host of apps in your respective app store (free and paid) that can help you keep track of your progress to the point where you happily don't need it anymore.
It's never too late to quit smoking. If you are unsure of which method of smoking cessation to use, consult your GP or speak to one of our doctors online who can recommend a suitable quit plan for you.
Can I order treatment to help me quit smoking online?
At euroClinix, we only offer clinically proven medication that requires a prescription. In the UK, this includes Champix; a 12-week course of tablets. To quit smoking in as little as 12 weeks you can order your course of Champix smoking cessation pills online from euroClinix. Patients who want a reliable stop smoking treatment to give up smoking can complete a short, confidential online consultation. You just need to answer some questions about your health and lifestyle to make sure you are suitable for this treatment. A course of Champix will be dispatched to your address with free next day delivery.