What are Yasmin pills?
Yasmin pills are a highly popular and effective form of contraception taken orally as a 3mg / 30mcg tablet. This medication, that you can buy online at euroClinix without a face-to-face doctor's appointment, is taken daily to provide you with successful protection against pregnancy. Each Yasmin tablet contains the active ingredients ethinylestradiol and drospirenone, which are synthetic versions of oestrogen and progestogen. These ingredients work in unison to control your existing hormones, stopping the occurrence of pregnancy.
Benefits of taking Yasmin pills
The one of the main benefits of using an oral contraceptive is that it is 99% effective against pregnancy, but there are additional factors with the Yasmin birth control pill such as:
No unnecessary weight gain. This birth control pill also reduces water retention, because it uses a type of progestogen that has the same effect as the compounds present in diuretics.
These birth control pills are not prescribed to treat skin problems, but the hormones present in this contraceptive can potentially improve the appearance of your skin (i.e. preventing acne) and hair.
It also provides you with immediate contraceptive protection if you take it on the first day of your period.
How do Yasmin pills work?
Yasmin pills work in three ways to prevent pregnancy, as they contain both artificial oestrogen and progestogen:
Preventing ovulation; the egg isn't released
Preventing sperm from entering the womb
Preventing the womb lining from thickening
Essentially, Yasmin pills work by tricking the body into thinking that ovulation has taken place.
Yasmin pills do not have any effect on STIs and is not an STI treatment. It is still necessary to use a condom in order to prevent STIs such as herpes, HIV and gonorrhoea. Also, if you have forgotten to take a pill or are currently taking medication, which interacts with your Yasmin pill (e.g. certain antibiotics) a condom in addition to taking your daily Yasmin pill may also be required.
How it works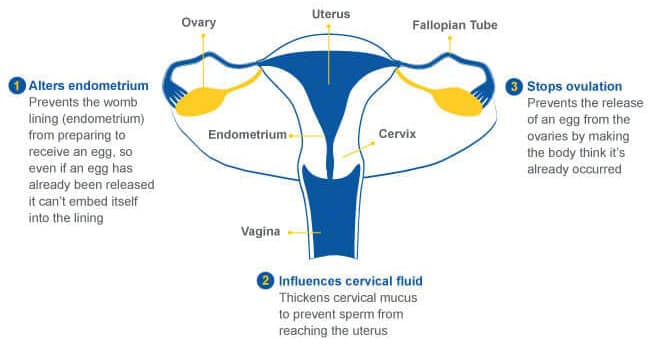 How to take Yasmin contraceptive pills
Take Yasmin every day for 21 days
You can buy Yasmin in strips of 21 pills. Each strip is clearly marked with a day of the week.
Take one pill at the same time each day.
Taking a pill marked with the correct day of the week will help you keep track of your contraception as well as following the direction of the arrows on each of the strips.
Swallow each pill whole, with water if necessary. Never chew the pill.
Then have seven pill-free days
After you have taken all 21 pills in the strip, you then have seven days where you don't take any pills.
A few days after taking the last pill from the strip, you should have a period. This bleed may not have finished when it is time to start your next strip of pills – this doesn't matter.
It's worth noting that you are also protected during these seven pill-free days, as long as you start the next strip of pills on time.
Then start your next strip
Start taking your next strip of Yasmin as soon as the seven pill-free days are over – regardless of whether or not you are still bleeding.
Always begin the new strip on time.
If you have already ordered Yasmin pills from us, you can also order a further 3-month or 6 month supply.
Yasmin side effects
If you are taking Yasmin pills for the first time you may experience some mild side effects because your body isn't used to the active ingredients in this medication. However, these usually disappear within a couple of days and only affect a very small minority.
Common:

Depressive mood
Headaches / migraines

Nausea
Breast changes (e.g. tenderness or enlargement)
Uncommon:

High blood pressure / low blood pressure
If you are experiencing any side effects that are not listed here, you can visit Patient.co.uk to learn more about rare side effects.
How to buy Yasmin pills online
If you are seeking help to successfully prevent pregnancy, we at euroClinix offer Yasmin contraceptive pills that you can buy online. To order this medication all you will have to do is complete a quick, confidential online consultation, so that our doctor can evaluate whether this treatment is safe for you to use. If approved, they will issue a prescription. The prescription will be sent to our UK pharmacy that will dispatch your medication via our free next day delivery service. All of our medications are delivered in plain, tamper-proof polyethylene courier bags to maintain discretion.
Note: You must complete a short online consultation so that our doctor can ensure that the treatment is suitable for you. The above pricing should only be used as a reference. The final decision to issue this treatment lies with the prescribing doctor.