What is the morning after pill?
The morning after pill is taken to prevent pregnancy after unprotected sex or a contraception failure. Levonelle and ellaOne are the only two emergency contraception pills available in the UK.
Although emergency contraception pills are often referred to as 'morning after pills', Levonelle and ellaOne are effective for longer than that, though the effectiveness does gradually diminish over time. You should take emergency contraception as soon as possible after unprotected sex.
Levonelle
Levonelle is the first morning after pill to be made available in the UK. It is effective for up to 72 hours after contraceptive failure or unprotected sex, however it should be taken as soon as possible as its effectiveness diminishes over time.
It is:
95% effective during the first 12 hours after unprotected sex
85% effective during 12-24 hours after unprotected sex
75% effective during 24-48 hours after unprotected sex
58% effective during 48-72 hours after unprotected sex
ellaOne
ellaOne is an emergency contraception pill that can be taken up to five days after unprotected sex. It is a new pill, and has a 98% success rate, with only two in every 100 women who took this morning-after pill becoming pregnant in one study. ellaOne has also been proven to prevent more pregnancies than Levonelle during the first 72 hours after unprotected sex.
It is 98% effective up to 120 hours after unprotected sex.
If you have already had unprotected sex and wish to purchase the morning after pill, you should do it as soon as possible after unprotected sex.
You can also purchase Levonelle or ellaOne to have on hand in case of an emergency.
The IUD as emergency contraception
The only other emergency contraception method is the intrauterine device (IUD) or coil.
An intrauterine device (IUD) is a T-shaped device that is inserted into the uterus. It is typically used as a long-term form of regular contraception but also works as emergency contraception when fitted up to five days after sex. Your doctor or medical professional will fit the device. Once fitted, it can last up to 10 years.
How does the morning after pill work?
Levonelle contains a synthetic progesterone called levonorgestrel that is thought to delay and prevent ovulation from occurring.
ellaOne contains ulipristal acetate, a compound that acts on the body's progesterone receptors to prevent and delay ovulation.
The menstrual cycle
During your menstrual cycle, a number of different hormones are released at different stages, regulating when you will be fertile.
After you finish your period, the pituitary gland releases follicle-stimulating hormone, which signals to the ovaries that it's time to prepare a follicle (a sac where an egg develops) for ovulation.
At the start of the menstrual process, when a follicle develops, it releases a hormone known as oestrogen, which signals to the womb lining to prepare to receive an egg.
The body also starts producing progesterone, and continues for the next two weeks. As the egg develops, oestrogen levels increase and signal the hypothalamus and pituitary gland to release luteinizing hormone (LH), which triggers the release of an egg from the fallopian tube.
This happens within a 24-hour window and, if an egg is fertilised, it attaches itself to the thickened uterine lining. However, if the egg isn't fertilised, menstruation starts around two weeks after ovulation and the cycle repeats itself.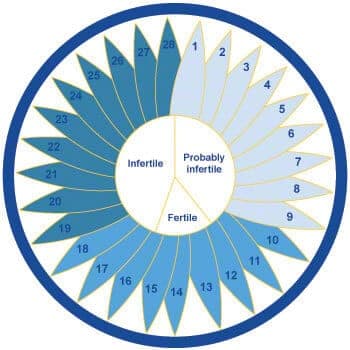 Although a woman is only fertile for a few days, sperm can live within the body for many days, so pregnancy is still possible, even if you have unprotected sexual intercourse prior to ovulation.
How effective is the morning after pill?
Levonelle is 95% effective when taken in the first 12 hours of unprotected sex, and ellaOne is 98% effective over the course of 120 hours, or five days.
You should wait at least three weeks after the last time you had unprotected sex to take a pregnancy test, as taking a test before this time will only lead to inaccurate results.
If your period has not arrived within three weeks of taking the emergency contraceptive pill, you should take a pregnancy test just to make sure.
It's important to remember that emergency contraception will not work if you are already pregnant.
This means both ellaOne and Levonelle should not be as an option for an abortion. If you're looking to obtain an abortion for any reason, you can gain more information through the NHS.
Taking the morning after pill
Levonelle and ellaOne contain one tablet per pack, to be taken as soon as possible after unprotected sex. Simply swallow the tablet with a glass of water.
How many times can I take the morning after pill?
You can use emergency contraception more than once during a single menstrual cycle, although it is not recommended to use the morning after pill as your sole contraceptive option.
How much does the morning after pill cost?
The price of the morning after pill varies. You can get the morning after pill in person at a pharmacy, from your doctor, or online. The advantage of buying emergency contraception online is full discretion and ease.
For further information regarding how to take or buy ellaOne or Levonelle, you can refer to our product pages.
Side effects of the morning after pill
Side effects are usually minimal and if they do occur, they tend to disappear quickly.
Some of the most common side effects include:
headaches
nausea and vomiting
irregular bleeding between periods
lower abdominal pain
tiredness
tender breasts
If you vomit within 3 hours of taking the morning after pill, you will need to take another tablet. You can purchase an extra pack to have on hand if you are concerned about this. A maximum of 4 emergency contraception pills can be ordered in a 1 year period.
Can I buy emergency contraception online?
euroClinix offers both emergency contraception pills that are available in the UK: Levonelle and ellaOne.
You can order either of these medications online without a face-to-face appointment. Simply complete a short online consultation, which will be reviewed by one of our doctors.
If your consultation is approved, your medication will be sent from our pharmacy with free overnight delivery in discreet packaging when you order by 4:30 pm.