What is the morning after pill?
The morning after pill is one tablet taken after unprotected sexual intercourse to avoid pregnancy. It is named the 'morning after pill' as it is typically taken the day after sex, when it is the most effective, however both Levonelle and ellaOne can be taken a few days after although the effectiveness does gradually diminish over time. It is always advised to buy and take the morning after pill as soon as possible after unprotected sex.
Levonelle and ellaOne are the only two emergency contraception options available in pill form, and the intrauterine device (IUD) can also be used.
Levonelle
Levonelle is the first morning after pill to be registered in the UK and is effective for up to 72 hours after contraceptive failure or unprotected sex, however it is advised to take as soon as possible as its effectiveness diminishes over time.
95% effective during the first 12 hours after unprotected sex
85% effective during 12-24 hours after unprotected sex
75% effective during 24-48 hours after unprotected sex
58% effective during 48-72 hours after unprotected sex
ellaOne
The second emergency contraception option available to buy in the UK is ellaOne, a new contraceptive pill that can help to prevent pregnancy for up to five days after unprotected sex. Studies suggest it has a 98% success rate, as only two in every 100 women who took this morning-after pill became pregnant. ellaOne was also proven to prevent more pregnancies than Levonelle during the first 72 hours after unprotected sex.
98% effective up to 120 hours after unprotected sex
Both Levonelle and ellaOne should be taken after you have had unprotected sex or if your usual contraception has failed. They are both suitable for women over the age of 18. Alternatively, if you have already had unprotected sex and wish to purchase an emergency contraceptive, we strongly advise that you do so immediately - within 24 hours - after unprotected sex so that you can take the pill as soon as possible.
The IUD as emergency contraception
The intrauterine device (IUD) is a contraceptive option in the form of a T-shaped device that is inserted into the uterus. Your doctor or medical professional should fit the device and it can work as emergency contraception up to five days after sex, being 99% effective. The IUD is often a long-term contraceptive option; once fitted, it can last up to 10 years. If you can get an appointment within five days, and your surgery supplies and fits the IUD, this could be a viable emergency contraception option for you.
How does the morning after pill work?
Levonelle and ellaOne contain different active ingredients that work slightly differently. Levonelle contains synthetic progesterone called levonorgestrel that is thought to delay and prevent ovulation from occurring. ellaOne contains what is known as a selective progesterone receptor modulator (SPRM) called ulipristal acetate that stops the natural progesterone in the body to prevent and/or delay ovulation.
How it works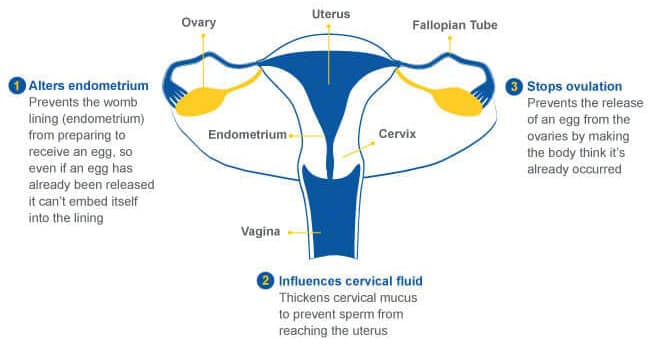 It's important to remember, emergency contraception will not work if you are already pregnant.
The menstrual cycle
Throughout your menstrual cycle, a number of different hormones are released at different stages, which regulates when you are able to conceive and when you are not. This is why it is helpful to know what happens during the menstrual cycle when understanding how the morning-after pill works.
Just after you finish your period, the pituitary gland releases a hormone known as the follicle-stimulating hormone which signals to the ovaries that it's time to prepare a primary follicle for ovulation.
At the start of the menstrual process, when a follicle develops as part of the ovulation process, it releases a hormone known as oestrogen, which causes the womb lining to prepare itself to receive an egg.
The start of the menstrual cycle is also when the body starts producing progestogen, which it continues producing for the next two weeks. As the egg develops, oestrogen increases in the blood and signals the hypothalamus and pituitary gland to release the luteinizing hormone (LH), which causes the release of an egg down the fallopian tube.
This happens within a 24-hour window and, if an egg is fertilised, it then attaches itself to the thickened uterine lining. However, if the egg isn't fertilised, menstruation starts around two weeks after ovulation and the cycle repeats itself.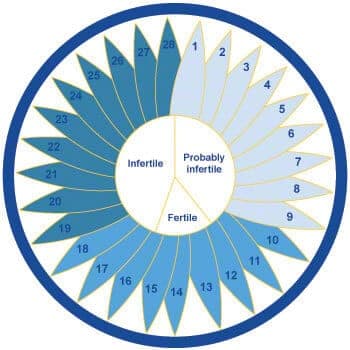 So during a women's cycle, she is only fertile for a few days, however sperm can live within the body for many days, so even if you have unprotected sexual intercourse prior to ovulation, pregnancy is still possible.
How effective is the morning after pill?
The morning after pill is highly effective, especially when taken within a day of having unprotected sex. Both Levonelle and ellaOne should be taken as soon as possible. Levonelle is the oldest of the two morning after pills and is 95% effective when taken in the first 12 hours of unprotected sex. Whilst ellaOne is the newer pill, its effectiveness is 98% over the course of 120 hours (five days).
You must wait at least three weeks after the last time you had unprotected sex to take a pregnancy test, because taking a test before this time will only lead to inaccurate results.
You will know if the medication has worked if your next period comes as usual. If your period has not arrived within three weeks of taking the emergency contraceptive pill, you should take a pregnancy test just to make sure.
The morning after pill will not work if you're already pregnancy, hence the medical advise to take it quickly after unprotected sex. This means both ellaOne and Levonelle should not be as an option for an abortion. If you're looking to obtain an abortion for any reason, you can gain more information through the NHS.
Taking the morning after pill
Levonelle and ellaOne contain one tablet per pack, which should be taken as soon as possible after unprotected sex. The morning after pill used to be prescribed as two tablets that could be taken 12 hours apart; however, this single dosage is now considered to be more effective at preventing pregnancy. You simply need to swallow the tablet with a glass of water.
The price of the morning after pill can vary from pharmacy to pharmacy from £30 to £60. You can get the morning after pill from certain pharmacies in-person, but you can also buy online. The advantage of buying emergency contraception online is full discretion and ease. If you're running short on time, euroClinix offer both Levonelle and ellaOne meaning you can privately and quickly order emergency contraception at no extra delivery costs. If ordered before 4.30pm, you will receive the next day.
For further information regarding how to take or buy ellaOne or Levonelle, you can refer to our product pages.
Side effects of the morning after pill
As ellaOne and Levonelle is simply one tablet, the chance of side effects is very minimal and if they do occur, they tend to disappear quickly. Some side effects include headaches, abdominal pain or irregular bleeding. When ordering the morning after pill, you should always read the patient leaflet.
Whilst emergency contraception can be taken more than once during a single menstrual cycle for minimal cases, it is highly advised not to use the morning after pill as your sole contraceptive option. As the name suggests, it should only be used for emergencies.
Can I buy emergency contraception online?
At euroClinix, patients have a choice of two clinically tested oral medications; Levonelle and ellaOne. These are the only clinically proven morning after pills in the UK.
euroClinix operates a secure, reliable service for patients who want to order Levonelle or ellaOne tablets with discretion. When you place your order, you will need to take a short online consultation with our doctor. This replaces the conversation you would have with your doctor at a pharmacy or clinic if you were to request emergency contraception in person. If our doctor feels that Levonelle or ellaOne is right for you, the contraception will be dispatched from our pharmacy for overnight delivery.