What is Lipostat?
Even though high cholesterol does not have any symptoms, it can cause serious harm to your health. If high cholesterol remains undetected and untreated, you could be in danger of having a heart attack, suffering a stroke or developing some form of cardiovascular disease.
Lipostat tablets contain the active ingredient pravastatin sodium, which is a type of medicine known as statin. By taking this oral medication you can lower the risk of having a heart attack, suffering from a stroke or developing other cardiovascular disease.
At euroClinix, patients can request for an online consultation. Within this consultation our doctors will determine your suitability for the medication you're ordering.
What are the benefits?
Although high cholesterol does not cause any symptoms, it can have serious effects on the body. If left untreated, it can build up in the walls of the blood vessels and arteries. People who have high levels of cholesterol are at risk of suffering from a heart attack or stroke as well as other cardiovascular diseases. By taking a medication to lower cholesterol the chances of suffering from any of these conditions can be lowered significantly and life expectancy increased.
How does it work?
There are two types of cholesterol: high density lipoprotein (HDL) also known as "good cholesterol" as it helps to build cells and hormones and low density lipoprotein (LDL) or "bad cholesterol" which can build in the blood vessels and arteries. Lipostat is known as a statin, which inhibits the enzymes, which create LDL in the liver, making the body produce less "bad" cholesterol and more "good" cholesterol.
Who can buy Lipostat online?
Most people who need a medication to lower cholesterol levels use statins such as Lipostat, although it may not be appropriate for everybody. Women who are pregnant or breastfeeding, patients with liver conditions or anyone who is allergic to any of its ingredients (namely pravastatin) will not be able to take the medication.
There are other factors, which may exclude you from being able to take Lipostat, these include: thyroid conditions, muscle diseases or other medications you may be taking simultaneously.
How do you take it?
You can buy Lipostat in dosages of 10mg, 20mg and 40mg, although your doctor will advise you on the most appropriate dosage. You should take the medication in the evening when possible and try to avoid drinking large quantities of alcohol. When you are prescribed Lipostat for the first time, it will be a low dosage to ensure that it is safe for you to use.
Statins and grapefruit react badly together so avoid this fruit whilst you're taking your medication. If you miss your dose, do not double it the following day; simply continue as normal.
What are the side effects?
Like all medication, Lipostat can cause side effects in some cases. If you experience any muscle problems such as tenderness or unexplained pain, or if you suffer from an allergic reaction (swelling of the face or skin rashes) you should consult your doctor immediately.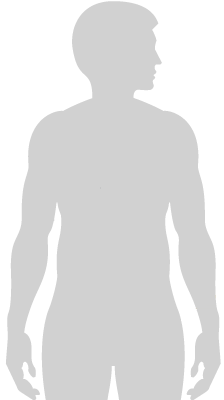 Neurological
As with most medication side effects can occur. Although uncommon, with one in every 1000 people getting them, headaches and feelings of dizziness are potential side effects of this medication.
Gastric
Abdominal upset may be experienced when taking this medication. Symptoms may include nausea, diarrhoea, constipation, vomitting and indigestion. The severity of these symptoms may decrease as your body gets used to the medication.
Skin
Skin rashes, itching, an eruption of pimples and hair loss although rare, may occur from use of this medication.
Muscular
Some pain the muscles or joints may occur which include, muscle or joint pain, tenderness, weakness or cramps.
Lipostat side effects
Click on the relevant area of the body to find out about how it may be affected by Lipostat
One out of every 1,000 people can experience side effects such as dizziness, tiredness, nausea, bladder problems or blurred vision. If any of these side effects are persistent or particularly bothersome, you may choose to switch to a different type of statin treatment.
When Lipostat is prescribed, it will likely be for long term daily use. Most people use Lipostat without experiencing any side effects, as they tend to be more of an exception than the rule. Side effects are classed as uncommon, rare and those effects that are known to occur, although their frequency isn not known.
| | | | |
| --- | --- | --- | --- |
| Side effects | Uncommon | Rare | Frequency unknown |
| Dizziness | | | |
| Tiredness and/or sleep disturbances | | | |
| Headaches | | | |
| Indigestion, nausea, stomach pain and/or diarrhoea | | | |
| Skin rashes and/or hair loss | | | |
| Bladder problems and/or sexual difficulties | |   | |
| Muscle and joint pain | |   | |
| Numbness or burning sensation when touching things, which could indicate nerve damage |   | | |
| Inflammation of the liver |   | | |
| Jaundice |   | |   |
| Increase of liver enzymes in the blood |   | |   |
| Nightmares |   |   | |
| Depression |   |   | |
| Memory loss |   |   | |
| Breathing problems, shortness of breath or fever |   |   | |
How this medicine can affect other medicines
It is of utmost importance that you are completely open and honest about the medicines you are taking during your online consultation. This includes medicines bought without prescription and herbal medicines. Similarly, it is advised that you consult your doctor before taking any new medicines while taking Lipostat, to ensure that the combination is safe.
The risk of developing side effects that impact on the muscles is increased when this medicine is taken with the following medicines:
Ciclosporin
Colchine
Daptomycin
In any situation where you're prescribed any of the medicines listed above in combination with Lipostat, it's important that you tell your doctor if you experience any unusual muscle symptoms.
Cholestyramine and colestipol lowers the absorption of pravastatin. If you're taking any of these medicines along with Lipostat, your pravastatin dose should be taken one hour before or alternatively at least 4 hours after the cholestyramine/colestipol dose, to avoid the absorption of Lipostat.
Can you buy Lipostat online?
This medication is available to buy from euroClinix. If you wish to you buy Lipostat you will need to fill in an online consultation to be reviewed by one of our doctors, who will make sure the medication is safe and suitable for you to use. Once your order has been approved, you will be issued a prescription and the medication will be dispatched from our pharmacy for free next day delivery.
Note: You must complete a short online consultation so that our doctor can ensure that the treatment is suitable for you. The above pricing should only be used as a reference. The final decision to issue this treatment lies with the prescribing doctor.