What is Diprosalic ointment used for?
Diprosalic is used to treat inflammatory skin disorders such as eczema and psoriasis. Psoriasis is a chronic inflammatory skin condition characterised by red and scaly plaques. Eczema is a skin condition where people experience redness, itching, and swelling or blistering of the skin.
How does Diprosalic work?
Diprosalic ointment contains two active ingredients, betamethasone and salicylic acid. These ingredients work in different ways to effectively treat these conditions.
Betamethasone dipropionate belongs to a group of medicines called topical corticosteroids. When applied to the skin, corticosteroids have multiple effects, such as:
reducing inflammation and redness
dampening the response of the immune system
stopping skin cells from multiplying
causing blood vessels to narrow
Salicylic acid is often used to treat skin conditions that involve scaling or overgrowth of skin cells, such as psoriasis. It works by softening keratin, a protein that is found in the skin structure. This helps to loosen dry, scaly, or thickened skin so it can be removed easily.
When salicylic acid is used in combination with other medicines, such as betamethasone, it takes off the upper layer of the skin. This allows betamethasone to reach the skin underneath to help heal it more effectively.
What dosages are available?
Diprosalic is available in two forms, Diprosalic ointment and Diprosalic scalp application. Both contain the same active ingredients:
0.05% betamethasone dipropionate
3% salicylic acid
The differences between the two products are the form and other added ingredients.
How do I use Diprosalic?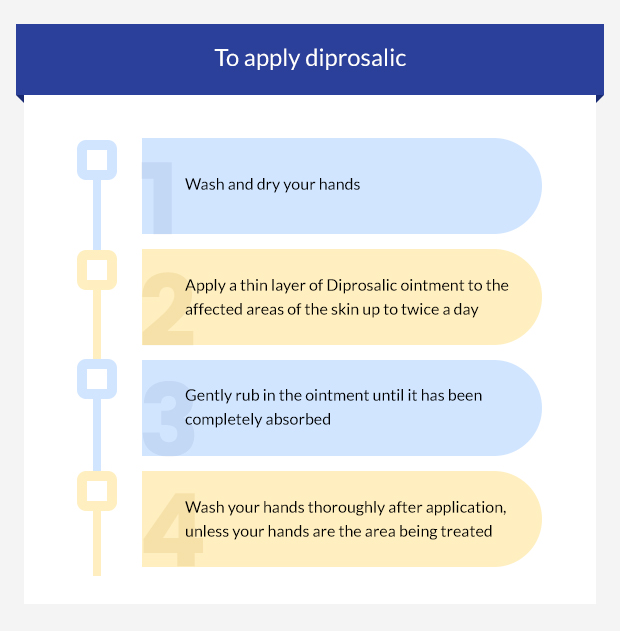 Always follow the instructions given by your doctor. You should continue using Diprosalic for as long as your doctor has recommended.
If your skin condition has not improved or worsened during or after treatment, you should speak to your doctor.
Can I use Diprosalic?
Most people can use Diprosalic for skin conditions such as eczema or psoriasis. However, it may not be suitable for everyone.
Do not use Diprosalic ointment if you:
are allergic to betamethasone dipropionate, salicylic acid, or any of the other ingredients in this medicine
have any other skin problems, as Diprosalic could make these worse especially:

rosacea
dermatitis around the mouth
genital itching
viral skin infections, such as chickenpox, shingles, or herpes simplex
have lesions caused by tuberculosis
Diprosalic should not be used in nappy rash, fungal, or bacterial skin infections without other anti-infective therapy.
If you are pregnant or breastfeeding or are planning to have a baby, talk to your doctor before using this medicine.
What precautions should I take?
To use Diprosalic safely, follow these instructions:
Do not use Diprosalic under bandages or plasters.
Do not use an excessive amount of ointment on large areas of the body for a long time (e.g. every day for many weeks or months), as this could increase the risk of side effects.
Avoid getting the ointment in your eyes or inside your nose or mouth.
Do not use the ointment on your face unless directed by your doctor - courses for facial use should be limited to 5 days.
Do not smoke or go near naked flames when using this product as there is a risk of severe burns.
Contact your doctor if you get raised bumps filled with pus under your skin.
If your condition comes back within 2 weeks after you stop treatment, contact your doctor.
Does Diprosalic interact with other medications?
Make sure you tell your doctor if you use any other medicines, especially if you already use any other corticosteroid medicines.
If you need to use other topical medicines on the same area of the skin, try to space out the application of each product by a few minutes. This allows each product to be absorbed into your skin and prevents them from mixing together.
What are the side effects of Diprosalic?
Like all medicines, Diprosalic can cause side effects, although not everybody gets them, especially when the ointment is used correctly.
Side effects may include:
Skin irritation such as: thinning of the skin, stinging, blistering, peeling, swelling, itching, burning, a rash, dry skin, or red marks
Inflammation of the hair follicles, too much hair growth, reduced skin pigmentation, and allergic skin reactions
Skin inflammation, causing the skin to become red and itchy
Blurred vision
Side effects are more likely to occur if you apply too much of Diprosalic, and if you use it:
more than twice a day
long term (for more than two weeks)
underneath bandages/dressings
on broken skin
on areas of skin such as skin folds
Steroid withdrawal reaction:
If you use this ointment regularly for long periods of time, you may experience a withdrawal reaction when you stop treatment. This is a condition where the steroid causes a rebound reaction in which the skin gets worse.
For a full list of side effects, read the patient information leaflet included with your order. If you experience any side effects that concern you, speak to your doctor.
How do I buy Diprosalic online?
You can buy Diprosalic online safely with a prescription here at euroClinix. All you have to do is fill out an online consultation form, which is a quick and easy process.
Next, one of our registered doctors will check if the medication is safe for use with any current medication or health problems you may have.
If Diprosalic is the right treatment for you, your medication will be discreetly packed and sent for delivery to your chosen address.
Note: You must complete a short online consultation so that our doctor can ensure that the treatment is suitable for you. The above pricing should only be used as a reference. The final decision to issue this treatment lies with the prescribing doctor.