What is Xenical?
Xenical® (orlistat) is prescribed in the UK to aid weight loss in people with a BMI (body mass index) over 30 or 28 if they have any underlying weight-related conditions. The weight loss pill or slimming pill was designed to support weight loss in combination with a healthy diet and exercise regime
The clinically proven medication works directly in the stomach by preventing up to 30% of the fat you consume per meal from being absorbed. In clinical trials, this medication has proven help participants lose between 5% and 10% of their body weight if taken as recommended by their doctor.
There is no doubt that following a healthy, balanced diet and doing a reasonable amount of exercise is the only way to lose weight and keep it off over the long term. However, if your health is at risk and you are struggling to lose weight, using a safe and effective weight loss treatment to support other measures you are already taking, can help you achieve a healthier weight more quickly.
What are the benefits of Xenical?
If you have struggled to lose weight through diet and exercise alone, Xenical can help to speed up your weight loss efforts by preventing up to a third of the fat in your diet from being absorbed. In clinical studies, people taking the medication in addition to following a strict diet and exercise plan managed to lose almost twice as much weight as those who were only dieting and exercising. Almost 70% of users lost a substantial amount of their body weight after just three months and dropped 19lbs within a year. Other studies have shown that almost two-thirds of people treated with Xenical weight loss pills alongside a diet plan successfully lost an even greater amount of their body weight after 2 years.
Xenical (orlistat) is proven to have a significant effect on reducing the weight of people who use it alongside lifestyle changes, as indicated in the graph below, which shows the average weight loss percentage during clinical trials.
Average weight loss percentage during clinical trials - Xenical vs Placebo
Start of treatment
Placebo + diet lead-in period
XENICAL + diet
Placebo + diet
As treatment with Xenical is associated with quicker weight loss in obese patients compared to dieting and exercising alone, the health benefits can be expected to have an earlier onset in patients who take Xenical as advised by their doctor. However, it is important to note that health risks associated with obesity can only be prevented long term through a healthy and balanced lifestyle and Xenical should only be taken if patients are struggling to achieve their goals otherwise. It is not generally prescribed as a long-term treatment.
How does Xenical work?
Xenical tablets contain an active ingredient called orlistat, which is a lipase inhibitor. Lipases are the enzymes in your digestive system that breaks down fat so it can be absorbed by the body. Orlistat (the active ingredient in Xenical) attaches itself to these lipases, preventing them from doing their work. This stops over up to a third of the fat you consume from being digested. This fat then passes through your system and is expelled via your regular bowel movements.
The diagram below indicates the way in which the body usually digests fat:

The diagram below indicates the way in which the body usually digests fat: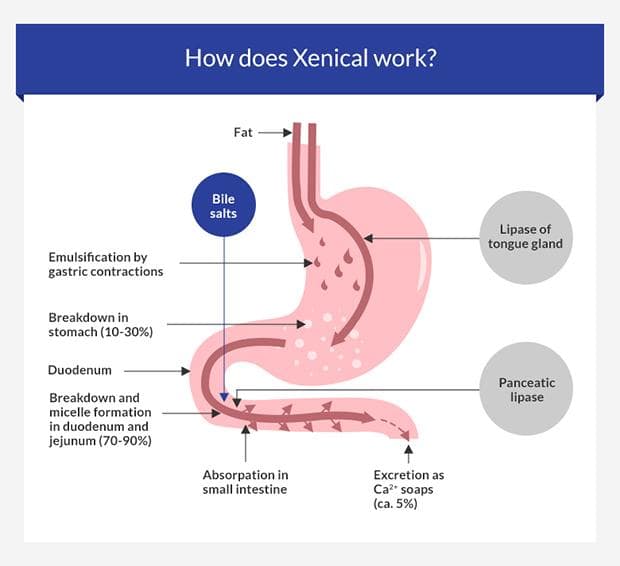 Who can buy Xenical online?
You can buy Xenical online if you are over 18 and have a BMI (body mass index) of over 30. Some people may also be suitable for this medication if their BMI is above 28 and they have an underlying health concern, such as diabetes, high cholesterol or heart disease. Your body mass index is the ratio between your height and your weight. Don't worry if you don't know your BMI, you can discover what your BMI is by using the calculator below:
You will be asked to complete an online consultation before placing your order with euroClinix.net. For more details on this, please look at the How can I buy Xenical online? section below.
How do I take Xenical?
The recommended dosage is one 120 mg capsule by mouth with water immediately before or during each of your daily meals, or up to an hour afterwards, three times a day. This medication needs to be taken as part of a well-balanced, calorie controlled diet and regular exercise regime. You should also take a daily vitamin tablet, so that your body is not deprived of any vital nutrients that come from fat. If you take any vitamin supplements, you should wait for two hours after taking Xenical tablets before you take your vitamin.
The achieved weight loss needs to be monitored with each course of treatment. The doctor sets a weight loss goal before you take the first tablet, this normally consists of a decrease in weight of 5% during 12 weeks of treatment compared to your starting weight. If you fail to lose at least 5% of your starting weight, your doctor will reassess your situation and likely recommend an alternative treatment.
Taking Xenical requires a healthy diet and lifestyle, like any other weight loss plan. This will not only change your existing lifestyle for the better but will optimise your time using Xenical to the fullest.
EFFECTIVE WEIGHT LOSS

Step 1 – reduce calorie intake

Step 2 – diet + exercise

Step 3 – diet + exercise + medication
Follow a healthy, calorie-controlled diet
For the best results using Xenical, you should follow a diet and sensible meal plan. For example...
it is advised that less than 30% of your daily intake of calories should be fat.
In order for Xenical to prevent all the fat from being absorbed effectively, the consumed fat should be divided equally between your three main meals.
So if you have a daily limit of 1,800 calories, less than 540 calories per day and 180 calories per meal should be fat.
The reason for this is that the medication cannot block an entire day's worth of fat with just one dose. Very high fatty foods should therefore be avoided.
Create your own simple exercise regime
Always start off easy and increase the intensity as you go on...
Establish exercise that you enjoy and incorporate small factors such as walking part of your commute into your existing lifestyle.
If you already go to the gym, walk, jog or do some form of exercise, then you can restructure this routine by increasing the amount you do and setting goals.
If you don't do any exercise at all, then find something that you can enjoy so that you will be able to maintain the routine even after you stop taking medication.
Exercise is a very important aspect not only of losing weight but also of leading a healthy lifestyle.
A fit and healthy body decrease your chance of developing diseases, heart problems and joint conditions. A healthy body is the best weapon when it comes to fighting off diseases. To achieve the best results when taking Xenical, an exercise routine should be followed.
What are the side effects of Xenical?
As with most prescription medications, some side effects may occur whilst taking Xenical tablets. As all people react differently to medications, the degree of severity of Xenical side effects may vary from person to person. Some people may suffer greatly while others may not experience any side effects at all.
The most common side effects associated with the Xenical capsule are linked to its effect on the digestive system, but the chances of suffering from these symptoms will be greatly reduced by following a doctor's recommendations and consuming a low-fat diet.
Common side effects may include flatulence, discharge, abdominal pain, diarrhoea, low blood sugar, bloating, tiredness, and incontinence. Very rare side effects can potentially include rectal bleeding, hepatitis and blistering. Allergic reactions can also occur, such as itching, rashes, nausea or breathing difficulties, but these have been reported only occasionally. If any of these possible allergic reactions occur, you should contact a doctor and stop taking Xenical pills immediately.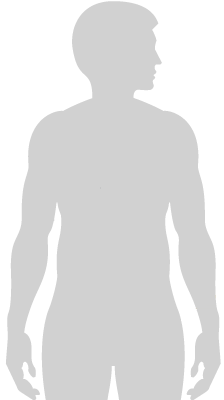 Neurological
Mild headaches are a common side effect of Xenical. These are usually very mild and do not last for very long.
Liver
Side effects relating to the liver are very rare but there is a slight possibility that they will occur. These include hepatitis and elevated liver enzymes.
Gastric
Gastric side effects are among the most common occurrences for those taking Xenical. Flatulence and increased bowel movements are often reported. Abdominal pain may also occur. Less common is incontinence and rectal pain or bleeding.
Mouth
Some users of Xenical may experience some form of tooth or gum disorder.
Xenical side effects
Click on the relevant area of the body to find out about how it may be affected by Xenical
Research analysing the duration of Xenical and Placebo use with the adverse effects registered by the participants suggests a higher prevalence of side effects in the first year of use compared to the second year. This can be put down to the medical function of prescription treatments. As the body becomes more accustomed to the active ingredient and chemical compounds, adverse effects are less likely to be present:
Body System/Adverse Event
Xenical % Patients
Placebo % Patients
Xenical % Patients
Placebo % Patients
Year 1
Year 2
Gastrointestinal System
Abdominal Pain
25.5
21.4
-
-
Diarrhoea
5.3
4.4
-
-
Gingivitis
4.1
2.9
2.0
1.5
Vomiting
3.8
3.5
-
-
Nausea
8.1
7.3
3.6
2.7
Tooth disorder
4.3
3.1
2.9
2.3
Respiratory System
Influenza
39.7
36.2
-
-
Ear, Nose and Throat Symptoms
2.0
1.6
-
-
Upper respiratory infection
38.1
32.8
26.1
25.8
Lower respiratory infection
7.8
6.6
-
-
Skin Problems
Rash
4.3
4.0
-
-
Dry Skin
2.1
1.4
-
-
Central Nervous System
Dizziness
5.2
5.0
-
-
Headache
30.6
27.6
-
-
Musculoskeletal System
Back Pain
13.9
12.1
-
-
Arthritis
5.4
4.8
-
-
Myalgia
4.2
3.3
-
-
Tendonitis
-
-
2.0
1.9
In the first year of use, the highest recorded adverse effects by the participants were headaches, influenza and abdominal pain. Although this affected between 20-40% of those using Xenical, the differences were marginal compared to those using the placebo. It was clear to see that the treatment only slightly increased the risk of these side effects, but did not stimulate a specific side effect above those experienced by the placebo group.
Year 2 showed a general reduction or absence of many adverse effects, with the highest side effect registered associated with 'upper respiratory infection' (which could be linked to general seasonal changes and other conditions such as asthma). Overall it seems that the medication works well in users and does not pose much of an adverse risk. It is essential though that a doctor is consulted whilst using this treatment to ensure that it is yielding the necessary results.
What are the precautions of Xenical?
It is recommended that you shouldn't buy Xenical (orlistat) 120mg capsules if you are under 18, have a BMI (body mass index) of under 30, are breastfeeding or pregnant. People who suffer from cholestasis and chronic malabsorption would also be advised to seek an alternative treatment.
Do not use Xenical if you take an oral contraceptive such as the the combined pill or mini-pill. This is because Xenical will reduce the effectiveness of your contraception.
How can I buy Xenical online?
When looking to successfully aid weight loss, euroClinix is here to help. We at euroClinix offer Xenical (orlistat) tablets, which you can purchase online at OnlineClinic to achieve safe, successful and long-term weight loss. All you have to do is fill out a quick and simple online consultation form, so that our doctors can issue you a prescription, if this treatment is suitable for you to use. Our UK pharmacy will then dispatch this medication for next day delivery.
Note: You must complete a short online consultation so that our doctor can ensure that the treatment is suitable for you. The above pricing should only be used as a reference. The final decision to issue this treatment lies with the prescribing doctor.