Orlistat
Orlistat is the active ingredient in the obesity treatment Xenical, currently the only prescription medication available for weight loss.
Orlistat works to aid people who are overweight or obese in order to help them lose weight. If you have a body mass Index (BMI) of over 30, then you are medically considered to be obese and orlistat could perhaps be a solution for you.
It prevents the fats consumed in your daily diet from being absorbed into the body. Rather than being absorbed, the fat passes through the body and is expelled through your regular bowel movements. In this way, unnecessary fat is not absorbed and weight loss becomes more achievable.
Chemical composition of orlisat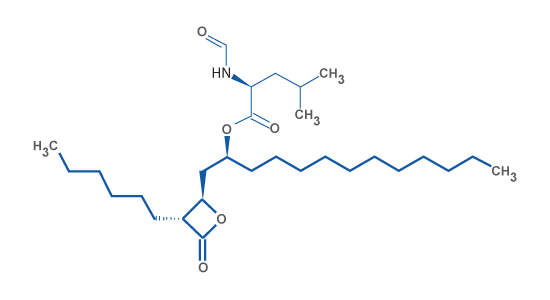 How does it work?
Orlistat is a lipase inhibitor. Before understanding what that means, it's important to first understand how fat is normally absorbed by the body.
Fat that is included in your regular daily meals gets swallowed into the stomach, where digestion begins. During digestion, two enzymes, gastric and pancreatic lipases, work to break down the fatty molecules both in the stomach and the small intestine. Without being broken down, the fatty molecules are too large to be absorbed into the blood stream or converted into energy.

Orlistat, a lipase inhibitor, prevents the gastric and pancreatic lipases from doing their job. By doing this, many of the fatty molecules that are ingested through meals, approximately a third, are not broken down and absorbed by the body. Instead they are passed out of the body through your regular bowel movements.
How effective is it?
In studies, almost 70% of patients using Xenical lost 3% of their body weight within three months. Those taking orlistat over a year lost almost 16lbs. Over a two year period, more than two thirds of people using Xenical along with a calorie controlled diet lost at least 5% of their body weight, which was enough to significantly decrease their likelihood of developing obesity-related diseases.
How to get the best results
Orlistat is not effective on its own. It must be taken in conjunction with an increased level of exercise and a calorie controlled diet for it to produce good results. Many people make the mistake of thinking that medications such as orlistat will simply help them to lose weight without them needing to make any positive lifestyle changes.
If you want to lose weight, you need to realistically consider making other changes that you can maintain. If you diet and then go back to your old eating habits, you will likely gain most of the weight you lost. This medication cannot change your lifestyle for you, but it can assist with promoted weight loss. Sometimes this can be beneficial when starting a diet, as it gives you the confidence you need to continue.
There are several side effects that can slow the weight loss process down, or just make it uncomfortable. These side effects can be lessened if you follow the directions correctly when taking this weight loss medication, and also follow the correct diet and exercise regime.