Varenicline
Varenicline is the active ingredient in the stop smoking treatment Champix. It helps to treat smoking addiction and makes quitting a lot easier. Made by Pfizer, it is not a form of nicotine replacement, but instead works to block withdrawal symptoms to reduce smoking cravings once you give up. It also acts by inhibiting the pleasurable effects you experience when smoking cigarettes and other tobacco products.
Varenicline structure

How does varenicline work?
Unlike nicotine replacement therapies, varenicline works in a different way to aid quitting smoking. In medical terms, it is a nicotine receptor and partial agonist. Basically, when it's diffused into the blood after you take it, it acts on the same receptors in the brain that nicotine normally does. It stimulates these receptors and produces an effect that actually relieves the cravings and withdrawal symptoms that you experience after you stop smoking.
Additionally, the varenicline stops the nicotine from acting on nicotine receptors. Because of this, if you smoke after you have started taking it, the typical feelings of pleasure and satisfaction do not occur. Without cravings, and without the rewarding sensations you receive from smoking, it makes the process of giving up a lot easier.
How Varenicline Works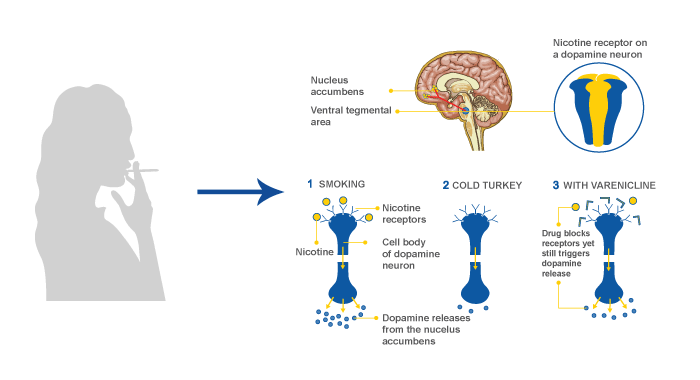 How effective is varenicline?
Varenicline has proven to be effective as an aid to quitting smoking. It should not be solely responsible for helping you to quit – doing so still requires your willpower - but it does make the process a lot easier. To start your Champix treatment, set a date when you intend to quit. Research actually shows that people are 50% more likely to actually quit by doing this. Then start taking varenicline at least a week before the actual date you want to stop smoking. This will give the medication time to work on the receptors in your brain, so that when you finally give-up, the immediate impact will not be so dramatic.
Research shows that using varenicline is one of the most cost-effective therapies to help you give up smoking.
If you want to quit smoking, a treatment like varenicline won't do it all for you, but it can make the process much easier. According to statistics, around two out of three people who used varenicline to help them give up smoking were successful. During clinical trails to assess how effective Champix was, 44% of people who were given varenicline were able to give up smoking successfully, as opposed to the 11% in the placebo group when a 12-week course was administered.