Viagra Side Effects
Viagra is a prescription drug and has undergone scrupulous medical research and clinical trials to discover all the possible side effects that could be experienced by men who take it.
The side effects of Viagra will be different for everyone, as people react differently to certain medications. Some people may not even experience any side effects at all, while others may suffer from several. If you do find that you experience side effects, you can talk to a doctor about altering your dosage, or consider a different impotence treatment.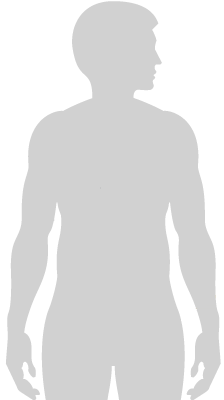 Neurological
Headaches and dizziness are among the most common side effects of Viagra. They are usually very mild and only temporary. Fatigue is less common but may occur. Fainting is a very rare side effect.
Head
Facial flushing and slight visual disturbances are quite common side effects. Dry mouth is considered to be an uncommon side effect, and nosebleeds may occur but are very rare.
Heart
Adverse side effects relating to the heart are uncommon or very rare. There is a small chance you may experience heart palpitations or some pain in the chest area. Changes in blood pressure, heart attack and stroke are possible but extremely rare. If you experience any of these effects you should contact a doctor immediately.
Gastric
Mild indigestion is a common side effect of this medication. Nausea is less common but may occur for a short time.
Viagra side effects
Click on the relevant area of the body to find out about how it may be affected by Viagra
Common side effects
The most common Viagra side effects are not too severe and usually pass within the time it takes the medication to leave your system.
Uncommon side effects
The following side effects are less common, which is not to say that they are more severe. Between 1 and 100 men experienced these Viagra side effects. As with common side effects, if they persist for longer than the Viagra is active in your body, then it is important to contact a doctor for support or guidance.
Rare side effects
These side effects have been recorded, but are extremely rare and seldom occur. They are more severe and will generally require immediate medical assistance.
| | | | |
| --- | --- | --- | --- |
| | COMMON | UNCOMMON | RARE |
| Headaches | | | |
| Dizziness | | | |
| Flushing | | | |
| Indigestion | | | |
| Visual disturbances | | | |
| Palpitations | | | |
| Chest and muscle pain | | | |
| Fatigue | | | |
| Dry mouth | | | |
| Nausea | | | |
| Change in blood pressure | | | |
| Loss of hearing | | | |
| Nose bleeds | | | |
| Fainting | | | |
| Stroke | | | |
| Heart attack | | | |
Extremely rare side effects
Priapism is a side effect of Viagra that seldom, if ever, occurs. On the few occasions that it has occurred and been reported, however, it has been treated successfully.
Priapism occurs when a man has an erection for an extended period of time, usually longer than four hours. If this occurs, it can damage the tissues in your penis and cause long-term problems, which is why it's important to contact a doctor as soon as you can. It is not necessarily life threatening, but it can cause long-term damage to your penis.